by Chris Becker
Bitcoin is on a tear during the Asian session, following a breakout last night above the previous week's resistance level at $12000USD and now on target to get back to the June high nearer $14000: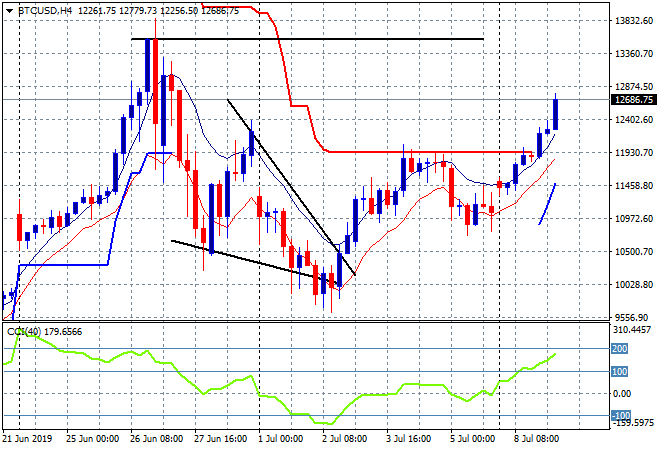 What set this all off when other undollar assets like gold and the Australian dollar are falling against a stronger USD? It could be the hashrate effect, that is the Bitcoin miner's performance which has more than doubled in a year:

There is somewhat of a correlation here with price, although its arguable that the hashrate increase comes after the price speculation, because like a lot of things crypto, this still resembles the bucket shops of the 1920's: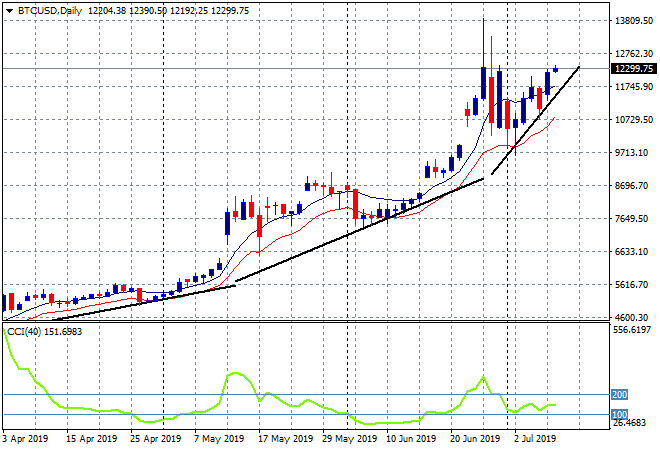 Meanwhile, the new entrant into the ephemeral money space, Facebook's Libra, is facing a lot of conventional resistance from the central bankers. This morning the PBOC signalled its intention to control the new undollar/unYuan via Bloomberg:
As a convertible crypto asset or a type of stablecoin, Libra can flow freely across borders, and it "won't be sustainable without the support and supervision of central banks," Mu Changchun, deputy director of the People's Bank of China's payments department, wrote in comments provided to Bloomberg.
This follows a big push back from the Indian government and Reserve Bank:
"Design of the Facebook currency has not been fully explained," Economic Affairs Secretary Subhash Garg said in an interview in New Delhi on Saturday. "But whatever it is, it would be a private cryptocurrency and that's not something we have been comfortable with."

Both the government and the central bank have virtually outlawed cryptocurrencies after it barred banks from dealing in them. While the 

Reserve Bank of India

 has placed restrictions, the government is drafting a law with stringent penalties on their use.
Can ZuckerRobot persuade the central bankers to let him play with our digital money?
Latest posts by Chris Becker
(see all)