New CoreLogic analysis shows that more than 200,000 properties across Sydney and Melbourne have slipped below $1 million since the housing market peaked in 2017: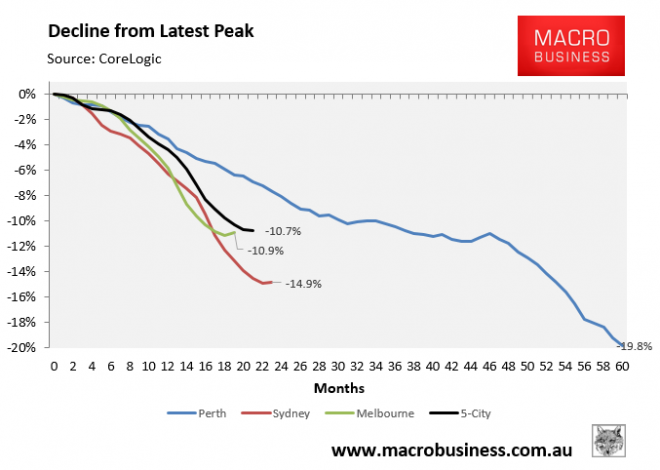 From The AFR:
Median price falls in Sydney and Melbourne clipped between 11 and 14 per cent off property values, or about $136,000 in Sydney…

The biggest percentage of falling million-dollar properties was 23 per cent in Melbourne, followed by 19 per cent in Sydney…

It is the biggest downturn since Corelogic began collating data in 1980. Across the nation more than 230,000 residential properties have fallen below the benchmark…

The nation's two largest cities also hold on to the crown of the highest percentage of properties worth upwards of $1 million compared to other national capitals.

But Sydney's share has dropped from about 44 per cent to 37 per cent and Melbourne from 29 per cent to 23 per cent.
The below charts tell the story:
Sydney: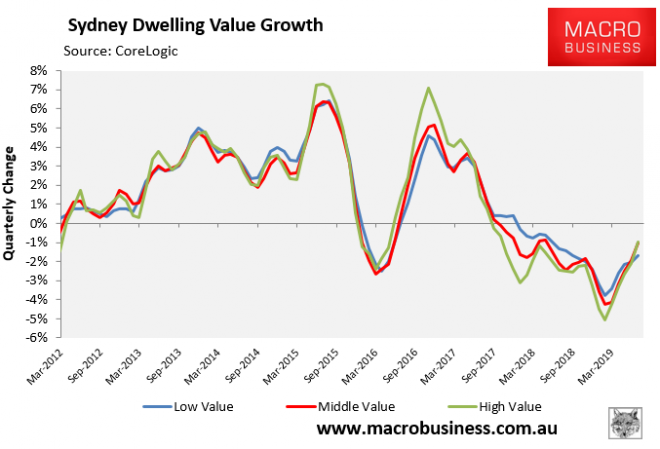 Melbourne: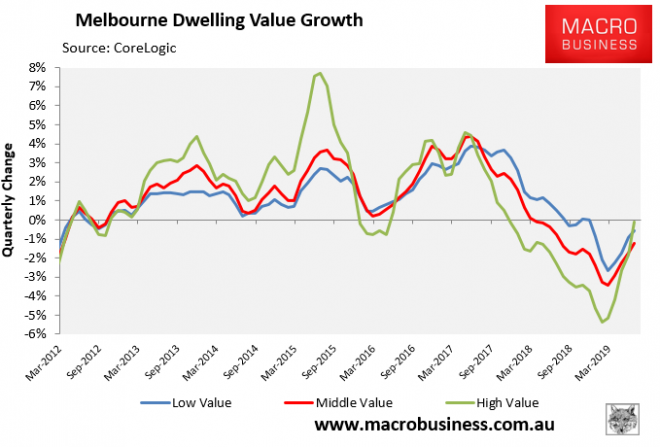 The top 25% of properties led the dwelling price declines both Sydney and Melbourne. That is, they declined by 17.1% (Sydney) and 15.8% (Melbourne) from peak, versus declines of 14.9% (Sydney) and 10.9% (Melbourne) across the broader market.
That said, as shown clearly above in the quarterly charts, the top 25% is also leading the recovery in prices across both markets.
This is a trend that has played out before whereby premium housing values fall the fastest initially but also sees the falls cease earlier than other market segments.
Leith van Onselen is Chief Economist at the MB Fund and MB Super. Leith has previously worked at the Australian Treasury, Victorian Treasury and Goldman Sachs.
Latest posts by Unconventional Economist (see all)