Via Nikkei:
Global crude steel output for the six months through June rose 4.9% on the year to an all-time high of 925.06 million tons, World Steel Association data released Friday shows.

As China lifted infrastructure spending to shore up its economy, the country's steel output grew 9.9% to 492.16 million tons, outpacing the global average.

Meanwhile, as Asia struggles to absorb China's steel, the U.S. is facing its own problems. Though President Donald Trump's 25% tariffs on imported steel initially proved to be a boon for American producers, U.S. steel output has slowed again as domestic demand, especially for cars, weakens amid the trade war.

The surge in China's steel production marks a reversal from Beijing's efforts to shed excess capacity in its steel industry.

Now, new investment in steelworks has started to flow. Baoshan Iron & Steel, a subsidiary of top Chinese player China Baowu Steel Group, launched a third blast furnace last year at its cutting-edge plant in Guangdong Province, even as it scrapped aging facilities. The new furnace can churn out more than 10 million tons a year, according to Baoshan.

But the trade war has dented demand from Chinese automakers and other industrial buyers, spurring steelmakers to seek overseas buyers for products for these industries. Chinese exports of steel sheet grew 8% on the year in the five months through May. The price of hot-rolled coil, a type of steel sheet used for autos and other products, in East Asian export markets has fallen to $550 per ton from $640 last October.

…The difficult market conditions factored into the decision by Krakatau Steel, Indonesia's largest steelmaker, to slash its core workforce by 30%.

Japan's imports of Chinese carbon steel surged 73% on the year for the five months through May. The country has been buying more steel from abroad after a string of production problems at domestic facilities last year.

…With China's increased production pushing up iron ore prices, the industry faces a painful combination of high input costs and low output prices. The barriers to the U.S. market risk further cooling demand that already lags behind supply.

"That risk will remain as long as the trade war continues," said Nippon Steel President Eiji Hashimoto.
Chinese steel exports have been falling but not fast enough as inventories increase: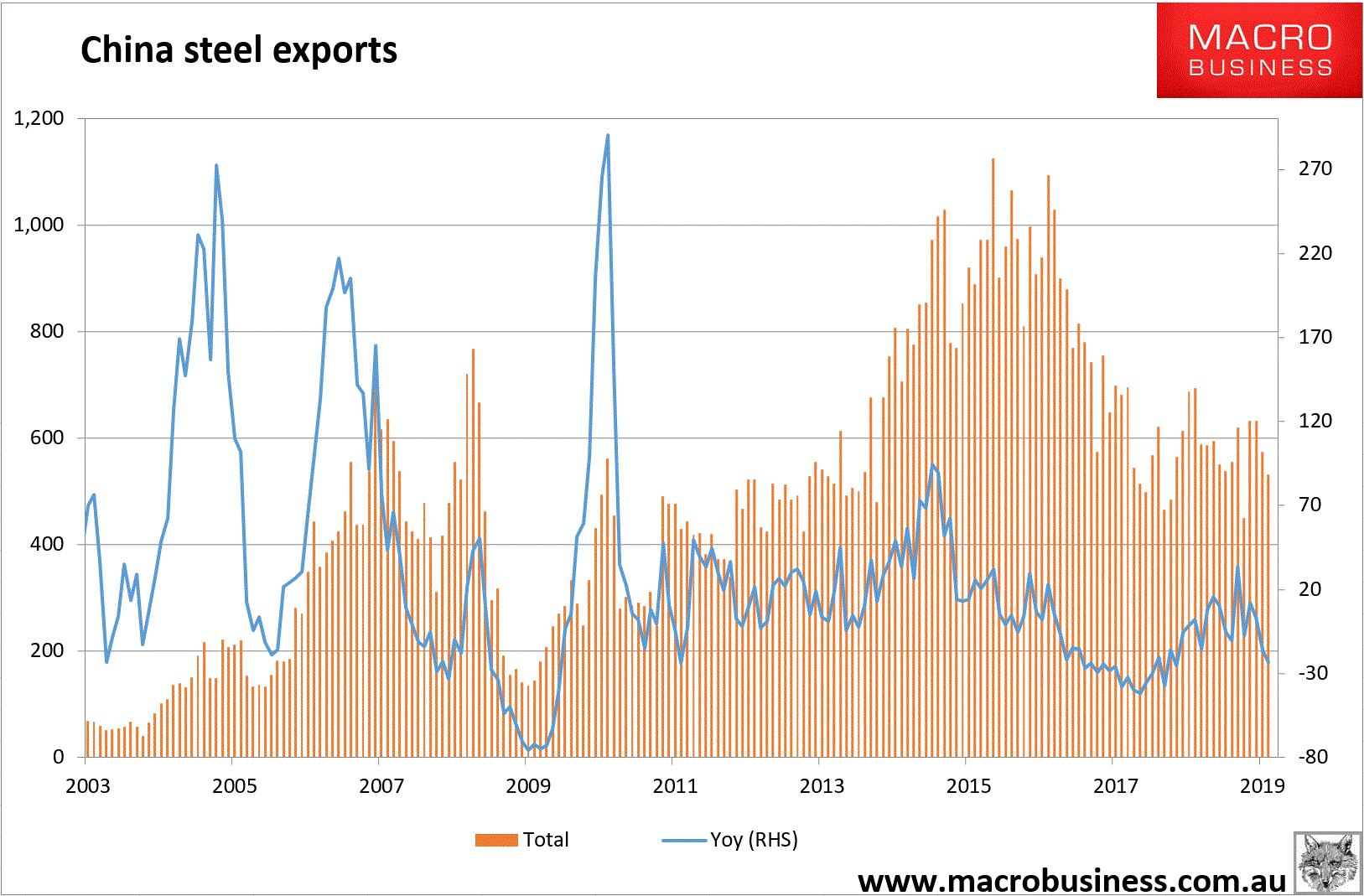 More from SMM:
Growth in rebar inventories in China slowed this week as growing costs of steel scrap squeezed margins at steel mills and drove them into production cuts.

Steelmakers with iron ore as feedstock, however, remained under full operation, even as lower steel prices dragged their profits to 200 yuan/mt as of Thursday July 25, down 46 yuan/mt from a week ago.

Consumption from construction improved this week as sites stepped up operation at night while heat waves disturbed production during daytime hours. Demand from infrastructure and real estate sectors also released steadily and support steel consumption.

Narrower margins at steel mills will continue to reduce steel production. This, together with the lingering impact of environmental curbs, are expected to ease supply pressure of rebar in the short term.

SMM data showed that overall inventories of rebar, including stocks across steelmakers and social warehouses, grew 2.7% on the week and posted 8.53 million mt as of Thursday July 25, after they grew 3% in the prior week. On a yearly basis, inventories stood 34.2% higher, expanding from a growth of 28.9% last week.

As of July 25, inventories across social warehouses stood at 6.11 million mt, up 3% on the week, driven mainly by speculative operations.

Inventories across steel plants advanced 1.7% on the week, to stand at 2.42 million mt, slowing from a 3.4% rise a week earlier.
This is not seasonal: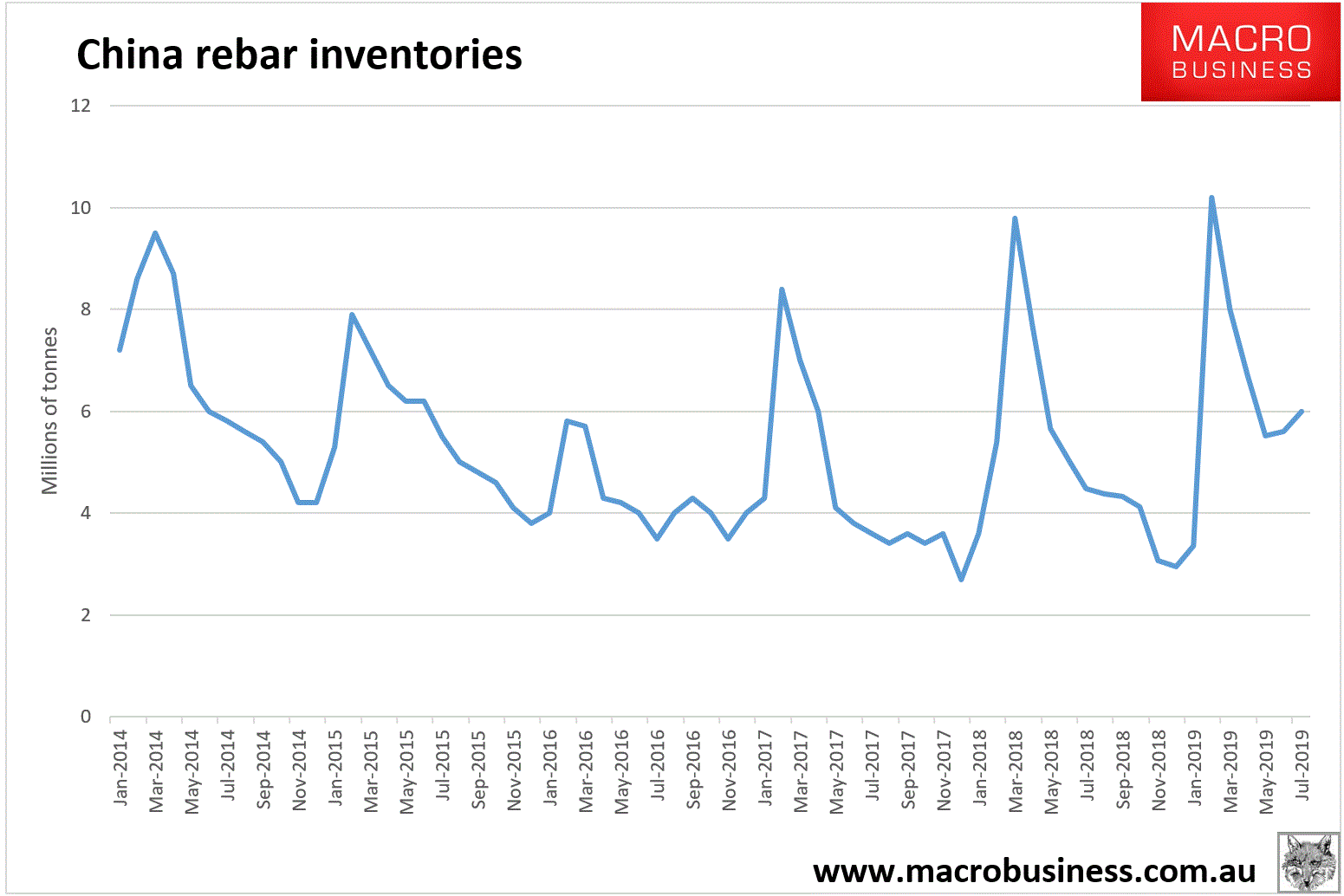 The last time inventories were this high was 2015. China is force producing steel to boost trade war hit growth.
The price is going to break and iron ore with it.
David Llewellyn-Smith is Chief Strategist at the MB Fund and MB Super. David is the founding publisher and editor of MacroBusiness and was the fouding publisher and global economy editor of The Diplomat, the Asia Pacific's leading geo-politics and economics portal.
He is also a former gold trader and economic commentator at The Sydney Morning Herald, The Age, the ABC and Business Spectator. He is the co-author of
The Great Crash of 2008
with Ross Garnaut and was the editor of the second
Garnaut Climate Change Review
.
Did you know the MB International Shares Fund has returned an average of 17.1% per annum and the Tactical Growth Fund an average of 10.4%? Register below to learn more:
Latest posts by Houses and Holes (see all)