In the wake of Queensland's unprecedented apartment construction boom: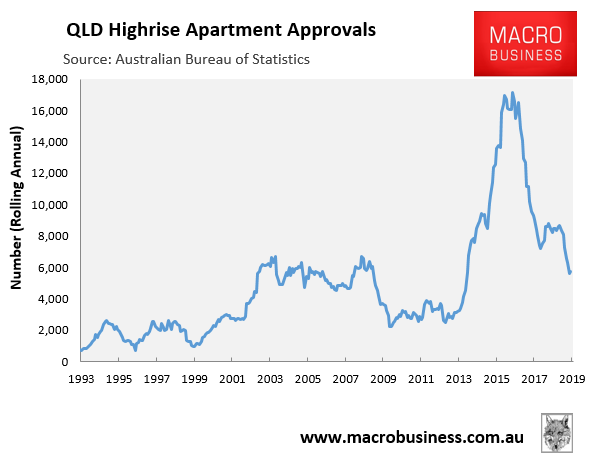 The faults crisis has now spread to Brisbane, with an owner facing bankruptcy after a serious defect in her new $1.7 million luxury apartment caused thousands of dollars worth of damage. From The ABC:
Louisa Carter purchased a new four-bedroom sub-penthouse in The Johnson apartment tower in inner-city Brisbane in 2017…

But Dr Carter said her roof began leaking just days after she and her family moved into the apartment.

"In the first big storm, suddenly there was water pouring into the main bedroom," she said.

Her apartment was later overtaken by mould.

Despite lodging a series of complaints, more than two years later the defects are yet to be fully rectified.

She said her apartment was still awaiting a refit after being partially gutted because of the water damage…

"We've got a colander for a roof pouring [water] down through the concrete"…

After complaining to the Office of Fair Trading that her unit was not fit for purpose, Dr Carter was told the matter was classified as a "warranty" issue, suggesting she could take civil action in court.

She said she had been left thousands of dollars out of pocket after renting another property.

"We're in limbo," she said.

"We're caught in a stalemate between parties — I feel like collateral damage in a financial equation and it's just not good enough — it's my home"…

Water damage has been reported in at least one other apartment on the same level…
This is tip of the iceberg stuff. Given the huge volume of low quality apartments built over recent years, stories like this will become commonplace.
Latest posts by Leith van Onselen (see all)