From the IEA last night:
The main message of this Report is that in 1H19 oil supply has exceeded demand by 0.9 mb/d. Our latest data show a global surplus in 2Q19 of 0.5 mb/d versus previous expectations of a 0.5 mb/d deficit. This surplus adds to the huge stock builds seen in the second half of 2018 when oil production surged just as demand growth started to falter. Clearly, market tightness is not an issue for the time being and any re-balancing seems to have moved further into the future.

In the meantime, the widely-anticipated decision by OPEC+ ministers to extend their output agreement to March 2020 provides guidance but it does not change the fundamental outlook of an oversupplied market. On our balances, assuming constant OPEC output at the current level of around 30 mb/d, by the end of 1Q20 stocks could increase by a net 136 mb. The call on OPEC crude in early 2020 could fall to only 28 mb/d.

Clearly, this presents a major challenge to those who have taken on the task of market management. The picture will evolve as 2019 progresses, but in the near term the main area of focus remains demand growth. While the GDP estimates behind our forecast are unchanged from last month's Report, there are indications of deteriorating trade and manufacturing activity. Recent data show that global manufacturing output in 2Q19 fell for the first time since late 2012 and new orders have declined at a fast pace. On the positive side, the mood surrounding the US/China trade dispute appears to have improved and the resolution of outstanding issues would be a massive boost to economic confidence.

The outlook for oil demand growth in 2019 is little changed from our last Report at 1.2 mb/d. On the basis that the economic outlook in 2020 is better, there will be a rebound to 1.4 mb/d. This is despite the fact that we have downgraded our estimate for global oil demand growth in 2Q19 by 0.45 mb/d. There are many reasons for this: European demand is sluggish; growth in India vanished in April and May due to a slowdown in LPG deliveries and weakness in the aviation sector; and in the US demand for both gasoline and diesel in the first half of 2019 is lower year-on-year. Unless the economic backdrop and the trade disputes worsen, global growth is nevertheless expected to be higher in 2H19. There will be support from oil prices, which, if they stay roughly where they are today, will be about 8% below the levels seen last year.

Geopolitical tensions remain high in the Middle East Gulf and we recently saw the the interception of an Iranian tanker in the Mediterranean. Even so, the oil price impact has been minimal with no real security of supply premium. This is not the case for shipping costs with reports of Gulf insurance rates rising sharply. For now, maritime operations in the region are close to normal and markets remain calm due to economic weakness, high oil stocks and a significant spare production capacity cushion. As always, the IEA continues to closely monitor the security of supply situation and is in regular contact with its members and partners.
That outlook now precisely matches my own for a growing glut: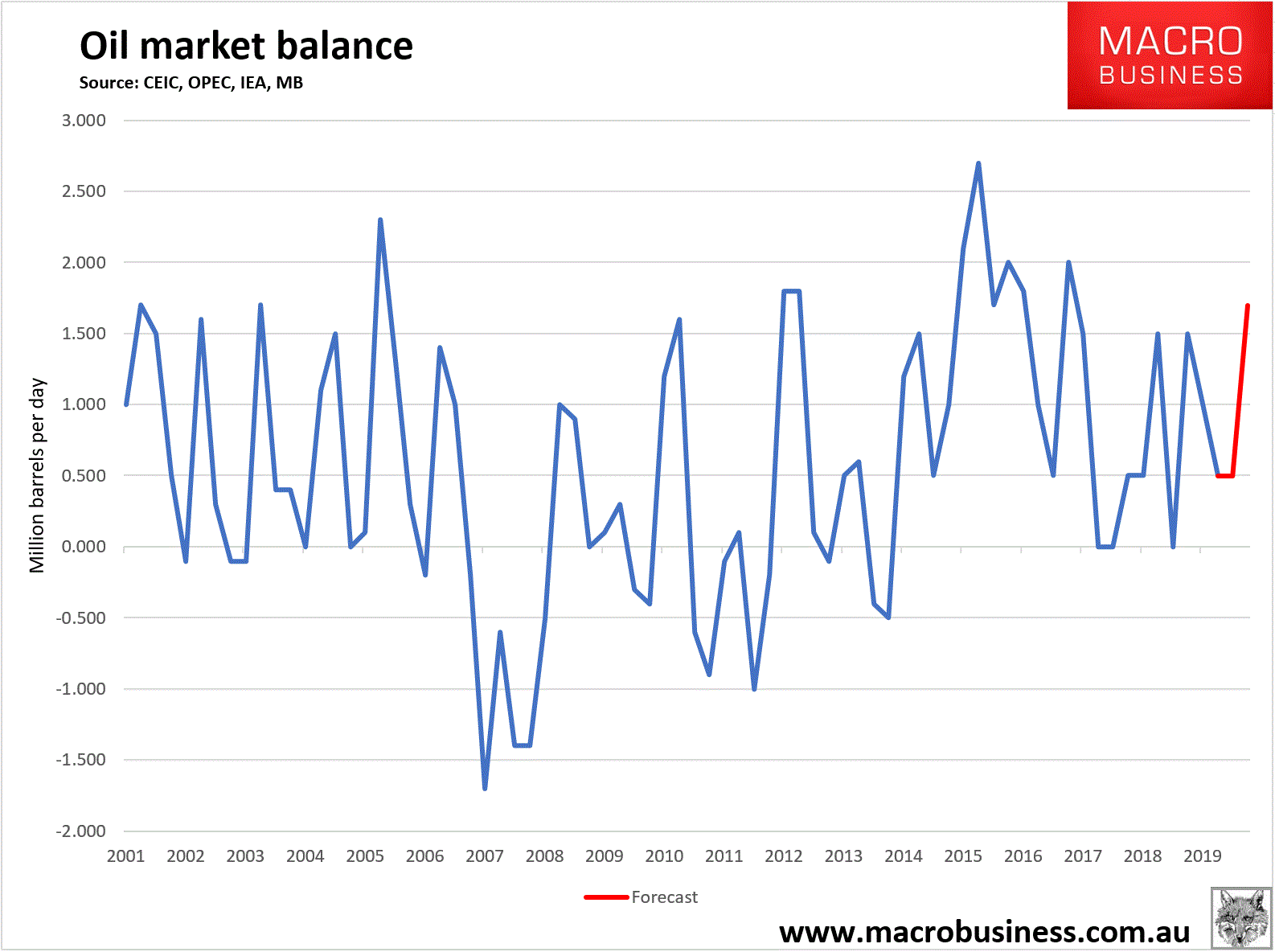 More to the point, as Q4 seasonal weakness arrives with a slowing global economy, a renewed price crash for oil is now the base case. That's before we even get to this, via Al Jazeera:
The United States is not pushing to topple Iran's leadership, President Donald Trump said, adding "a lot of progress" has been made to ease tensions that recently threatened to ignite a war.

His comments on Tuesday came after Iran's Supreme Leader Ayatollah Ali Khamenei vowed to keep rolling back commitments under the landmark 2015 nuclear deal abandoned by the US last year.

Trump responded that Washington is determined to stop Iran from acquiring nuclear weapons.

"We are not looking for regime change. We are not looking for that at all," the US president said. "We'll see what happens. But a lot of progress has been made."

But he added: "They can't have a nuclear weapon. They can't be testing ballistic missiles."

Trump did not elaborate on the "progress" made, but US Secretary of State Mike Pompeo said at the same cabinet meeting that Iran had said it was prepared to negotiate over its missile programme.

Pompeo told the meeting Tehran had "for the first time" signalled it would discuss the missiles, suggesting this was the result of US economic pressure.

However, that contention was quickly refuted by Iran's representative to the United Nations. "Iran's missiles … are absolutely and under no condition negotiable with anyone or any country, period."
An oil tumble has several implications:
it will slow US growth even more, especially wages, as oil patch investment is curtailed;
the mechanism for this will be rising spreads in the US junk bond market;
that has always dislocated equities before as well;
stay long bonds.
The obvious corollary is further Federal Reserve easing as inflation craters again. I might say a weaker US dollar as well, but not before we see the equities accident, and it will again be inhibited by an even weaker Europe and EUR as its inflation pulse also dies. The outlook is already very weak before further price falls: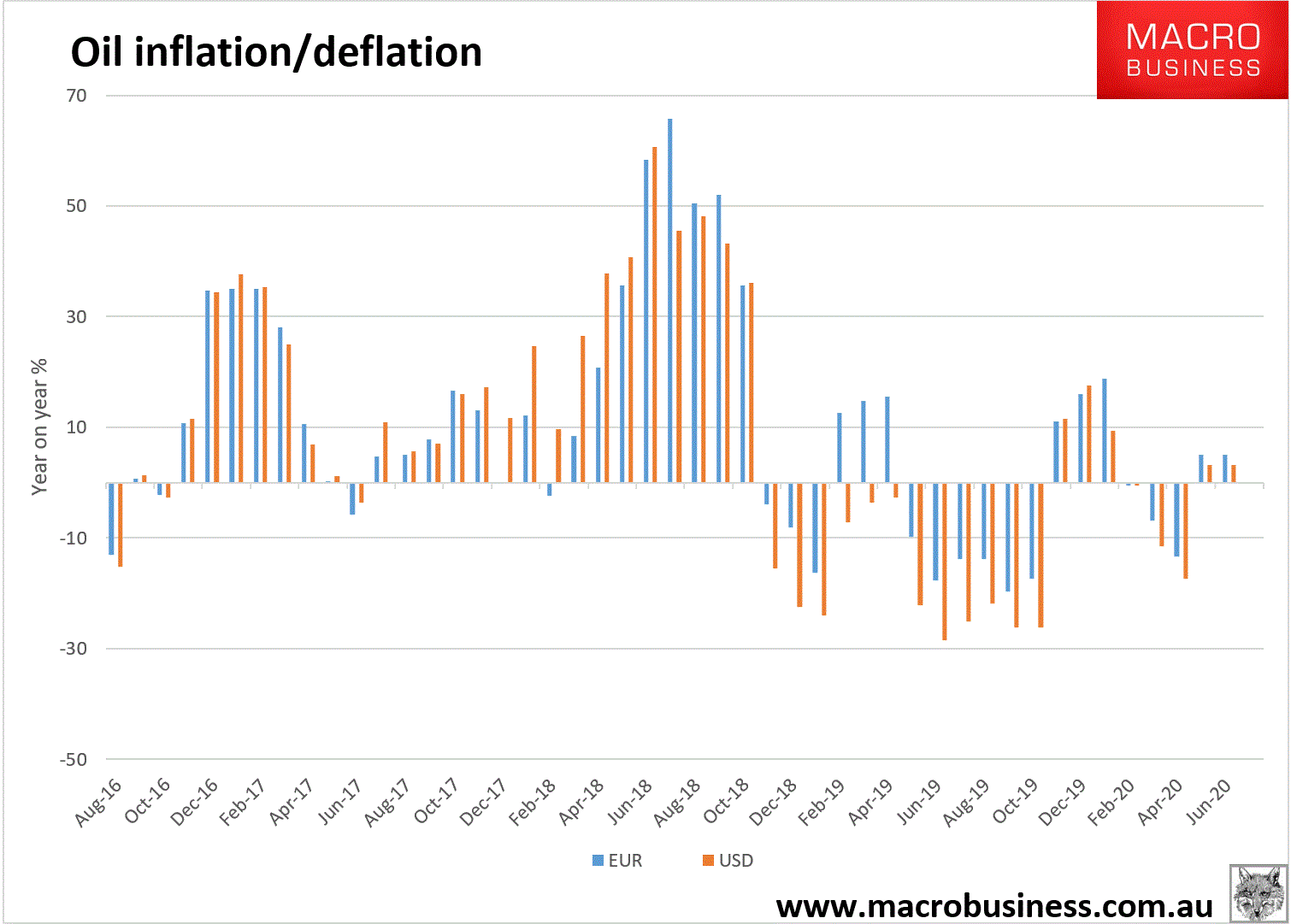 Watch oil. It is the key line of contagion from a weak global economy back into US asset markets. If oil breaks, so will they.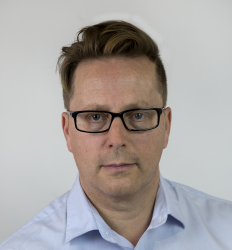 Latest posts by David Llewellyn-Smith
(see all)