Federal Treasury conducted a business liaison program in February and March, the findings of which were used to inform the Budget. A number of submissions to the program claimed that bans on plastic bags were hurting the $320 billion retail sector, as shoppers were less able to carry large amounts of groceries to their car or to their home. From The Australian:
…a slew of companies… complained to the government's chief economic department about the effect that banning plastic bags was having on slowing activity in the $320 billion retail sector.

"Several firms suggested that the introduction of a ban on plastic bags meant customers reduced their consumption to an amount that they could instead carry, and delayed purchases of heavier groceries," notes the report, sent from Treasury economist Angelia Grant to Josh Frydenberg and his assistant ministers on April 2.
This type of analysis is about as asinine as it gets.
The slowdown in retail sales has been driven by the cratering of household income growth: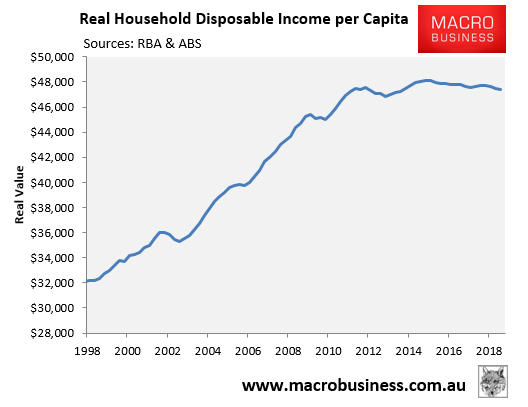 Combined with the fall in dwelling values, which has created a negative 'wealth effect':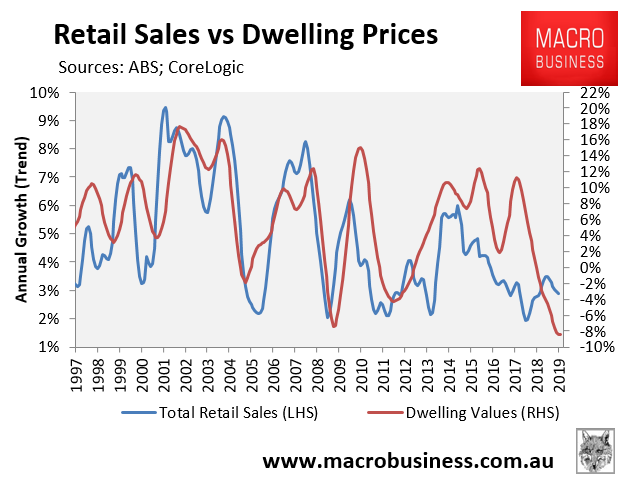 Basically, households are tapped-out by record household debt (see next chart), falling wealth, and falling real income growth.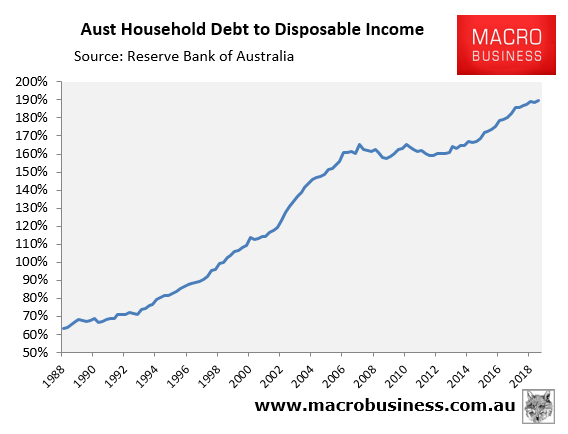 Accordingly, they lack the disposable income and propensity to borrow needed to drive retail sales growth.
Leith van Onselen is Chief Economist at the MB Fund and MB Super. Leith has previously worked at the Australian Treasury, Victorian Treasury and Goldman Sachs.
Latest posts by Unconventional Economist (see all)