Following yesterday's post charting Australia's housing finance data against house prices across Australia's major capitals, below is a chart comparing mortgage credit growth – as reported monthly by the RBA – against dwelling values nationally, since I frequently get requests for this from readers: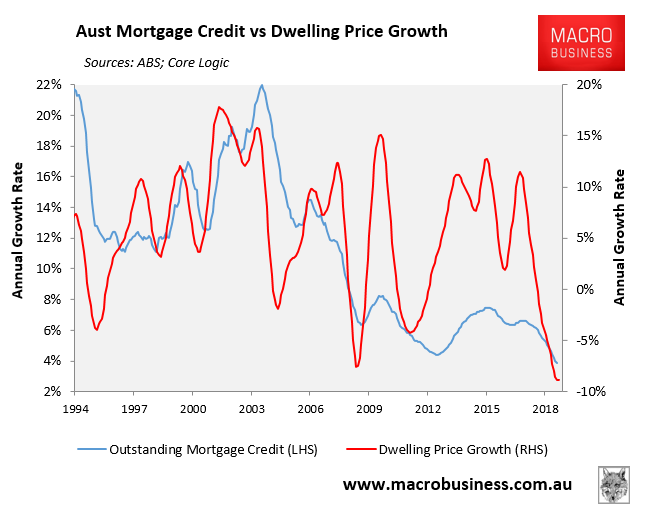 As you can see, unlike the ABS' housing finance series (shown below), there is a weak correlation between the growth in outstanding mortgage credit and house prices.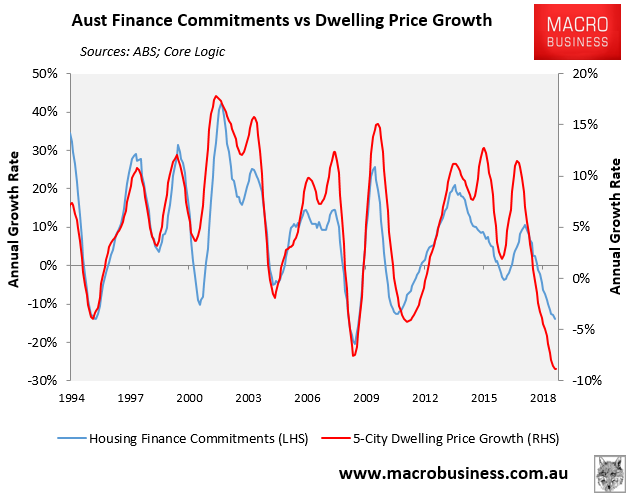 The reason why the correlation between mortgage credit is much weaker is because it measures two primary things: 1) the addition to the mortgage stock from new mortgages taken out by borrowers (increases the stock of debt outstanding); and 2) the repayment of mortgage debt by existing borrowers (reduces mortgage debt).
Only the first point – new mortgages created – actually impacts house prices. The second – mortgage repayments by existing borrowers – does not reflect new housing demand and does not impact prices.
Indeed, when interest rates are at record lows – as they are currently – we are likely to see mortgage repayments rise, which lowers mortgage credit growth, but doesn't actually impact house prices. Similarly, many investors have been forced to switch from interest-only mortgages to principal and interest, meaning they are now lowering the stock of mortgage debt outstanding (other things equal) without adding to housing demand.
So, while MB does also monitor mortgage credit growth when it is released on the last day of the month, we prefer the ABS' housing finance series, which measures new mortgages only and leaves out the noise generated by repayments.
That said, as the RBA's mortgage credit data is released a fortnight before the ABS' housing finance series, it does provide an earlier indicator of changes in the mortgage market.