The FT has an interesting debate on it:
The price of iron ore has surged 60 per cent to above $115 a tonne so far this year, according to S&P Global Platts…But it also runs the risk of attracting fresh supply and bringing this year's rally to an abrupt end.

"The market is telling us we need alternatives," said Graeme Train, senior economist at Trafigura, one of the world's biggest commodity traders. "What you are seeing in the price now is this risk premium for a commodity that has become regionally constrained. There is so much supply coming from two countries [Australia and Brazil] and very little from anywhere else."

…"We have lost around 90m tonnes of annualised supply out of a 1.7bn tonne market. It's not very much as a percentage but prices have moved more than $40 a tonne," said one mining executive. "It just demonstrates that you can get very comfortable and think a market is oversupplied and then get caught on the hop."

…Edward Sterck, analyst at BMO Capital Markets, reckons the iron ore market needs about 60m tonnes of fresh supply to help balance the books.

"The iron ore market is pretty efficient and there are plenty of idled operations that can start back up pretty quickly," he said, adding that 40m tonnes could emerge from China and another 20m tonnes from other countries "scattered around the world".

"The supply squeeze is on now," said Christopher LaFemina, equity analyst at Jefferies in London. "We suspect that steel mills have been buying at current high prices to partially replenish their depleted inventories before the market tightens even further and panicky buying sets in over the next two months."
My answer is that this is largely bullshit. Graeme Train was a terrific analyst at Macquarie but this market is more bubble than it is signal. Why? Because all of the cheapest and best iron ore is still in Brazil and Australia. Vale will bring all of its idled production back on in the next 18 months and can lift S11D another 60mt any time it wants. FMG has another 22mt scheduled to arrive in 2022. RIO is playing silly buggers with 30mt of idle capacity. Minas Rio is still ramping up.
Moreover, Chinese import demand is falling, despite driving all uneconomic Chinese production out of business, and will keep doing so as its economic model stagnates in a slow motion Minsky moment: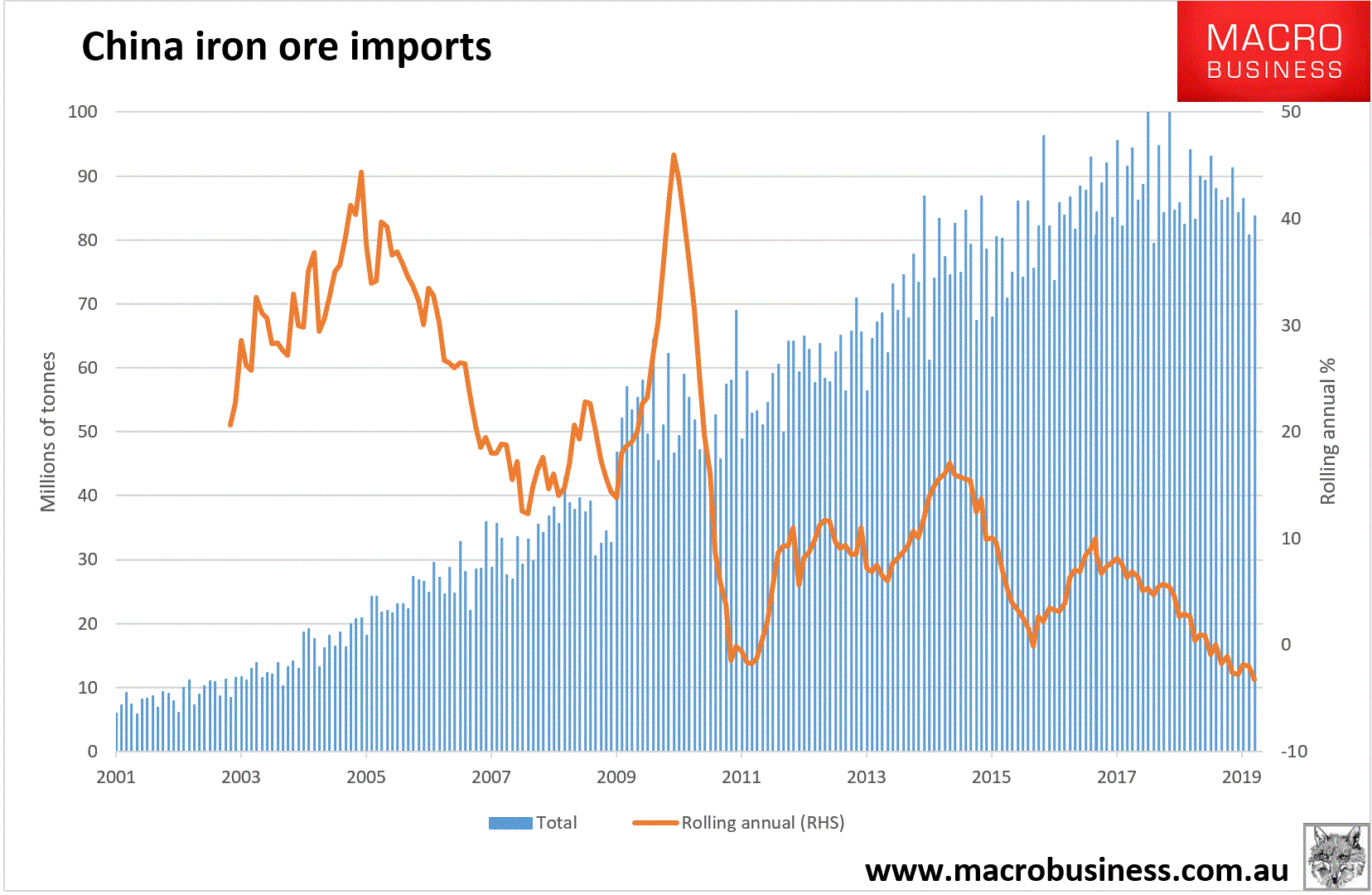 The big three dominance can help manage the decline but they will have to do so with an eye towards suppressing any competition owing to temporary supply disruptions.
This bubble is going to burst over the next year.
Latest posts by David Llewellyn-Smith (see all)