Hot on the heels of former Infrastructure Australia (IA) chief, Michael Deegan, slamming the shroud of secrecy surrounding infrastructure provision across Australia, which has resulted in taxpayers being gouged, current IA head, Romilly Madew, has warned that Australia's failing infrastructure is wrecking both productivity and living standards. From The AFR:
Ms Madew will tell the summit that Australia's national productivity and global competitiveness relies on the quality of its infrastructure networks, and that there are signs it is falling behind…

"The risk is that our infrastructure fails to keep pace with demand – impacting productivity, quality of life and the world-renowned liveability of our cities"…

Australia's population is forecast to increase by 24 per cent to reach 31 million by 2034, with three quarters of the growth occurring in Sydney, Melbourne, Brisbane and Perth.

But the national cost of road congestion is also expected to increase to $38 billion in 2031 from $20 billion today.
As noted yesterday, fifteen years of rapid population growth has unambiguously driven a massive infrastructure deficit across Australia's cities, which Infrastructure Australia itself has admitted is impossible to bridge.
For example, the 2013 National Infrastructure Plan produced by Infrastructure Australia concluded that "we still face a significant infrastructure deficit, estimated at around A$300 billion".
Infrastructure Australia's 2018 report, entitled Planning Liveable Cities, found that Australia's infrastructure provision is failing badly to keep pace with rapid population growth:
"Infrastructure delivery is struggling to keep pace with rapid population growth and change. Our largest cities are 'playing catch up' in delivering infrastructure to support population growth…  Our infrastructure funding mechanisms have not kept pace with growth… Communities are increasingly disappointed by their experience of growth…"
Infrastructure Australia has also regularly warned on the rising cost of infrastructure provision caused by rapid population growth. For example, its 2018 Planning Liveable Cities report noted:
"…construction of new infrastructure is often more expensive, due to the need to tunnel under existing structures or purchase land at higher costs. The small scale, incremental nature of growth in established areas can also lead to an over-reliance on existing infrastructure, which can result in congestion and overcrowding". 
The last point about the escalating cost of infrastructure is especially important. The fact of the matter is that it is inherently very expensive to retrofit built-out cities like Sydney and Melbourne to cope with much larger populations.
The reason is simple: there is a lack of greenfield land. This means that new infrastructure projects require expensive technological solutions like tunnelling alongside land buybacks, which dramatically raises their cost.
To illustrate these costs, check out the below chart showing that road construction through undeveloped greenfield land (blue) is many times cheaper than tunnelling under existing brownfield land (red):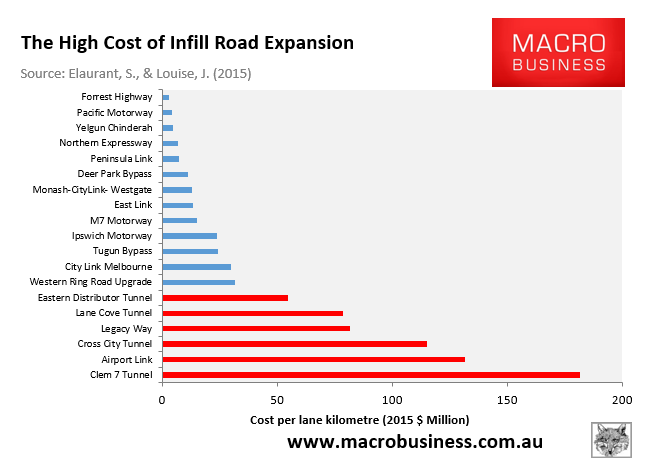 More recent examples are equally stark. The WestConnex project in Sydney will reportedly cost $17 billion for 33 kilometres ($515 million per kilometre) while Melbourne's West Gate Tunnel is expected to cost $6.7 billion for 5 kilometres of highway ($1.34 billion per kilometre). In contrast, the 155 kilometre Woolgoolga to Ballina highway upgrade , costs $4.9 billion, or just $31 million per kilometre (approximately 11 times less than WestConnex, and 29 times less than the West Gate Tunnel, on a "per lane" basis).
The same goes for water, where technological solutions like water desalination and recycling is many times more expensive than dam water: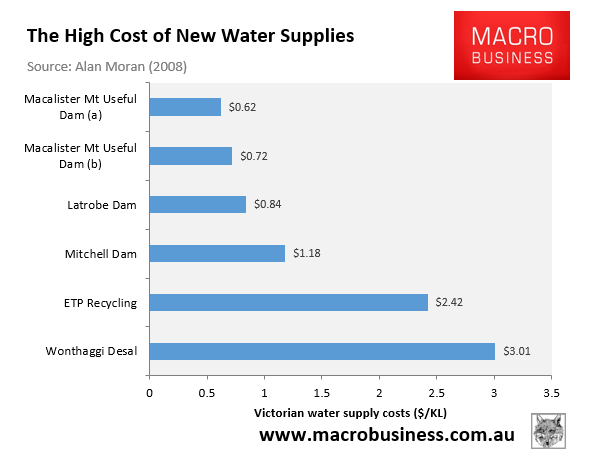 Put simply, growing Melbourne's and Sydney's populations via mass immigration will necessarily dramatically raise the cost of infrastructure.
IA knows this but refuses to state the obvious for fear of aggravating their political masters. Indeed, modelling conducted by IA in 2018 projected that traffic congestion and access to jobs, schools, hospitals and green space will all worsen in Sydney and Melbourne as their populations balloon to a projected 7.4 million and 7.3 million people respectively by 2046, irrespective of whether these cities build up or out: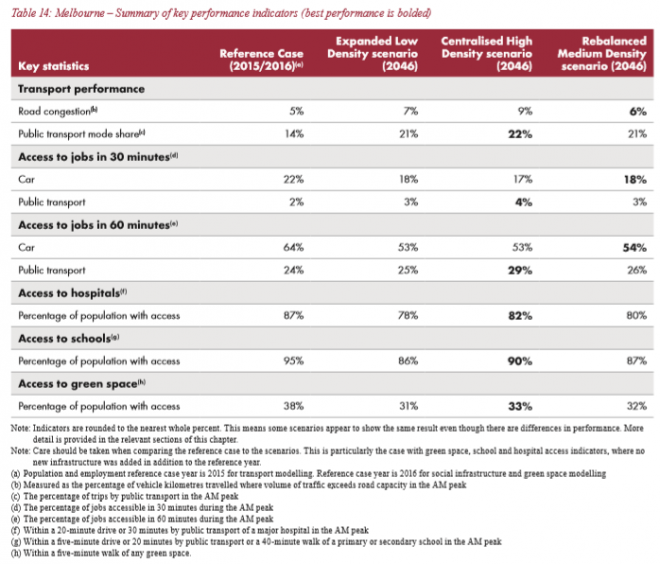 Adding nearly a Canberra-worth of population to Australia each and every year – with 90,000 to 110,000 people projected for Sydney and Melbourne alone – requires an impossible amount of investment just to keep up. This explains why Australia's infrastructure deficit has fallen so badly behind over the past 15 years, and why infrastructure deficits will continue to grow under the bipartisan mass immigration 'Big Australia' policy, in turn destroying residents' living standards.
The cold hard truth is that the quantity of infrastructure investment required for a 'Big Australia' is mind boggling and impossible to meet. Therefore, expecting infrastructure to magically catch-up as Australia adds a projected 17.5 million people over the next half century, and Sydney and Melbourne double in size, is pure fantasy. Not even Infrastructure Australia believes this is possible.
Cut immigration.