The former head of Infrastructure Australia (IA), Michael Deegan, has slammed the shroud of secrecy applied to infrastructure provision across Australia, which has resulted in taxpayers being gouged:
Michael Deegan led Infrastructure Australia from 2008 to 2014 and said he was under "constant" pressure from state governments to keep key transport documents secret.

Mr Deegan said if he had his time again, he would release secret financial documents behind transport mega-projects (those costing more than $1 billion) that state governments submitted to the federal agency.

"In retrospect we should have pushed harder… All of those papers should have been published – the submissions and analysis, business case, assessments"…

The warning comes as an Age investigation into Victoria's infrastructure boom shows that three big building firms have earned $10.5 billion between them since Premier Daniel Andrews came to office four years ago.
Fifteen years of rapid population growth has unambiguously driven a massive infrastructure deficit across Australia's cities, which Infrastructure Australia itself admits is impossible to bridge.
For example, the 2013 National Infrastructure Plan produced by Infrastructure Australia concluded that "we still face a significant infrastructure deficit, estimated at around A$300 billion".
Infrastructure Australia's 2018 report, entitled Planning Liveable Cities, found that Australia's infrastructure provision is failing badly to keep pace with rapid population growth:
"Infrastructure delivery is struggling to keep pace with rapid population growth and change. Our largest cities are 'playing catch up' in delivering infrastructure to support population growth…  Our infrastructure funding mechanisms have not kept pace with growth… Communities are increasingly disappointed by their experience of growth…"
Infrastructure Australia has also regularly warned on the rising cost of infrastructure provision caused by rapid population growth. For example, its 2018 Planning Liveable Cities report noted:
"…construction of new infrastructure is often more expensive, due to the need to tunnel under existing structures or purchase land at higher costs. The small scale, incremental nature of growth in established areas can also lead to an over-reliance on existing infrastructure, which can result in congestion and overcrowding". 
Indeed, modelling conducted by Infrastructure Australia in 2018 projected that traffic congestion and access to jobs, schools, hospitals and green space will all worsen in Sydney and Melbourne as their populations balloon to a projected 7.4 million and 7.3 million people respectively by 2046, irrespective of whether these cities build up or out: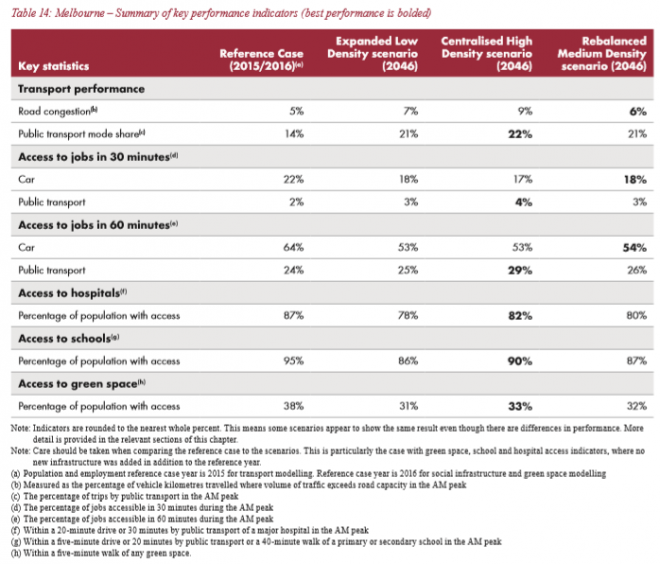 Adding nearly a Canberra-worth of population to Australia each and every year – with 90,000 to 110,000 people projected for Sydney and Melbourne alone – requires an incredible amount of investment just to keep up. This explains why Australia's infrastructure deficit has fallen so badly behind over the past 15 years, and why infrastructure deficits will continue to grow under the mass immigration 'Big Australia' policy, in turn eroding residents' living standards.
The cold hard truth is that the quantity of infrastructure investment required for a 'Big Australia' is mind boggling and impossible to meet. So, expecting infrastructure to magically catch-up as Australia adds a projected 17.5 million people over the next half century is pure fantasy. Not even Infrastructure Australia believes this is possible.
Cut immigration.