Via New Daily:
The property industry is pointing to high auction clearance rates as evidence of a strong post-election recovery, but experienced analysts say the latest figures only tell half the story.

Last week recorded the highest final clearance rate (61.8 per cent) since May last year, prompting those with skin in the game to suggest the market was heading back to business as usual.

But Suburbanite director Anna Porter told The New Daily that analysing auction clearance rates wasn't the best way to check the pulse of the market – at least, not in isolation.

Ms Porter said this was partly because clearance rates didn't offer much insight into broader market activity and partly because auctions weren't as popular in Adelaide, Brisbane and Perth as they are in Sydney and Melbourne.

"[Outside Sydney and Melbourne], agents sometimes put an auction campaign forward to create a deadline and to create some urgency to get people to make some decisions – [rather than] with a strong intention of selling on the night of auction," she said.

"Auction clearance rates are really only one part of the puzzle."

Ms Porter said those commentating on the health of the market also needed to take into account vacancy rates, median prices and median number of days properties spent on the market before being sold.

Wakelin Property Advisory director Jarrod McCabe pointed to the year-on-year fall in the overall number of auctions as another reason not to get too excited by the recent high clearance rates.

This time last year, 1849 auctions took place across the country, 641 took place in Sydney, and 941 took place in Melbourne, according to CoreLogic.

However, this week there were only 1480 auctions across the country, 551 in Sydney and 644 in Melbourne.

So while clearance rates this week (63.7 per cent) were higher than this time last year (55.5 per cent), fewer properties actually found a buyer.

"The recent results give us a fairly clear illustration that the supply levels are down, but I don't think they are evidence of more buyers in the marketplace," Mr McCabe said.

"Supply always flattens in winter – particularly in Melbourne and Sydney – because vendors don't feel their properties present in the best light and some buyers go dormant.

"And vendors who don't have to sell are also waiting until reasonable prices have been achieved before putting their property on the market."

Because fewer auctions naturally mean higher clearance rates, Mr McCabe said analysts would have to wait until spring to determine the strength of the post-election market recovery.

And by that time, he said, the RBA rate cut and APRA's easing of mortgage serviceability tests would likely have flowed through to improved market sentiment.

"If we haven't yet reached the bottom of the market, we're certainly not far from it," Mr McCabe said.

The high clearance rates come as Moody's Analytics predicted on Monday that values would "trough in the third quarter of 2019" and gradually recover thereafter.

CoreLogic senior research analyst Cameron Kusher is feeling optimistic, too.

He told The New Daily that the market was looking the best it had since prices first started to drop in 2017.

"We're not back to boom time, but we're certainly better than we have been over the past 12 to 18 months," he said.

"Since the federal election, we have seen a step up in auction clearance rates – and I think that definitely points to a level of confidence in the market that wasn't evident before the election."
As we know, typically, prices do track auction clearances: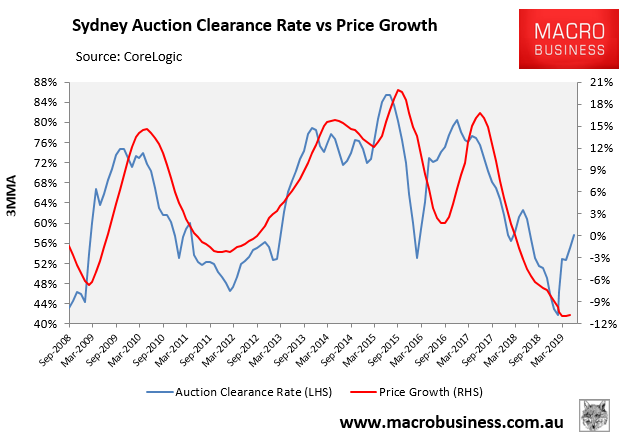 In my darker thoughts I can see an upside to property prices here. In a healthy market it is certainly true that price follows volume, which is reassuring at this juncture. But it is not always the case.
Consider today's stock market, which has little breadth and is low volume, but prices rise anyway, forced up by easy money policies. It seems to me the same is possible with house prices.
On that basis I worry about two things. First, that ScoMo is furiously stoking demand with FHB grants, mass immigration and refreshed enthusiasm for property tax rorts. Second, that the meltdown in apartment construction integrity will limit supply, driving buyers towards existing homes.
In these circumstances a narrow, low volume, price boom does not seem impossible to me. It is not the base case, more an upside risk case. It would be poor quality and vulnerable to quick reversal but you never know with so much interference from authorities.
Let's hope it remains a nightmare only.
David Llewellyn-Smith is Chief Strategist at the MB Fund and MB Super. David is the founding publisher and editor of MacroBusiness and was the fouding publisher and global economy editor of The Diplomat, the Asia Pacific's leading geo-politics and economics portal.

He is also a former gold trader and economic commentator at The Sydney Morning Herald, The Age, the ABC and Business Spectator. He is the co-author of The Great Crash of 2008 with Ross Garnaut and was the editor of the second Garnaut Climate Change Review.
Latest posts by Houses and Holes (see all)