The AFR's war on rate cuts took a new an ever more stupid turn on the weekend:
Baby Boomers and Millennials are trading blows about who is responsible for deteriorating economic conditions that weaken their chances of home ownership or retirement security.

Millennials allege profligate Boomers got a free kick from no university fees and plenty of jobs, and used low prices to build property portfolios and lifestyles that put holes in the national budget and the ozone layer.

Bitter Boomers claim Millennials would choke on their avocado toast if they had had to spend their youth paying 19 per cent mortgage interest rates and face retirement with returns on their bank savings of less than 1 per cent.

…Martin Loughran, 67, a retired truck driver, adds: "We've copped it at both ends of our lives. Record high interest rates home buying, and record low for retirement savings."
Terrible as usual. Boomers are much better off.
First, interest rates in the late 1980s did not stay high for long and a home buyer back then got to enjoy the benefit of a massive drop in mortgage rates over subsequent years and a corresponding massive rise in house prices.
Second, as noted by the Australian Treasury last year, average income growth is expected to be the weakest in at least 60 years over the coming decade, which is going to make paying-off today's mega mortgage far more difficult (see next chart).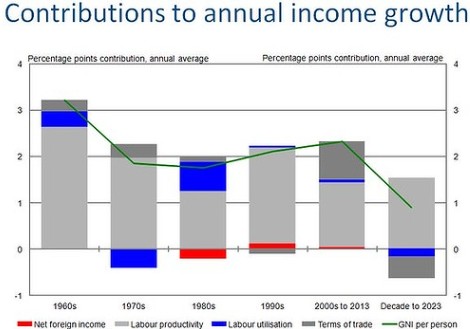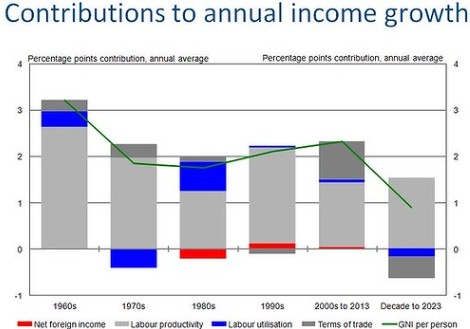 Third, when adjusted for inflation, real mortgage rates are above levels that existed prior to the 1980s – a time when many baby boomers purchased their homes (see next chart).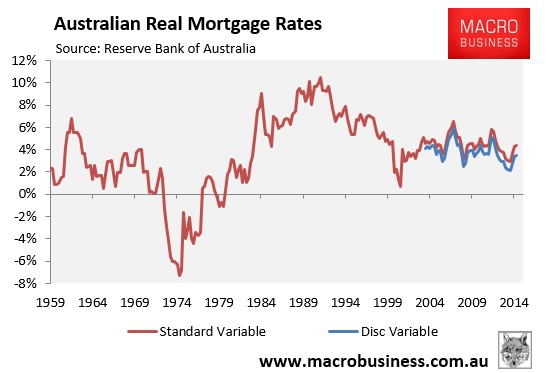 Fourth, while initial repayments on new mortgages are lower than the late-1980s and early-1990s, they remain well above the 40-year average (see next chart). Therefore, current housing conditions remain unfavourable, particularly given the coming shock to incomes.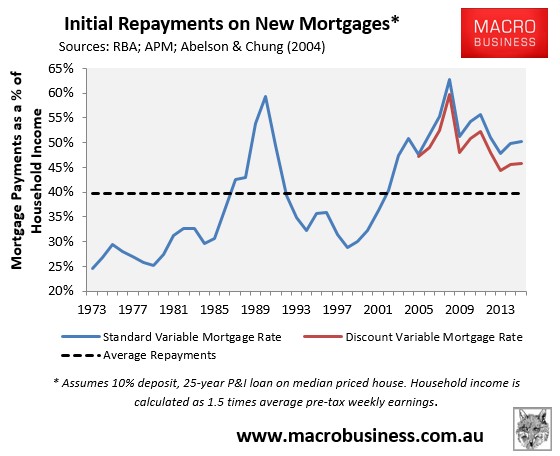 Finally, the sharp drop-off in home ownership rates amongst younger cohorts is bonafide evidence of falling housing affordability (see next chart).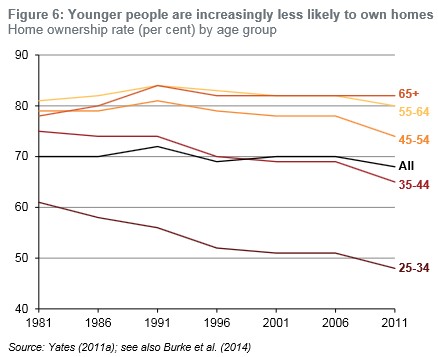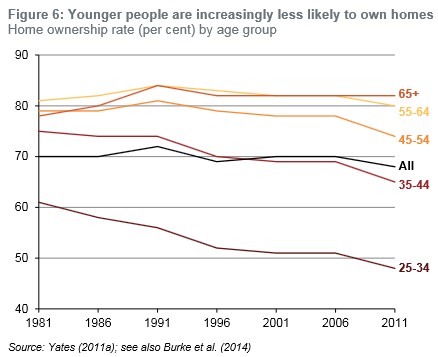 What should also become clear from the above charts is that the 1970s and 1980s was a dream time to purchase a home. Not only were homes highly affordable at roughly three times incomes, but a purchaser was in the fortunate position to have had their debts inflated away via high inflation and centrally indexed wage rises that outpaced the cost of credit. That versus today's mass immigration wage crushing future which means none of the loan principle will get inflated away.
There is no comparison. Boomers were spectacularly better off and Millennials are screwed.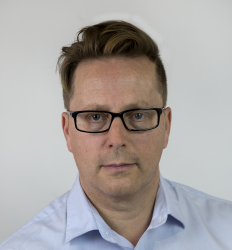 Latest posts by Houses and Holes
(see all)