Via AFR:
Former Reserve Bank of New Zealand governor and architect of its inflation target band Don Brash has cautiously come out in favour of Australia reviewing its inflation target due to persistently lower levels of inflation.

"It makes sense to review it," he told The Australian Financial Review.

"But I have mixed feelings about how that might change."
Sure, let's review it. But not just the inflation target. The entire monetary management system is broken:
does RBA or APRA now control monetary policy?
do they operate effectively together or, as evidence suggests, in a void of diffused responsibility?
why is inflation so low?
what role did the RBA play in making it so?
If we just pick out the inflation target for review, to lower it, then we're shifting the goal posts to protect RBA failures after the fact. This is corruption. It is made worse by the fact that the Bank has been FAR too bullish for years, so what other lowflation outcome should we expect if it's holding policy too tight?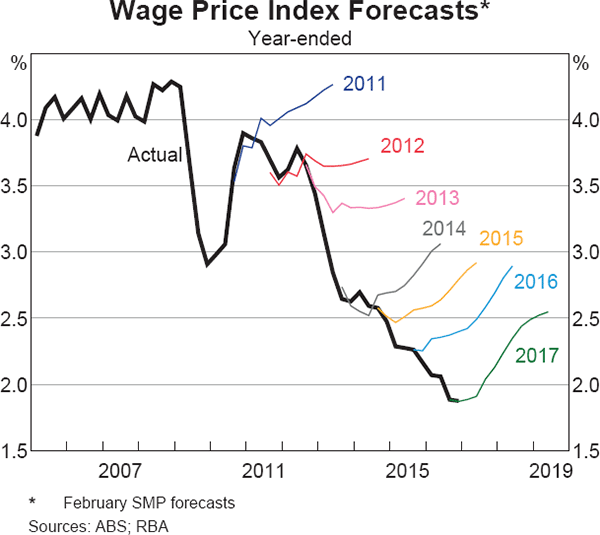 It's bleedin' obvious what went wrong with inflation. As Professor Ross Garnaut noted yesterday, the RBA tracked the wrong labour market indicator in looking for wages growth (and therefore inflation follow through) while celebrating unprecedented inflows of cheap foreign labour into an output gap. Phil Lowe himself has said he needs wages growth of 3.5% to keep inflation above 2%. It should have been looking at underemployment not unemployment, a point made very clearly today by ANZ:
"We are forecasting a gradual pick-up in wage growth to 2.4% by the December quarter."

"This is dependent on our expectation that the unemployment rate will track sideways at around 5%."

"Any rise in the unemployment rate would stifle the slow progress that wage growth has made over the past couple of years."

"Earlier this decade, an unemployment rate of around 5% was associated with wage growth of close to 4%, according to the Phillips curve."

"This relationship has changed drastically — the unemployment rate is back at 5% but wage growth is only 2.3%."

"We believe that a structurally higher underemployment rate is to blame. This has resulted in the unemployment rate becoming less reflective of spare capacity in the labour market".

"As underemployed workers are those that are actively looking and available to work more hours, they tend to be part-time workers."

"Underemployed workers may be more likely to accept additional hours at their current wage rate, rather than push for a pay rise, restraining overall wage growth."

"For wage growth to continue to improve, and for it to get anywhere near the long-run average over the longer-term, we see a sustained, material decline in the underemployment rate as the key requirement."
The RBA has gone rogue with a deflationary mindset. Any review of its mandate must focus on why, and target a shift from employment to underemployment in its mandate. Forget the inflation target.