Is it an asteroid? Is it a plague? No, it's The Guardian Australia:
Australia's major political parties are facing calls to explain what role they will play in securing a global deal to save nature after a major scientific report warned a million species across the world face extinction.

The assessment by an international scientific panel convened by the United Nations, known as the Intergovernmental Science-Policy Platform on Biodiversity and Ecosystem Services, warns species are declining at a rate unprecedented in human history, with three-quarters of land-based environments and two-thirds of the marine environment significantly altered.

Compiled by 450 scientists and diplomats over three years, the assessment says accelerating species extinction is likely to have significant implications for human society and urgent systemic change is needed to reverse the decline and restore lost ecosystems.

With countries to meet in Kunming, China next year to set targets as part of the global convention on biological diversity, scientists and environment groups urged the next Australian government to take a lead.

The Australian Conservation Foundation's nature program manager, Basha Stasak, said Australia, as a developed nation with mega-diverse native life, should be at the forefront of the push for a meaningful deal.

She said the report made clear protecting species and landscapes would require fundamental change, including increasing funding to the national environmental budget – down more than a third since 2013 – and reversing the loss of more than 7.4 million hectares of threatened species habitat since the national Environment Protection and Biodiversity Conservation Act was introduced 20 years ago.

She called on the next government to back measurable targets and obligations, including a goal of protecting 30% of Earth's land and waters by 2030.

"Scientists tell us [it] is key to tackling mass wildlife extinctions and climate change," Stasak said. "Us being in the room and pushing for a strong agreement in China, and the meetings leading up to that, is critically important. We have a unique voice that we can add to this debate and we haven't in the past."

The WWF conservation scientist Martin Taylor cited government data that showed Australia had the highest rate of native mammal extinction over the past 200 years, having lost 27 species. It is the only developed country on a list of 11 global deforestation hotspots.
Indeed yes, our record is shocking. So bad, in fact, that The Guardian also says that we're going to starve:
Human society is in jeopardy from the accelerating decline of the Earth's natural life-support systems, the world's leading scientists have warned, as they announced the results of the most thorough planetary health check ever undertaken.

From coral reefs flickering out beneath the oceans to rainforests desiccatinginto savannahs, nature is being destroyed at a rate tens to hundreds of times higher than the average over the past 10m years, according to the UN global assessment report.

The biomass of wild mammals has fallen by 82%, natural ecosystems have lost about half their area and a million species are at risk of extinction – all largely as a result of human actions, said the study, compiled over three years by more than 450 scientists and diplomats.
Fair enough. I'm on board. What must we do to stop it?
From The ABC in late 2017:
Scientists based their findings on the worsening in conservation status of species between 1996 and 2008 on the International Union for the Conservation of Nature (IUCN) red list.

The IUCN red list uses a series of categories to rank how close a species is to extinction, from "least concern" through to "extinct in the wild".

Of the 109 countries studied, Papua New Guinea, Indonesia, Malaysia, India, China and the United States (primarily Hawaii) also ranked inside the top seven as the worst offenders on conservation…

"Once you actually work out [which country] might have been responsible for the loss of diversity, Australia is standing there at number two," Dr Waldron said.

"I knew there were a lot of threatened species in Australia, but I didn't realise things were getting worse so quickly"…

They identified key pressures on biodiversity loss to be agricultural development and increasing population.
This report supports another released in December 2016, which found that Australia was the worst performing developed nation with regards to habitat loss, driven by land clearing for pasture, agriculture and urbanisation.
It also follows the latest federal government State of the Environment report. which found that Australia's natural environment is being placed under acute strain from rapid population growth and economic activity:
The federal government's State of the Environment 2016 report (prepared by a group of independent experts, which I chaired), released today, predicts that population growth and economic development will be the main drivers of environmental problems such as land-use change, habitat destruction, invasive species, and climate change…

We continue to lose agricultural lands through urban encroachment. Over the past five years land-clearing rates stabilised in all states and territories except Queensland, where the rate of clearing increased.

Coastal waterways are threatened by pollutants, including microplastics and nanoparticles…

Population growth in our major cities, along with Australia's reliance on private cars, is leading to greater traffic volumes, which increase traffic congestion and delays as well as pollution…
In 2010, the Australian Conservation Foundation (ACF) called for Australia's population to be stabilised and nominated human population growth as a "key threatening process" to Australia's biodiversity.
Well-known environmentalist and former Australian of the Year recipient, Professor Tim Flannery, has estimated that the long-term human carrying capacity of the Australian continent and Tasmania might be as low as 8 million to 12 million people and has many times called for the nation's population to be stabilised.
In 1994, when Australia's population was just under 18 million, the Australian Academy of Science (AAS) convened a symposium on the future population of Australia. Its analysis was extended to Australia's resources of water, minerals and arable land, and the interactions between present lifestyle and present environmental damage, and between future expectations and the costs of increasing population.
The AAS cautioned that "if our population reaches the high end of the feasible range (37 million), the quality of life of all Australians will be lowered by the degradation of water, soil, energy and biological resources" and concluded that "the quality of all aspects of our children's lives will be maximised if the population of Australia by the mid-21st Century is kept to the low, stable end of the achievable range, i.e. to approximately 23 million". Just 22 years later, Australia has already breached 24 million, thus exceeding the AAS' recommended maximum population.
International organisations and commentators, too, have raised alarm at population growth's impacts on the environment.
The World Wildlife Fund (WWF) has nominated human population growth as the key risk factor for endangered species, noting that "the current rate of extinctions is 100 times what would be considered normal without the impact of human activity… more of us means more of that" (see below graphic).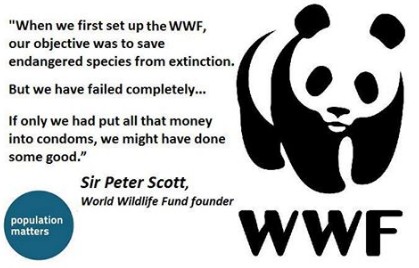 And recently, legendary documentary maker, David Attenborough, nominated population growth as the most fundamental issue facing the world.
So why does The Guardian Australia so wholeheartedly endorse this population-driven mass extinction event by refusing point black to ever discuss reducing immigration without labelling everybody who does so a "racist"?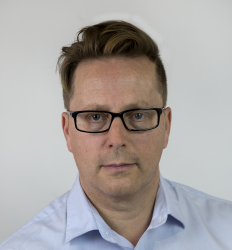 Latest posts by David Llewellyn-Smith
(see all)