A group of academics have attempted to project the United Kingdom's future population under three scenarios: 1) Hard Brexit; 2) Soft Brexit; and 3) No Brexit. Below are the results:
For the no Brexit scenario we extrapolated trends seen in UK total immigration and emigration flows between 1991 and 2014. According to our model, this scenario would see population growth for the next few decades, with a population in 2061 of 86.9m.

For soft Brexit, we took the long-term assumption for net international migration in the national population projections of the Office for National Statistics, based on the population at the end of June 2014. Our model assumed that the free movement of EU citizens would continue, but that a combination of factors would make the UK less attractive to migrants. Under this scenario, the UK population would continue to grow, but at a slower rate than the no Brexit scenario, and by 2061 the total population is projected to be 82.9m.

Under the hard Brexit scenario, we translated the 2010 Conservative Party pledge to reduce net international migration to "fewer than tens of thousands" into assumptions about immigration and emigration flows. Under this scenario, population growth would be slower, reaching 78.1m in 2061.

Taken together, this means that the UK population would be 8.8m people smaller by 2061 under a hard Brexit, compared to if the UK did not leave the EU…

The different scenarios also have an impact on how old the population is… In our analysis, we took people over the age of 70 as a proxy for retirement – taking into account planned and potential changes to the state retirement age – and all people aged between 19 to 69 for the working population, to take into account potential educational commitments of younger people.

The 2016 figure was around 5.5 working age people for every one person over retirement age. Under the no Brexit scenario, this would drop to 2.8 in 2061. It would drop to 2.7 under a soft Brexit scenario while a hard Brexit would result in 2.5 people of working age per retired person. Under all scenarios, there are fewer working age people to support those in retirement…
The reduction in immigration into the UK has already had a very positive impact on the UK labour market, with unemployment cratering (3.8%), stronger wage growth (3.2%), and record high employment (see yesterday's post).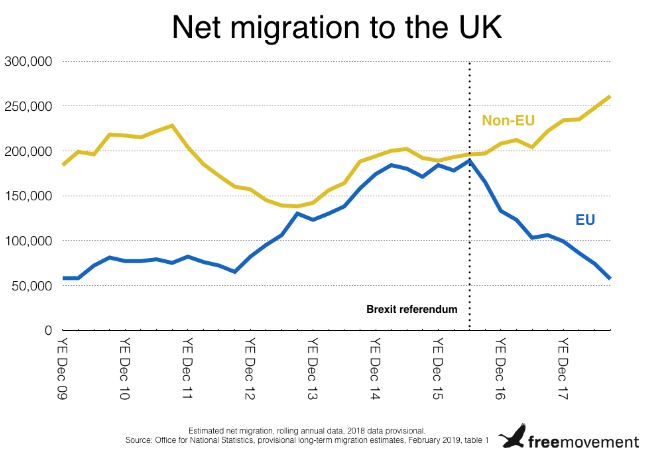 Obviously, having 8.8 million less people under a Hard Brexit would also work wonders for liveability, reducing urban congestion, limiting environmental damage, and relieving housing pressures.
Leith van Onselen is Chief Economist at the MB Fund and MB Super. Leith has previously worked at the Australian Treasury, Victorian Treasury and Goldman Sachs.
Latest posts by Unconventional Economist (see all)