It hasn't taken long for soon to be new Labor leader, Anthony Albanese, to shatter hopes that he would follow the will of the electorate and pledge to lower Australia's immigration intake back towards sensible historical levels: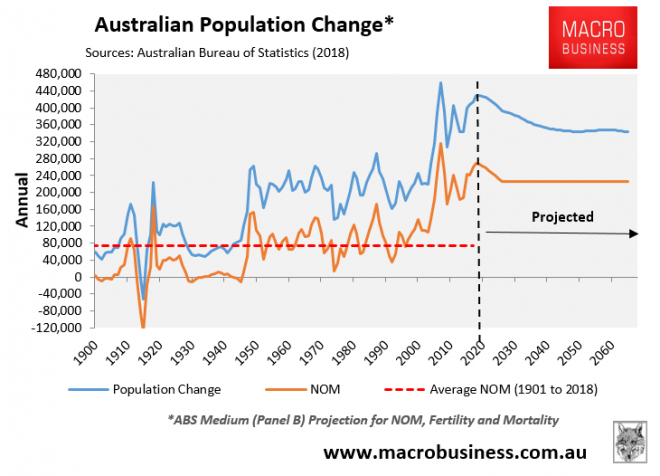 Over the weekend, Albanese explicitly threw his support behind Australia's mass immigration 'Big Australia' policy:
Prime Minister Scott Morrison announced a cut in Australia's migrant intake last year, declaring the "roads are clogged" and buses, trains and schools in Sydney and Melbourne "are full".

But Mr Albanese said he was comfortable with the country's and Sydney's population growth.

"We do need with an ageing population to continue to have growth," he said. "We also need to acknowledge that migrants contribute to economic activity so that's important."

Mr Albanese said people were rightly concerned about "bad development" on inappropriate sites with a lack of infrastructure.

"People want to live in communities with increases in density but it's got to lead to an improvement in their quality of life," he said. "Too often we've seen greed and overdevelopment in the wrong places."
So according to Albanese, "people want to live in communities with increases in density". If this is true, then why do the majority of Australian voters favour a lower immigration intake, according to most recent opinion polls:
This opposition to mass immigration appears to be strongest in Albanese' home state of NSW, where in March 80% of voters surveyed by Newspoll said the didn't want the state's population to increase: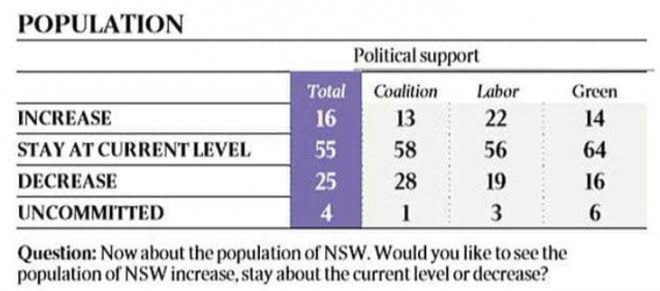 So while Albanese might be "comfortable with the country's and Sydney's population growth", the Australians and Sydneysiders that Albanese is supposed to represent most certainly are not.
With regards to Albanese's claim that "we do need with an ageing population to continue to have growth", has he been living under a rock? The Productivity Commission has debunked the myth that immigration can solve population ageing many times over the past decade or so. For example:
PC (2005): "

Despite

popular thinking to the contrary, immigration policy is also not a feasible countermeasure [to an ageing population]. It affects population numbers more than the age structure".
PC (2010): "Realistic changes in migration levels also make little difference to the age structure of the population in the future, with any effect being temporary"…
PC (2011): "…substantial increases in the level of net overseas migration would have only modest effects on population ageing and the impacts would be temporary, since immigrants themselves age… It follows that, rather than seeking to mitigate the ageing of the population, policy should seek to influence the potential economic and other impacts"…
PC (2016): "[Immigration] delays rather than eliminates population ageing. In the long term, underlying trends in life expectancy mean that permanent immigrants (as they age) will themselves add to the proportion of the population aged 65 and over".
Dr Cameron Murray and I have also comprehensively destroyed this myth in our recent research paper.
In short, trying to overcome an ageing population through higher immigration is a Ponzi scheme.  It requires ever more immigration, with the associated negative impacts on economic and social infrastructure, congestion, housing affordability, and the environment.
Like so many of his federal parliamentary counterparts, Anthony Albanese is clueless and appears to have zero interest in maintaining individual living standards. So much for "Labor" representing ordinary workers. The cycle continues!
Latest posts by Leith van Onselen (see all)