From Scummo today:
Our plan will build our economy, without increasing taxes, securing the future for all Australians. #BuildingOurEconomy pic.twitter.com/Ao8p6WPeDb

— Scott Morrison (@ScottMorrisonMP) 10 April 2019
Let's unpack what these five points really mean.
Scummo Point 1: 1.25m jobs over five years
The Truth: Jobs growth of 1.25 million over five years implies weak monthly jobs growth of only 20,800 with 13,416 of those jobs going to new migrants ensuring that cheap foreign labour destroys wages growth permanently. As Treasury noted recently:
Recent migrants accounted for two-thirds (64.5 per cent) of the approximately 850,000 net jobs created in the past five years. For full-time employment, the impact is even more pronounced, with recent migrants accounting for 72.4 per cent of new jobs created.
Scummo Point 2: Maintain budget surpluses and pay down Labor's debt.
The Truth: Under-invest in infrastructure and essential services as mass immigration is run at full throttle. Ensure domestic demand remains weak as private sector deleverages.
Infrastructure Australia's 2018 report, entitled Planning Liveable Cities, found that Australia's infrastructure provision is failing badly to keep pace with rapid population growth:
"Infrastructure delivery is struggling to keep pace with rapid population growth and change. Our largest cities are 'playing catch up' in delivering infrastructure to support population growth…  Our infrastructure funding mechanisms have not kept pace with growth… Communities are increasingly disappointed by their experience of growth…"
The PC's 2013 final report on An Ageing Australia: Preparing for the Future projected that Australia's population would swell to 38 million people by 2060 (let alone 42.6 million projected by the ABS currently) and warned that total private and public investment requirements over the 50 year period are estimated to be around five times the cumulative investment made over the last half century: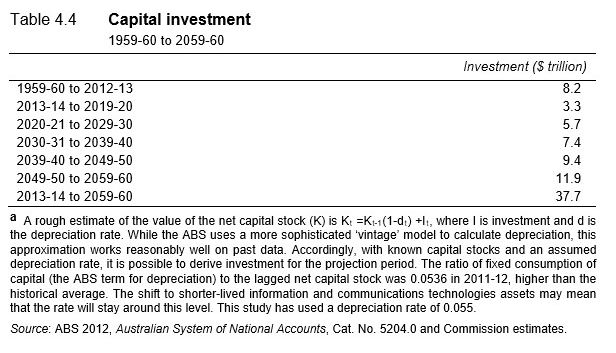 Scummo Point 3. Deliver tax relief for families and businesses. 
The Truth: Make the rich richer with regressive tax bracket flattening while rorting everyone via bracket creep. Also, punch a structural hole in tax receipts as commodity prices fall necessitating tax hikes in due course.
Via The Australia Institute:
Who benefits from these changes in 2024-25 is very different to the LMITO. A third of the benefit of flattening the tax scales will go to the top 10 per cent of taxpayers, with more than half going to the top 20 per cent. At the other end of the distribution the bottom 10 per cent get less than one per cent of the benefit while the bottom 30 per cent get only seven per cent of the benefit…
Scummo Point 4: Keep Australians safe and our border secure. 
The Truth: Continue mass immigration at full throttle through Swiss cheese border while disguising it with "stop the boats" bait and switch, as well as fiddles with visa categories. Drive Australia ever further under Chinese Communist Party skirts.
Buried deep in Budget Paper 3 is the below projection of increased net overseas migration (NOM):

As you can see, NOM over the entire forward estimates is projected to be much higher than the latest number of 240,000 reported by the ABS.
Not surprisingly, then, populations across the major jurisdictions are projected to swell, with NSW projected to add nearly 600,000 people over the next four years and VIC around 650,000 people: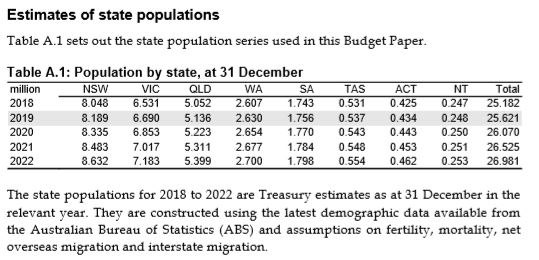 Scummo Point 5: Guarantee increased funding for schools, hospitals, medicines and roads that you and your family rely on, already at record levels.  
The Truth: Guarantee falling living standards and diminishing access to every essential service as the great crush-loading of eastern cities worsens much more quickly than a dramatically under-investing Scummo Government can keep up with it.
From Infrastructure Australia:
 
In short, Scummo has a Five Point Plan to destroy Australian values, social fabric, living standards, labour and the national interest in favour of a small number of growth lobby billionaires.
Latest posts by David Llewellyn-Smith (see all)