The Australian Bureau of Statistics (ABS) has released export and import prices for the March quarter, which portends a lift in Australia's terms-of-trade when the national accounts are released in early June.
According to the ABS, export prices rose by 4.5% over the March quarter and were up by 15.3% over the year, whereas import prices fell by 0.5% over the quarter but were up by 5.2% over the year: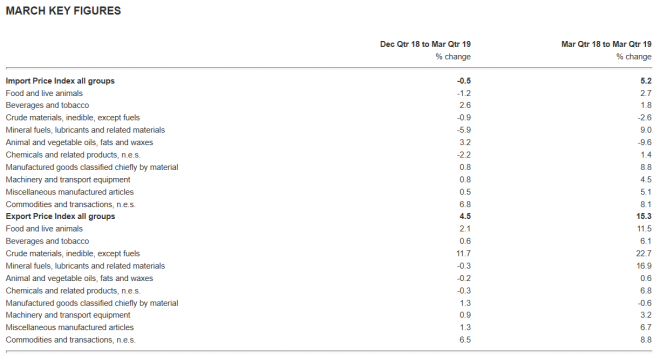 According to the ABS, the rise in export prices was driven by "metalliferous ores and metal scrap (+12.9%), Gold, non-monetary (excluding gold ores and concentrates) (+6.6%), Cereals and cereal preparations (+4.3%), Gas, natural and manufactured (+0.9%), and Non-ferrous metals (+3.3%)".  Whereas the fall in import prices was driven by "petroleum, petroleum products and related materials (-6.8%), Inorganic chemicals (-15.3%), and Medicinal and pharmaceutical products (-3.1%)".

Dividing export prices by import prices gives a useful estimate for Australia's terms-of-trade. As shown below, the terms-of-trade is facing a circa 5.1% rise in the March quarter, which should add to both national income and nominal GDP (forecast in green):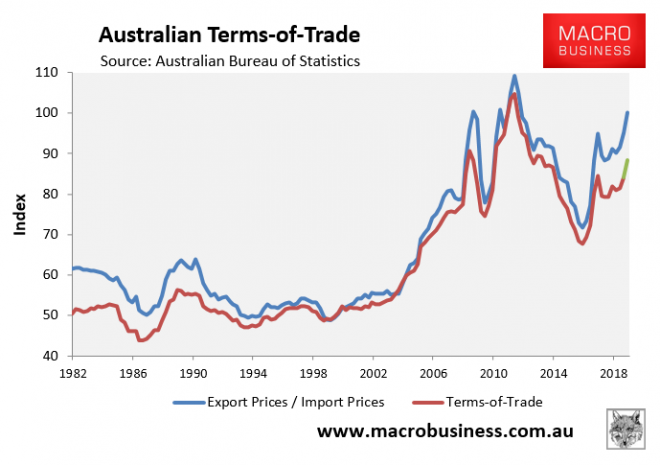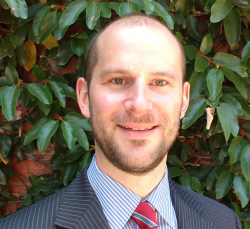 Latest posts by Leith van Onselen
(see all)