Via the AFR:
The centrepiece of Labor's plan to reduce carbon emissions – a baseline and credit scheme for the nation's top 250 emitters – appears doomed with the Coalition opposed to the entire policy and the Greens hostile towards several elements, including letting companies offset emissions by buying international carbon permits.

If Labor wins the federal election, expected to be called within days, it would need the support of either the Coalition or the Greens to secure the passage of legislation in the Senate.

Labor leader Bill Shorten, right, with the party's energy and climate spokesman Mark Butler. announce Labor's new emissions policy.

But in what looms as a repeat of 2009 when Kevin Rudd's Carbon Pollution Reduction Scheme crashed, Labor has unveiled a climate change policy that is considered too soft by the Greens and too severe by the Coalition.
Except that none of this necessary. The entire carbon wars edifice is bullshit; a political artifice created to debate something we never planned on, never needed, and could still end overnight. The entire renewables versus coal structure is a false binary.
How can that be so? Easy. Like everybody else, we always planned our carbon transition to use gas as the "bridging fuel" as coal disappeared and renewables caught down in price. All that went wrong with this plan is that a few nasty individuals seized and sold Australia's largest terrestrial gas reserves in QLD to Asia when nobody was looking.
Not only that, they built huge, loss making LNG plants to do it. To make up those losses, they depleted and gouged the local market. The gas price went from $3Gj to $20Gj. And because gas stills sets the marginal cost of electricity, that caused power prices to rocket 200% as well.
That is what birthed the carbon wars. The rising price of utilities. Nothing else.
So, what is the answer? Again, easy. Apply domestic reservation to the gas cartel and force down the gas and power price. Problem solved overnight.
To see this in action we need only look to the home of freewheeling capitalism in the US. It is also building masses of LNG export plants, with approvals approaching double that of Australia: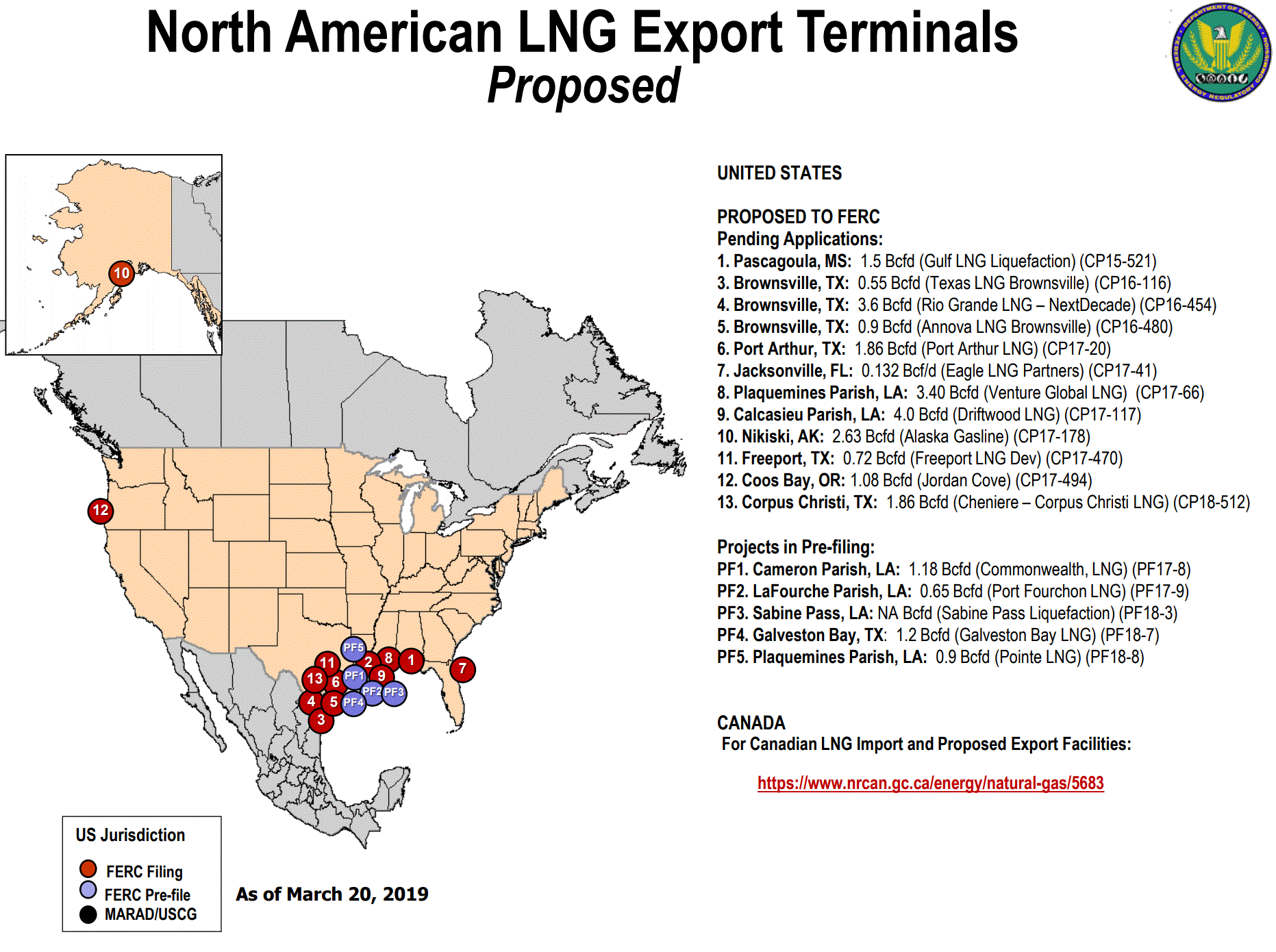 But because it has taken the the time to approve the projects and pace them with rising reserves, the domestic price has cratered from pre-GFC China panic prices: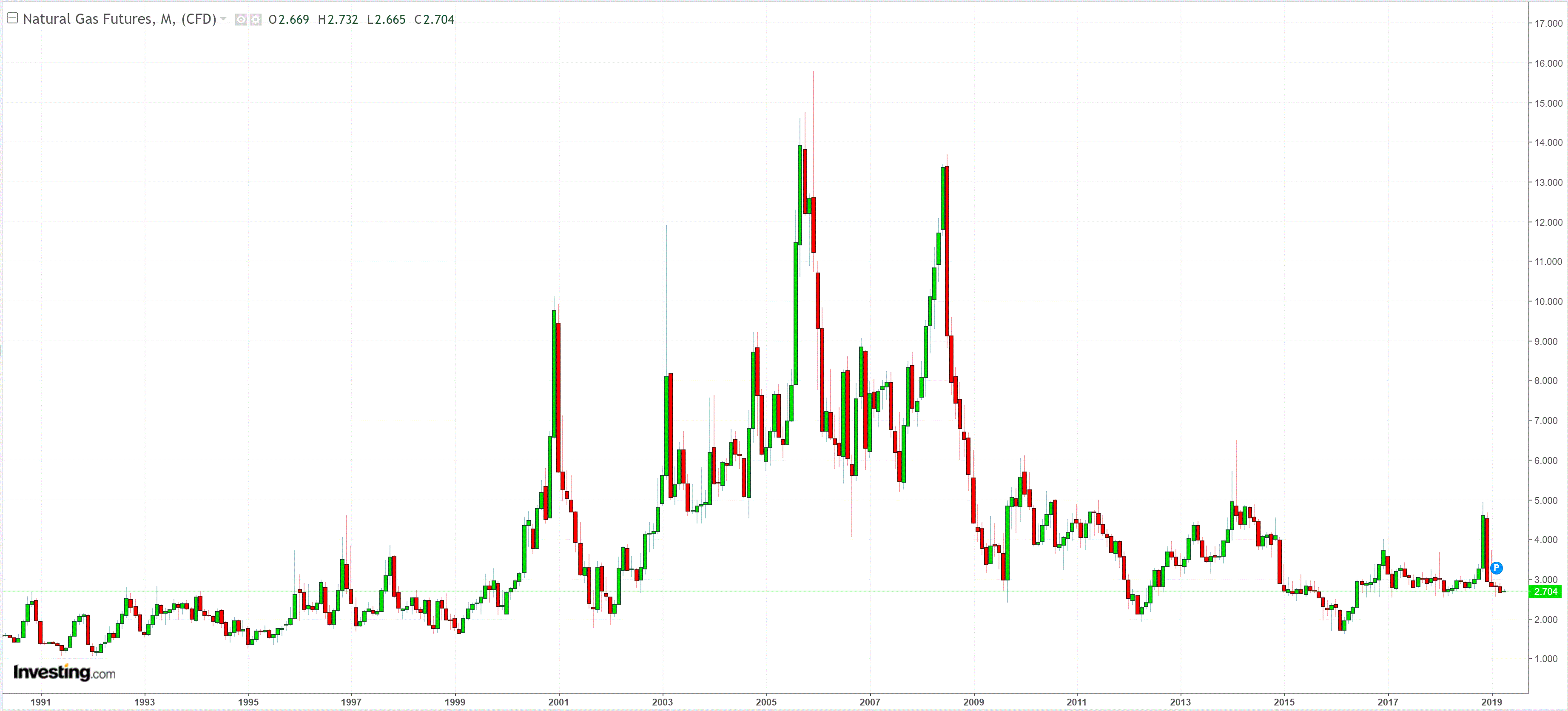 So much so that today some landlocked gas can't be given away, via the FT:
In west Texas last week, you could not give gas away, as prices dropped to record lows. Companies trying to offload natural gas at the Waha hub, in the booming shale oil region of the Permian Basin, found they had to pay operators with pipeline capacity to take it away. The gas price at Waha registered a low last Thursday of minus $2.50 per million British Thermal Units and closed at minus $1.95, its lowest level since S&P Global Platts started collecting the data back in 1994.
But, I hear you say, the US has the shale boom, we do not. True! But we did have the unconventional gas boom as well, only via coal seam gas in QLD. And in our case the proportional expansion in reserves was LARGER than it was in the US.
Thankfully all of that US gas is coming to Asia in due course to ensure the regional price remains low: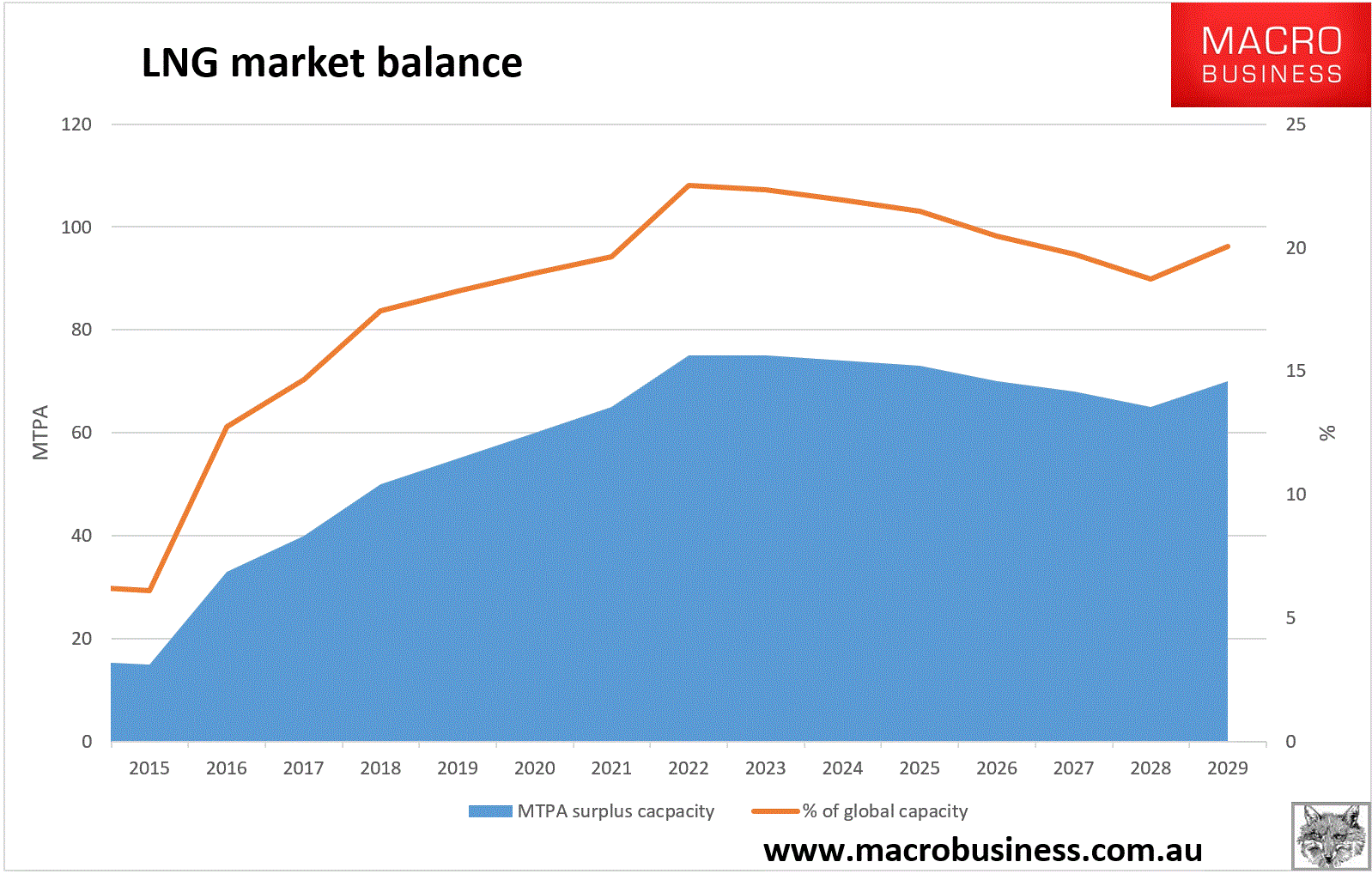 But that doesn't help Australians. Because unlike the home of freewheeling global capitalism we never did gas reservation. When we did do it later in a panic it was done badly. So as the price of US gas turns negative and Asian gas crashes to USD4.50, Aussie gas is today still hovering near $11Gj, ripping the guts out of the east cast economy in a $20bn theft the likes of which I have never seen in the most tin pot banana republic anywhere.
So, should we import this US gas too? So long as the Asian price is low it would crush the local cartel. It's an option. Today that would give us a gas price of $6-7Gj versus the cartel gouge of $10-11. But it would also embed the import price plus the cost of regasification for end users, guaranteeing a competitive disadvantage despite our own cheap reserves. As well, the US gas would probably never even get here. Instead, Australia's own gas would sail out of QLD then come south to ports in NSW and VIC, with a pack of middle men clipping the ticket along the way. It also means if the Asian gas price goes up or the AUD falls then local prices go straight up again.
We're better off copying the US example and stiffening our own domestic reservation policy that just ensures the cheapest Aussie reserves stay here. Today that would give us a gas price of $4-5Gj if export net-back prices are enforced. Wholesale electricity prices will also crash by 60% because gas sets the marginal cost of power too. We should add a gas price ceiling to the domestic reservation regime as well, at $6Gj no matter what the Asian gas price does. The gas cartel produces plenty of gas cheaper than that. We should keep it. If they built loss making LNG plants then that's their problem.
That would save east coast households and businesses $15-20bn per annum. Yeh, that's $15-20 BILLION, 1% of GDP pissed into the pocket of a blood sucking gas cartel.
And it would end the carbon wars overnight.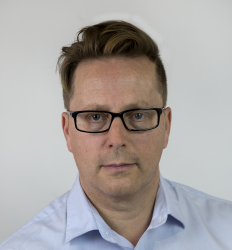 Latest posts by David Llewellyn-Smith
(see all)