Why does a lunatic RBA keep throwing itself under the bus? It began in H2 last year with a crazily bullish outlook for 2018 GDP growth just as Australia plunged into a per capita recession: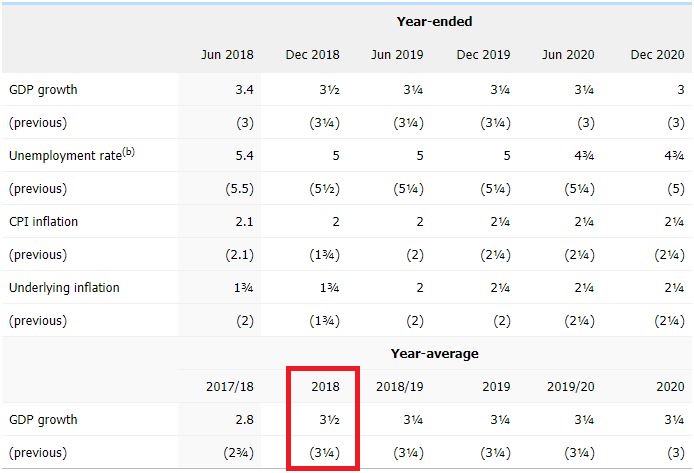 Then it continued through the new year as the economy very obviously stalled with a still crazily bullish outlook for 2019: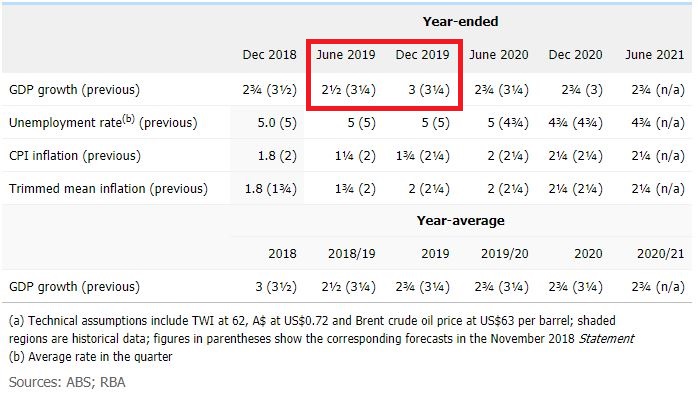 Then as data fell apart in January, board member Ian Harper threw himself into the traffic:
The clearest indicators of ongoing momentum of Australia's economy are strong employment growth and a rapid shift in the federal budget toward surpluses, said Ian Harper, a member of the Reserve Bank of Australia's policy-setting board.

…"The domestic economy, everything I've seen, shows that it is still strong," Mr Harper told The Wall Street Journal on Thursday.

"So long as jobs growth is strong and unemployment is low, then fears about some sort of collapse in consumption, or inability to be able to pay bills, really have to be put way down the list" of policy concerns, he said.

Prof Harper said his personal view is that the next move in interest rates will be upward.
Phil Lowe then splattered himself across windscreens in early February and again yesterday before the GDP shocker:
Our central forecast is for the Australian economy to expand by around 3 per cent over 2019 and 2¾ per cent over 2020 (Graph 4). For 2018, the outcome is expected to be a bit below 3 per cent. This type of growth should be sufficient to see further gradual progress in lowering unemployment.
Now, with Aussie GDP at 2.3% in 2018 and the March and June 2018 QTR base effects very challenging for 2019 at 1.1% and 0.8%, the lunatic RBA is looking at an annual growth figure deep into the 1% annual range by mid year. Annualised growth has been at 1% for six months!
What end does this suicidal behaviour serve? After all, the practical implication of it is that markets are still mispricing bond yields and holding the Australian dollar higher than it should be, working directly against the RBA's own mandate of higher inflation and lower unemployment (which should be altered to include underemployment).
First, we could be kind and conclude that the RBA is deliberately holding back rate cuts to force an historic correction in house prices to permanently dent household debt growth. But that goes against everything that the bank has ever stood for, including a more hawkish Phil Lowe.
Second, we might conclude that the bank knows the great correction is upon it and is trying to support confidence as best it can with positive jawboning. Though this is pretty stupid given being perpetually wrong on every forecast hardly bolsters animal spirits.
Third, we can conclude that the bank doesn't have a clue what it is doing and really believes in its own ridiculous outlook and plan to raise rates to reload the monetary cannon.
A fourth explanation is a little off the wall. We know that the RBA refers to MB as "those MacroBusiness bastards". Perhaps its recalcitrant defensiveness is a result of our dovish mockery! More seriously, the point goes to an increasingly cloistered board disconnected from reality and stuck in group think born of decades of Australian exceptionalism.
My best guess is that it is a combination of 30% of hoping to support confidence, 60% pure ineptitude and 10% toxic defensiveness.
Whichever it is, it is incumbent upon me to remind the Bank that trashing its own credibility just as the economy is threatening to roll into a long cycle, balance sheet adjustment damages the Australian national interest.