The South Australian Liberals have taken a cue from their federal counterparts, opening two new pathways for businesses to exploit cheap foreign labour. From Adelaide Now:
The new visa rules, being trialled by the State Government, will make it easier for overseas migrants wanting to join extended family in SA by scrapping the need to have a bachelor's degree.

The move is expected to help bring in tradies to fill jobs in the shipbuilding and associated industries…

Business SA CEO Nigel McBride said… "One of the great demands in our state is for trade occupations"…

His sentiments were echoed by Adelaide migration agent Mark Glazbrook, who said overseas tradies could fill some gaps…

Immigration SA also has made changes to its nomination policies so that current and former students that have remained in South Australia since March 2012 will be offered state nomination for provisional visas.
Righto. So Australian taxpayers will fork out over $80 billion to build 12 submarines and nine frigates in South Australia in order for many of these jobs to be filled by foreign workers.
Meanwhile, South Australia's underemployment and labour underutilisation rates are stuck at 9.1% and 15.1% respectively, suggesting that massive surplus capacity exists: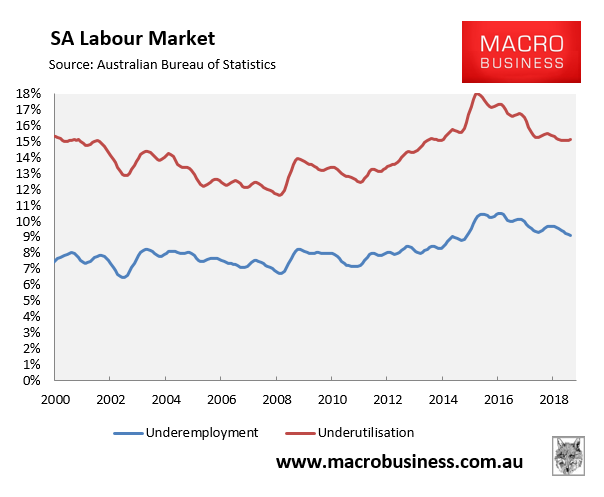 Instead of reaching for cheap foreign labour at the first opportunity, how about training South Australians for these roles?
Latest posts by Leith van Onselen (see all)