Facing imminent election defeat, the Morrison Government has thrown open the immigration floodgates via a variety of new visa pathways.
In December, the Morrison Government announced a brand new permanent migration pathway for low skilled, low paid, non-English speaking foreign workers:
The Government has opened a gateway for foreigners with basic farm or hospitality skills to move permanently to Australia on a work visa.

New regional migration agreements for the Northern Territory and south-west Victoria will lower the criteria for skills, language and income for migrant workers…

Typically, employment visas must be for workers with competent English and pay of at least $53,900 per year.

However… a visa may be approved for a baker, barista or hairdresser with language or income less than these thresholds.
Late last week, the Morrison Government announced an expansion of its Accredited Sponsor Scheme (ASS), which will provide access to work visas within five business days for an expected 2,500 eligible companies:
The government's Accredited Sponsor Scheme for work visas allows for rapid processing of skilled applicants seeking to work in more than 900 trusted businesses and government organisations, lasting for five years once approved…

Mr Coleman has instructed the Home Affairs Department to establish a new dedicated team to identify and invite employers to join the expanded scheme, with expectations it will almost triple to 2500 companies by the end of 2019…

"…where skills are unavailable in Australia, we must ensure businesses can access the global pool of skilled workers so they can continue to thrive and generate the best economic contribution for Australia"…
The expansion of the ASS followed strong lobbying by the Australian Chamber of Commerce & Industry, which claimed that changes made to the temporary skilled visa system last year were "misguided".
Over the weekend, two new visa schemes were revealed allowing aged care providers and religious institutions to employ migrant workers:
The Australian government has announced two new labour agreements that it claims will support the country's multicultural communities…

The new agreement for the aged care sector will allow aged care facilities to sponsor carers with the required skills to care for communities' elderly, even though the occupation of the aged care workers is not in the list of eligible occupations…

A new occupation of Religious Assistant is being made available for religious institutions broadening the scope for sponsoring overseas workers while expanding the scope of work for the existing occupation of Minister of Religion…

Mr Coleman said there are 23,000 ministers of religion in Australia and he expects strong growth in the numbers of both the ministers of religion and religious assistants in the next five years.
And yesterday we learned that the Morrison Government has thrown the door wide open for more migrant workers to work on Australia's farms:
Visa rule changes will allow skilled foreign workers hired for seasonal work on farms to stay in Australia for up to four years…

The changes to the Regional Occupation List, which build on the Working Holiday Maker visa program and the Seasonal Worker Program, are designed to target workforce shortages…

In January, the Morrison government loosened restrictions on two schemes that bring temporary farm workers into Australia, lifting the cap on the 462 visa for working backpackers from particular countries.

Under the latest changes, migrants hired for agriculture work will get four-year working visas but must remain in a specified region and work in some type of farming.
Which comes after revelations that Australian farmers are exploiting migrant workers en masse:
Farmers in Victoria's north-west are struggling to find workers to pick their fruit after a crackdown on illegal foreign workers over the past month.

A campaign by the Australian Border Force (ABF) in the region found 23 undocumented workers at a farm in Robinvale, with those workers now awaiting deportation…

VFF vice president Emma Germano said the presence of Border Force has shut the industry down during its peak picking time…

A lot of workers had taken off, obviously in fear of retribution," she said.
Finally, today we learn that the Morrison Government has added 36 more occupations to Australia's skilled occupations list, which has migration agents grinning ear-to-ear:
Migrants need to be nominated in one of the skilled occupations to apply for the relevant permanent residency visas, under Australia's migration policy.

The new list announced by the Department of Home Affairs on Monday has 212 skilled occupations eligible for Skilled Independent Visa (subclass 189) program whereas Skilled Nominated visa (subclass 190) has 427 occupations… Earlier this list had a total of 176 occupations…..

Melbourne-based migration expert Chaman Preet believes this list has opened up new avenues for skilled professionals… "Many new occupations have been added to the list which is a pleasant surprise to many… [and will] open new avenues for the visa hopefuls"…

Melbourne-based registered migration agent Rohit Mohan… [says] "most of the other occupations have been moved to the long term occupations list or the regional occupation list which is a piece of good news for the visa hopefuls"…
Recall the damning indictment of Australia's "defacto low-skilled immigration programme" in the book entitled The Wages Crisis in Australia, which was released late last year by a group of labour market academics:
Official stock data indicate that the visa programmes for international students, temporary skilled workers and working holiday makers have tripled in numbers since the late 1990s…

Decisions by the federal Coalition government under John Howard to introduce easier pathways to permanent residency for temporary visa holders, especially international students and temporary skilled workers, gave a major impetus to TMW visa programmes.

Most international students and temporary skilled workers, together with many working holiday makers, see themselves as involved in a project of 'staggered' or 'multi-step' migration, whereby they hope to leap from their present status into a more long-term visa status, ideally permanent residency…

Though standard accounts describe Australian immigration as oriented to skilled labour, this characterisation stands at odds with the abundant evidence on expanding temporary migration and the character of TMW jobs… the fact that their work is primarily in lower-skilled jobs suggests that it is more accurate, as several scholars point out, to speak of a shift in Australia towards a de facto low-skilled migration programme…

Increases in labour supply allow employers in sectors already oriented to flexible and low-wage employment, such as horticulture and food services, to sustain and extend strategies of labour cost minimisation… The arguments and evidence cited above suggest a spread of predatory business models within low-wage industries. They suggest an unfolding process of degradation in these labour markets…

This crisis has been precipitated by the federal government's decision to freeze the salary floor for temporary skilled migrant workers since 2013… the government has chosen to put downward pressure on real wages for temporary skilled migrants, thereby surreptitiously allowing the TSS visa to be used in lower-paid jobs…

TSMIT's protective ability is only as strong as the level at which it is set… But since 1 July 2013, TSMIT has been frozen at a level of A$53 900. ..

There is now a gap of more than A$26 000 between the salary floor for temporary skilled migrant workers and annual average salaries for Australian workers. This means that the TSS visa can increasingly be used to employ temporary migrant workers in occupations that attract a far lower salary than that earned by the average Australian worker. This begs the question — is the erosion of TSMIT allowing the TSS visa to morph into a general labour supply visa rather than a visa restricted to filling labour market gaps in skilled, high-wage occupations?..

Put simply, temporary demand for migrant workers often creates a permanent need for them in the labour market. Research shows that in industries where employers have turned to temporary migrants en masse, it erodes wages and conditions in these industries over time, making them less attractive to locals…

Combined, then, with the problems with enforcement and compliance, it is not hard to conclude that the failure to index TSMIT is contributing to a wages crisis for skilled temporary migrant workers… So the failure to index the salary floor for skilled migrant workers is likely to affect wages growth for these workers, as well as to have broader implications for all workers in the Australian labour market.
Also recall the testimony from the ACTU:
Wright and Constantin (2015) surveyed employers using the 457 visa scheme and found that 86% state that they have experienced challenges recruiting workers locally. Despite identified recruiting difficulties, the survey found that fewer than 1 in one hundred employers surveyed had addressed 'skill shortages' by raising the salary being offered. Labour 'shortages' should first be addressed through a readjustment in the price of labour – increased wages. An inability to find local workers to work at a specified wage rate, coupled with an unwillingness to offer higher wages, does not necessarily imply a skill shortage – particularly where local workers would be willing and able to work if the wage rate was lifted. This differs from a skill shortage in which there are simply not enough people with a particular skill to meet demand.

The relatively recent availability of a large and vulnerable pool of temporary migrant workers has undoubtedly contributed to current record low levels of wages growth and a growing reluctance by employers to train local workers…

While there are approximately 1.5 million temporary entrants with work rights, the overseas worker team at the Fair Work Ombudsman consists of only 17 full time inspectors to investigate cases of exploitation – over 80,000 visa workers per inspector. Inadequate enforcement and penalties act as an incentive for employers to exploit temporary workers when the benefit from doing so outweighs the cost of the penalty. or where the probability of being caught is sufficiently low….

There have been a range of abuses uncovered which have clearly shown that the entire system is broken. From 7-11 and Domino's to agriculture, construction, food processing to Coles, Dominos and Caltex, it is clear that the abuses occur in a number of visa classes whether they be students, working holiday makers or visa workers in skilled occupations…

Migration intermediaries have a vested interest in inflating demand. Australia has created a massive industry with many migration agents outside of our jurisdiction who cannot be prosecuted for breaches. This mushrooming "migration industry"- a complex and transnational web of agents, lawyers, labour recruiters, accommodation brokers and loan sharks – is currently largely unregulated.

The growth of labour hire operators alongside the migration industry has led to companies seeking to sell temporary migrant workers to employers, creating a fake "Job Network" which preferences temporary workers over Australians.
Clearly, by giving Australian employers even greater access to low-wage foreign workers, local workers will be undercut, further eroding employment standards and wages growth.
Meanwhile, the Morrison Government is continuing with its latest refugee 'bait and switch':
Scott Morrison is sharpening his election focus on Australia's immig­ration and population levels­, seizing on Finance Department costings that show Bill Shorten's plans to lift the annual humanitarian refugee intake to 32,000 would cost the budget an extra $6.2 billion.

The analysis, which covers a government-wide breakdown includ­ing­­ settlement, welfare and health costs associated with the present humanitarian program, shows a deteriorating structural position in the budget under Labor plans to effectively double last year's humanitarian intake by 2025.

The annual cost of managing the program for new entrants beyond­ 2019-20 would rise from $624 million this year to more than $4.3bn a year by 2028-29. This would compound over time and degrade existing services.
Which has come despite an explosion of asylum seeker applications from migrants arriving by plane under the Coalition's watch: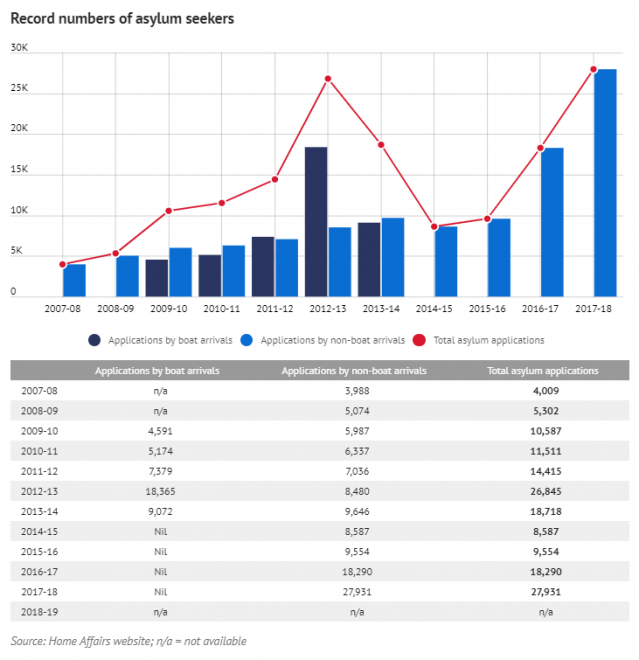 The death throes Coalition has shown its real hand. It is not even attempting to win the election, just doing its corporate mates' bidding behind fake border security scares.
Talk about a dog act.
Latest posts by Leith van Onselen (see all)