Back in November, The AFR reported that first-home buyers (FHBs) were desperately fighting for land in Melbourne as the city's population soars.
Then in December, The AFR reported that the median price for a housing lot in Melbourne had hit $318,500 – up 31.5% over past 12 months – driven by the influx of new arrivals into Melbourne.
Today, The AFR reports that Chinese developers have taken control of Melbourne's land supply pipeline, driving-up prices:
Chinese developers have taken a virtual stranglehold on the future supply of new housing in Melbourne's outer suburbs after acquiring more than two-thirds of all big greenfield land parcels offered for sale in the past 18 months, in deals worth about $2 billion.

This surge of foreign capital has pushed broadacre land values above $1 million a hectare and contributed – along with planning and infrastructure delivery bottlenecks – to the cost of a standard 400 square metre lot rising 30 per cent in a year to a median of $323,000.

Figures from real estate group RPM show greenfield sales to foreign purchasers reached $1.2 billion last year, accounting for 67 per cent for all land sales above $10 million, up from 15 per cent in 2014.

This trend has continued in the first five months of 2018  with RPM tracking $750 million of acquisitions by overseas purchasers…
The above highlights the complete and utter failure of Melbourne's housing system.
First, Melbourne's population is growing at a monstrous clip on the back of mass immigration, with the city's population increasing by an insane 1.2 million people (33%) in the 13-years to 2017: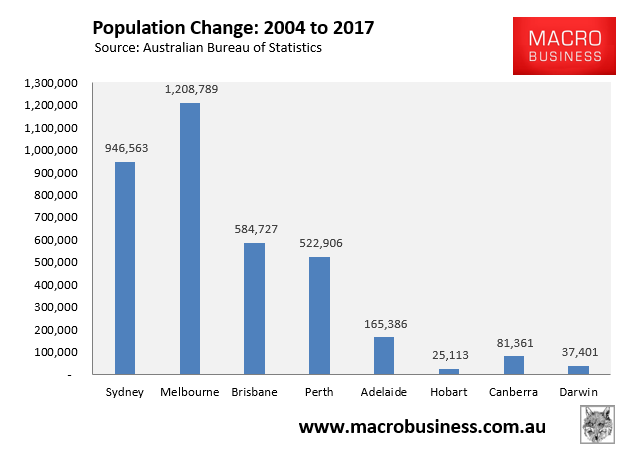 Further, official state government projections have Melbourne's population continuing to grow by 97,000 people a year to 8 million people mid-century.
Second, while Melbourne is being force-fed migrants, land supply is being cornered and drip-fed onto the market, thereby ensuring scarcity always remains and lot prices rise.
The only workable solution to unwind this mess is to: 1) reduce demand-side pressures by normalising Australia's immigration intake back to sensible and sustainable levels; and 2) undertaking supply-side reforms, such as removing Melbourne's artificial growth boundary, in order to boost competition and contestability in the land market.
Meanwhile, a separate report at The Age shows that while inner-city developers in Melbourne are making out like bandits, those reliant on public housing are suffering:
Prime public housing land in inner Melbourne was sold to developers too cheaply, a parliamentary committee has revealed.

The developers behind the partial privatisation of the Kensington housing estate gained "significant advantage" by building more private units than was justified – while the amount of public housing on the estate was simultaneously reduced.

The state government is selling nine inner Melbourne public housing estates to developers. On Tuesday, a highly critical Upper House inquiry into the Public Housing Renewal Program tabled its progress report in Parliament.

…the inquiry's report revealed there were 57,877 adults and 24,622 children waiting for social housing…

Tuesday's Parliamentary inquiry into the Public Housing Renewal Program found that any benefits in public housing redevelopment "should not come at the expense of a reduction in public housing capacity".
Sadly, social policy is no longer a priority of Australia's governments.