As the idiotic debate around new coal fired power stations goes on, there is finally some good news in the fight against the real culprit in utility price spikes, the gas cartel. Prices for utility scale solar plus storage are now at parity with gas powered electricity:
Costs have been falling at 20% per annum, but even if the cost improvements slowed to 10% per annum we'll see solar plus storage at half the cost of gas power in five years: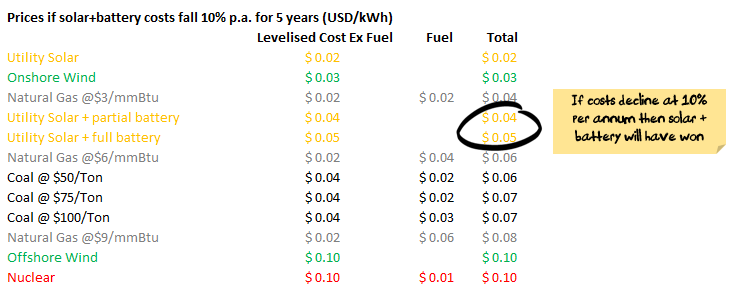 In effect, the gas cartel has applied a private carbon tax  to itself, lifting its own cost of production for power and is now uncompetitive against the alternative solar plus storage option.
Over time this will shift investment from gas to renewable power production and cap the fallout from higher gas prices in the National Electricity Market (NEM).
Alas that will take a decade and more. Nor will it aid gas-intensive industry. For political purposes, then, nothing has changed and Labor will still need to strengthen domestic reservation to drop the gas price and avoid higher power prices in the short term as coal is displaced.
Yes, that will slow the advance of renewables a little. But that is the price of a managed (read smoother) transition.
Meanwhile, the propaganda is flying, at The Guardian:
The energy minister Angus Taylor, has written to trade union leaders claiming the 45% economy-wide emissions reduction target will lead to wages being cut by $9,000.

The source for Taylor's claim is a summary of as yet unreleased modelling by BAEconomics about the impact of the 45% target, which was handed to The Australian newspaper in late February.

The summary of the unreleased modelling says the government's target of 26-28% emissions reduction by 2030 will reduce average real annual income for a full-time worker by around $2,000. Under the high target, the summary points to a projected fall in real annual wages of "around $9,000 per year by 2030".
Complete garbage as usual. All Labor needs to do is strengthen domestic reservation of gas and utility prices will crater, lifting real wages from today's Coalition energy mess.
Renewables are not the issue. Neither is coal. The problem is the gas price which sets the marginal price of power.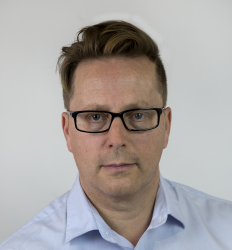 Latest posts by David Llewellyn-Smith
(see all)