Via Domain:
Australian officials are increasingly concerned that trade negotiations between China and the United States will lead to a special deal between the two countries that displaces Australia's exports, including coal, to its biggest market.

China is likely to significantly increase imports of American coal from West Virginia, Donald Trump's electoral heartland, if it strikes a trade deal next month. Mr Trump made an election pledge to revitalise the coal industry in that state.

…A Chinese coal industry insider confirmed there would "certainly" be moves in this area, but was only willing to speak to potential buyers and not the media.

West Virginia's Appalachian coking coal is similar to Queensland coal, he said, as it was "high quality and reasonably priced."
Hmmm…not great news. Australia supplies much more coking coal than the US: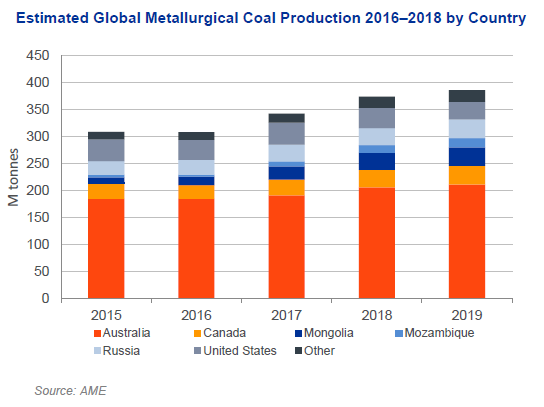 So the replacement will only be at the margin. This has happened before, after the 2011 QLD floods shut local mines, and it took years to drive the US suppliers back out of the market again culminating in the 2015 price crash.
Like thermal coal today amid the ports blockade, that will mean having to sell Aussie volumes elsewhere and lower prices.
Take note that high coking coal prices are almost singularly responsible for the Budget repair Australia has enjoyed in the last two years.