Scummo has a point at Domain:
"More than half the Australians voting at this next election will not have experienced a recession during their working lives and so I can understand that you need a long memory to understand what it was like to work through that type of a economic period of time," he said.

"I did. I came out of university back in the '90s, in the early '90s, and I went in to [the workforce during] that period of time. Friends, others, couldn't get jobs.

"We had a million people out of work. That's not what I want to see for the future of our country."
Then why have you overseen this outcome, Scummo? It's not about Labor, it's about you. GDP per capita is already in recession for only the third time since 1990.
More worryingly, the following UBS chart shows that real recession dynamics are taking hold of domestic demand: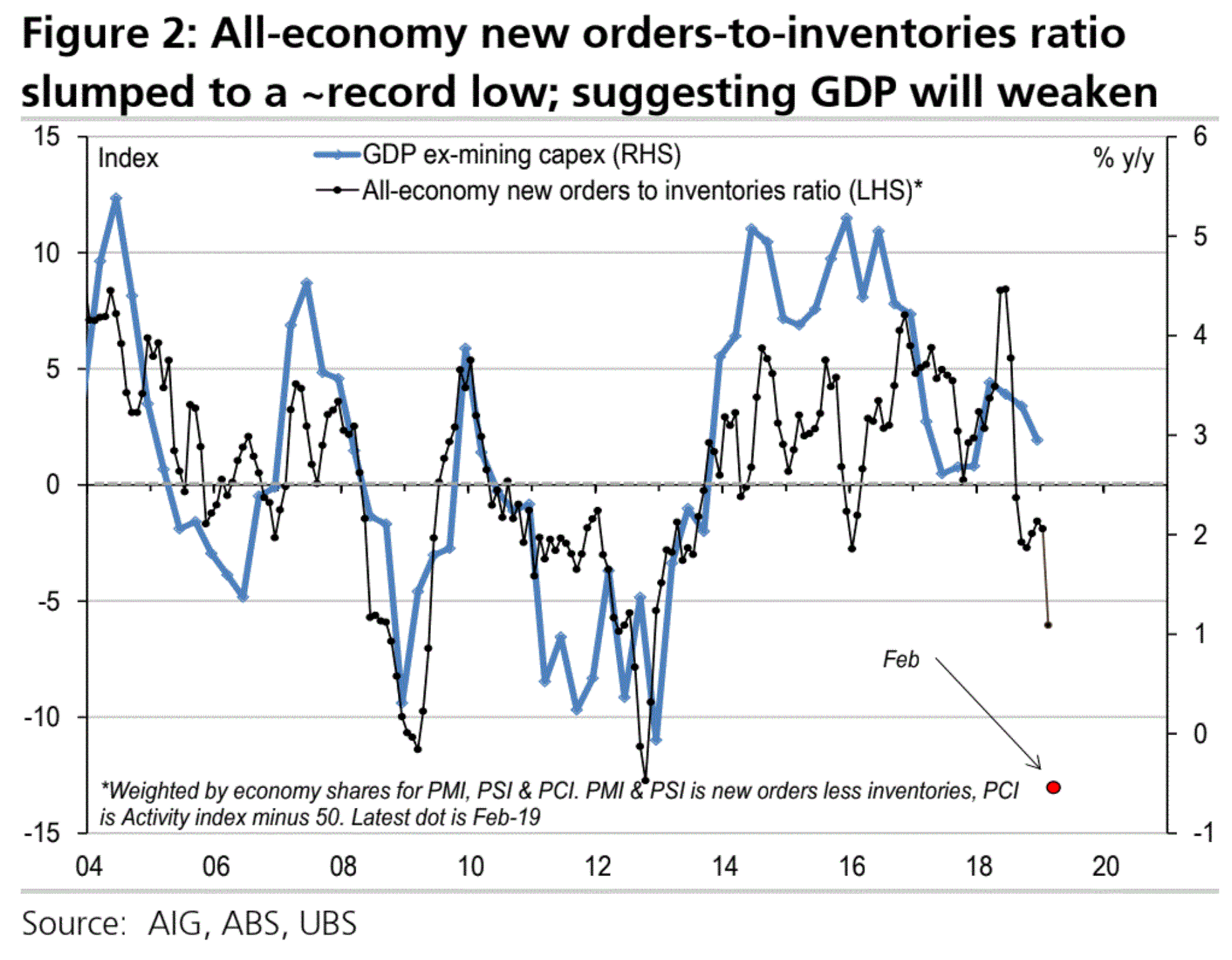 Recessions usually transpire in the following manner:
Imbalances build up over the previous cycle. Often it is inflation but more recent cycles have been asset inflation bubbles. CHECK.
A shock transpires in which the great hope of ponzi borrowers for endlessly extrapolated gains in a key asset market are suddenly dashed. Like, for instance, Australia's bursting interest only and Chinese property bubble. CHECK.
As prices fall demand stalls. In Australia's case this is consumer demand and housing construction which also drags in manufacturing via inputs. This is sadly timed with a peak in infrastructure spending. CHECK.
Inventories begin to spike as those producing into the bubble suddenly find themselves facing much lower orders than expected. CHECK.
If nothing is done to short-circuit the shock, such as monetary or fiscal stimulus, then an inventory liquidation cycle begins to take over. We're not there yet but it sure is looming as a distinct danger (see above chart).
As inventories are drawn down, output is idled and unemployment spikes.
If you do happen to be in an asset price bust, especially the most toxic kind of all in property, that unemployment spike lands of falling asset prices like an anvil and demand craters again. Rinse and repeat the above.
Eventually inventories stabilise and job losses end. Pent up demand is unleashed and you bounce out of contraction.
So, Scummo may be seeking to politicise a possible recession but he is also very clearly mismanaging the economy directly into one, either deliberately or unwittingly.
Neither the RBA, nor the executive nor the legislature seems to remember what a recession looks like which, unfortunately, renders the chances that we are entering one all the more likely.