Over the past year or so, I have ridiculed the new found push by Coalition politicians towards decentralisation, noting that this is a pipe dream based on the settlement pattern of new migrants, which have overwhelmingly chosen to flood the major cities.
My view was initially based on data from the Productivity Commission's 2016 Migrant Intake into Australia report, which revealed that 86% of immigrants lived in the major cities of Australia in 2011 (mostly Sydney and Melbourne), whereas only 65% of the Australian-born population did: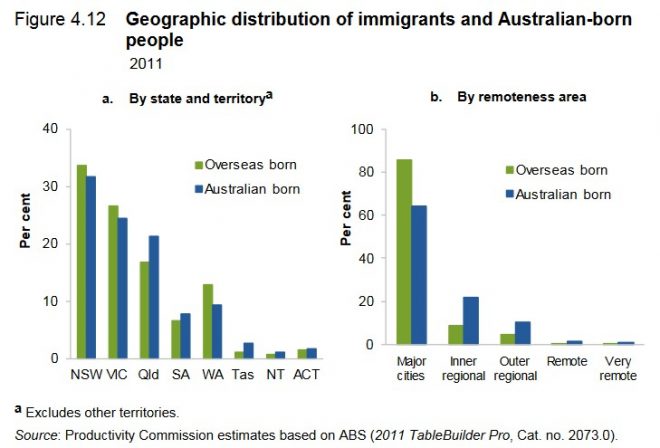 However, it was confirmed by the 2016 Census, which revealed identical results, with 86% of new migrants (1.11 million) in the five years to 2016 settling in Australia's cities, versus just 14% (187,000) that settled in Australia regional areas over the same period.
As noted by the ABS:
In 2016, Sydney had the highest overseas-born population of all capital cities (1,773,496), followed by Melbourne (1,520,253) and Perth (702,545). The 2016 Census also reveals that those born overseas were more likely to live in a capital city (83%), a much higher percentage than people born in Australia.
The concentration of migrants into the cities has become even more extreme recently, with just 6% settling in Australia's regions in 2017-18, according to the Department of Home Affairs, and 86% of skilled migrants settling in just Sydney and Melbourne alone. Indeed, regional migration approvals hit a decade low in 2017-18 at the same time as population growth (immigration) into Sydney and Melbourne has boomed.
State-based migration programs have also been systemically gamed, with migrants temporarily settling in places like the ACT and Tasmania purely to get the required number of points for permanent residency before moving to Sydney and Melbourne.
Today, further evidence of this rorting has emerged with SBS News reporting that some Indian migrants have been gaming Australia's regional visa scheme by pretending to live in regional areas while actually living in the major capitals, as well as clogging-up Australia's court system in a bid to extend their stays:
Mr Singh* arrived in Australia in 2007 on a student visa and in 2012 was granted a 487 visa which provides a pathway to permanent residency after living in a Specified Regional Area in Australia for at least two years and working full time for one year.

In July 2015, Mr Singh applied for an 887 permanent residency visa but a delegate of the then-titled Minister for Immigration and Border Protection refused to grant him the visa stating they were not satisfied Mr Singh had lived at two addresses in Wodonga between February 2013 to 2015, as he had claimed… an anonymous informant told the department that Mr Singh was living and working illegally in Melbourne.

The department learnt through the anonymous informant that Mr Singh was not working for the nominating employer in the regional area and had in fact paid money to the employer in exchange for not notifying the immigration officials…

A friend of Mr Singh who claimed to have lived with him and did the same thing (ie, claimed to live in a regional area while working in Melbourne)…

Mr Singh took the matter to the Administrative Appeals Tribunal (AAT) of Australia which further found discrepancies in the payslips and bank records and late payment of superannuation…

The AAT upheld the department's decision following which Mr Singh applied for a judicial review with the Federal Court of Australia.

The Federal Circuit Court of Australia accepted Mr Singh's argument and observed the Tribunal had not arrived at its decision independently of the anonymous information.

The matter did not end here. The Minister for Immigration and Border Protection appealed this decision and it was allowed on Tuesday where The Court found that the anonymous information was accurate in respects that rendered critical aspects of Mr Singh's evidence unable to be accepted.
With all three major parties wedded to the policy of mass immigration and a 'Big Australia', decentralisation is the only hope of easing the pressures on the big cities.
But how realistic is this goal? Short of erecting 'migrant proof fences' and electronic tags, how can decentralisation of migrants be achieved in practice when it has failed so dismally in the past, and has been systematically gamed?
The reality is that maintaining mass immigration means that Sydney and Melbourne will continue to be crush-loaded as their populations swell to around 10 million people each by 2066, placing extreme further pressure on infrastructure and housing, and destroying living standards for incumbent residents.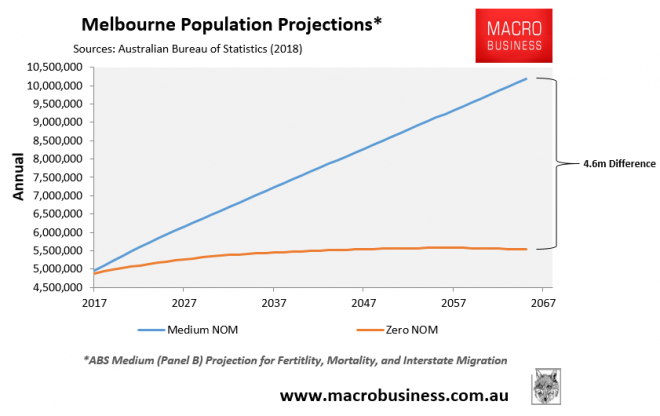 Australians don't want policy gimmicks. They want the immigration intake to be slashed.
Leith van Onselen is Chief Economist at the MB Fund and MB Super. Leith has previously worked at the Australian Treasury, Victorian Treasury and Goldman Sachs.
Latest posts by Unconventional Economist (see all)