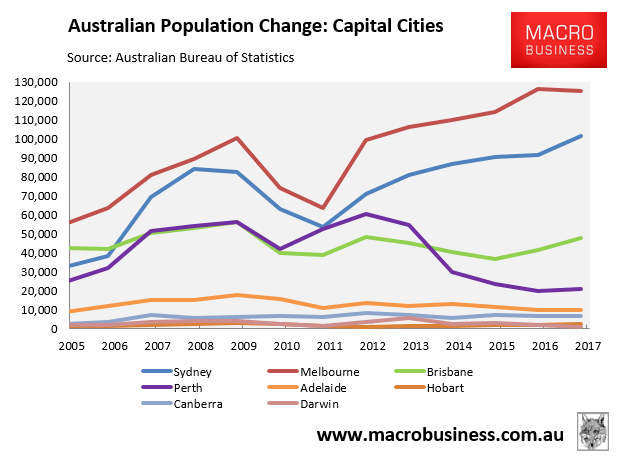 With Sydney and Melbourne already bursting at the seams, Australia's immigration program has become even more concentrated into these two cities, according to new unpublished data from the Department of Home ­Affairs. From The Australian:
…the new Department of Home ­Affairs figures show that of the 112,000 skilled migrants who ­arrived in the past financial year, 87 per cent had permanently ­settled in Sydney or Melbourne.

The figures, obtained by The Australian, emerged ahead of a speech by Citizenship Minister Alan Tudge today in which he says population growth is not a "one-dimensional issue"…

"If the population was distributed more evenly, there would not be the congestion pressures that we have today in Melbourne and Sydney. Nor would there be if the infrastructure was built ahead of demand"…

Mr Tudge will say that the business community needs to grasp the reality of the debate, noting the impact on house and land prices, shared utilities and congestion…

"Faster population growth may help their bottom line, but it is the broader community that pays for much of the congestion and pressures on social cohesion…

The unemployment rate among the general skilled intake six months after arrival, accounting for between 40,000 and 50,000 of the overall numbers, has blown out from 12 per cent in a 2009 to 2011 study to 22 per cent…

"We are not always consistently attracting the 'best and brightest' through this scheme"…
This follows separate data from the Department of Home Affairs showing only 6% of migrants settled in Australia's regions in 2017-18.
With all three major parties wedded to the policy of mass immigration and a 'Big Australia', decentralisation is the only hope of easing the pressures on the big cities.
But how realistic is this goal? Short of erecting 'migrant proof fences' and electronic tags, how can decentralisation of migrants be achieved in practice when it has failed so dismally in the past?
Moreover, is forcing permanent migrants to stay in the regions even constitutional? MB reader Stephen Morris has grave doubts:
…they ignore Section 92 of the Constitution ("trade and intercourse between the States shall be absolutely free"). While it might be possible to place a temporary residence requirement on new migrants, it will certainly be illegal to force them into permanent residence in the regions. And the moment their indenture expires they will move to the metropolis like everyone else.

That won't stop them using it as their main diversionary tactic.
The reality is that maintaining mass immigration means that Sydney and Melbourne will continue to be crush-loaded as their populations swell by the millions, placing extreme further pressure on infrastructure and housing, and destroying living standards for incumbent residents.