The Teranet-National Bank House Price Index for December has been released, which reported a third consecutive monthly decline in home values:
The Teranet–National Bank National Composite House Price IndexTM for December was down 0.3% from the previous month. It was the third consecutive monthly retreat. The component indexes were down for seven of the 11 metropolitan markets surveyed: Edmonton (−1.4%), Vancouver (−1.2%), Winnipeg (−0.9%), Calgary (−0.6%), Victoria (−0.4%), Hamilton (−0.4%) and Quebec City (−0.4%). Indexes were up for Ottawa-Gatineau (1.0%), Montreal (0.4%), Toronto (0.2%) and Halifax (0.1%).

The recent trend of home prices is clearly downward in most metropolitans markets. For Calgary December was a sixth straight month without an index rise, a cumulative decline of 2.0%; for Vancouver a fifth straight month and a cumulative loss of 2.9%; for Edmonton a fourth straight month and a cumulative loss of 2.7%. For Victoria, Winnipeg and Hamilton it was a third straight month, with cumulative losses of 0.5%, 1.6% and 1.0% respectively. The Halifax index was down 1.6% from five months ago, Quebec City and Toronto were down −0.8% and −0.2% respectively from four months ago. Only the Ottawa-Gatineau and Montreal indexes finished 2018 in strength, rising 7.9% and 4.8% respectively from March to December and both ending the year at all-time highs.
The below charts plot prices across the three biggest markets as well as nationally: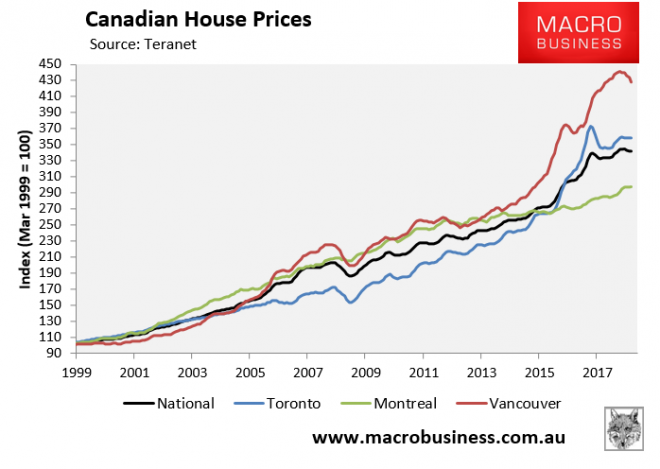 While home values nationally have declined over the past three months, annual price growth has actually bounced back from its post-GFC low.
In the year to December, Canadian home values rose by just 2.5%, up from the post-GFC low of 1.4% in August. The rebound was driven by Toronto, whose annual price growth rebounded to 3.7% from -3.3% in August. Elsewhere, annual price growth was 4.4% in Montreal but has faded to just 1.4% in Vancouver.
Leith van Onselen is Chief Economist at the MB Fund and MB Super. Leith is an economist and has previously worked at the Australian Treasury, Victorian Treasury and Goldman Sachs.
Latest posts by Unconventional Economist (see all)