by Chris Becker
Got to hand it to the GOP, they know how to spoil a party. After passing the biggest tax cuts in history, leading to a huge surge in the US stock market throughout 2018, 2019 looks to be the year of reckoning for the increasingly irrelevant party.
The US federal government is now entering its 13th day of shutdown, a new Congress is trying vainly to push the same funding bill the Republican Senate passed before Trump vetoed.
From the ABC:
The 2019-2020 Congress begins work with roughly a quarter of the federal government closed, affecting 800,000 employees, in a shutdown triggered by Mr Trump's demand last month for the money for a wall along the US-Mexican border — strongly opposed by Democrats — as part of any legislation funding government agencies.

Congressional leaders from both parties held unproductive talks with Mr Trump at the White House on Wednesday and are to return for another round on Friday, a sign the shutdown is likely to continue for the rest of the week.
The bill would have given the Department of Homeland Security $1.3 billion for border fending, but Trump is holding out for $5 billion for a "wall" and the Senate Republicans are following his strict orders on the matter.
Asset markets are not too pleased, following on from the bad news from Apple yesterday cutting its guidance, the latest ISM Manufacturing print was very disappointing, falling to pre-Trump levels.
From CNBC
Activity in the U.S. manufacturing sector expanded at a much slower pace than expected last month, according to the Institute for Supply Management.

The ISM manufacturing index fell to 54.1 in December, its lowest level since November 2016. Economists polled by Refinitiv expected the index to slip to 57.9 in December, down from 59.3 in November.

"Comments from the panel reflect continued expanding business strength, but at much lower levels," said Timothy Fiore, chair of the Institute for Supply Management, in statement. "Demand softened, with the New Orders Index retreating to recent low levels, the Customers' Inventories Index remaining too low — a positive heading into the first quarter of 2019 — and the Backlog of Orders declining to a zero-expansion level."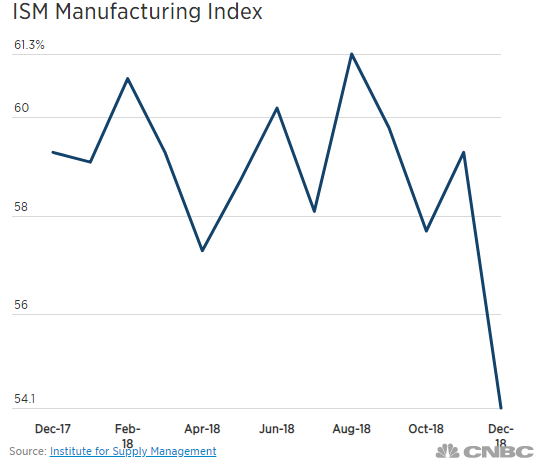 The Dow Jones lost over 600 points or nearly 3%, as did the NASDAQ but the real action is in Treasuries, as yield inversion – the precursor to recession – is basically here. 10 year yields fell to 2.6% with the 1 year only two basis points away: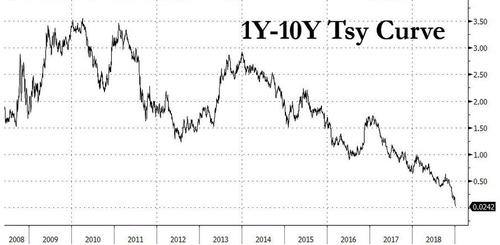 Already, tens of billions of spending due to lost income from government employees still waiting for their Christmas paychecks, not to say hundreds of billions of capital destruction have been flushed down the toilet due to Trump's intransigence over his wall.
A shutdown he proudly called for.