by Chris Becker
The Bitcoin boosters are back! HODL! Russia is still going to save the day and Bitcoin is going to $2 million!
From Mickey:
The economic analyst who claims Russia is about to buy more than $10 Billion worth of Bitcoin has responded to doubts about his credibility. Speaking exclusively to Micky News, Vladislav Ginko said he is a "famous public figure" in Russia and that he doesn't answer to the "trolls" he meets on the internet.

"My statement about the intention of Russia to put at least $10 billion of its reserves into Bitcoin stirred up the public, and some media outlets hurried to claim it was 'fake news,'" Mr Ginko said.

Another recent tweet predicted a $2 Million Bitcoin before the end of this year, despite the fact he predicted a $100 Bitcoin in May of 2018.

Mr Ginko, who says he's a lecturer at the Russian Presidential Academy of National Economy and Public Administration, insists the Kremlin is serious about cryptocurrencies.

"Between January 15 and 17 this year, the Moscow international economic Gaidar forum was held. Most workshops were dedicated to the cryptocurrencies topic," he told Micky News.

"The prime-minister Dmitry Medvedev, the staunch ally of Vladimir Putin and the second person in Russia's hierarchy, warned more than 17,000 forum participants 'don't bury' cryptocurrencies because of (the) downward market trend last year.

"This passage reminded many attendees (of) the motto of any typical HODLer of cryptocurrencies."
No coincidence that the cryptocurrency complex wiped nearly $6billion in value over the weekend, with Bitcoin about to cross back below the previous low – and psychological anchor – at $3500 as all of Monday's price action is below last weeks on the four hourly chart: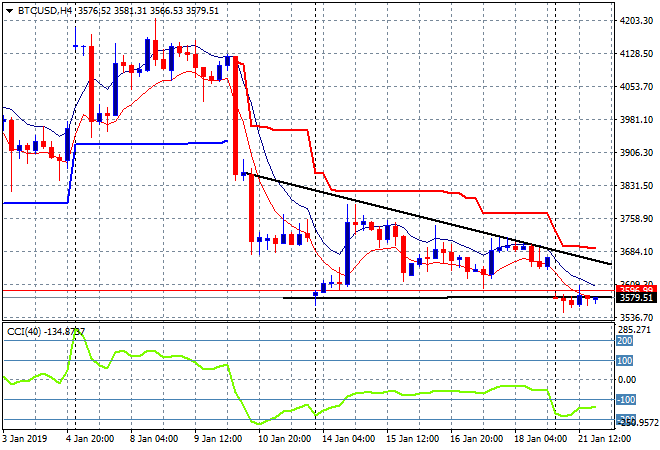 Ethereum, which was expected to undergo a hotly-anticipated upgrade last week before it was delayed, dropped by some 6% as investors processed the decision to postpone the so-called hard fork until February 27.

 The Constantinople upgrade was suddenly called off last week, just a day before it had been expected to go live, after a security researcher discovered a bug in the software that could let attackers steal funds.

The fork, which differs from most other cryptocurrency hard forks, will reduce rewards paid to miners to from three per block to two, and is expected to reduce inflation and stabilize ethereum.
Ethereum's Constantinople upgrade is also part of its move to a proof-of-stake consensus algorithm later this year, from the more energy intensive proof-of-work it currently uses.
The Bitcoin bubble could re-ignite, given its fractious nature and the ability of rampers and speculators to manipulate its almost nearly unregulated exchanges. But I don't think we're yet in full capitulation mode here, with despair around the corner if $3500 is taken out: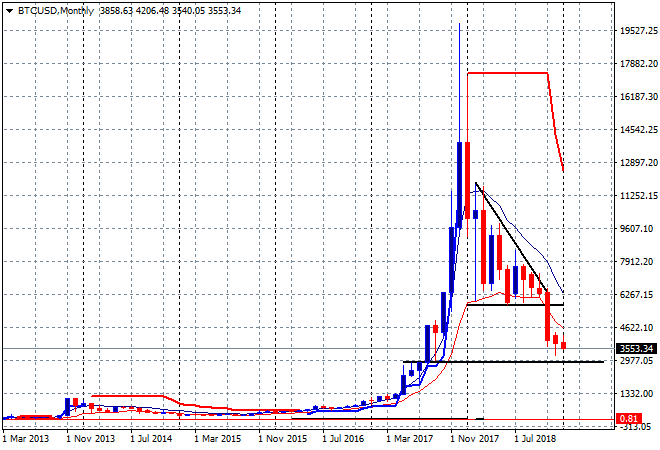 Latest posts by Chris Becker
(see all)