In 2017, Labor leader Bill Shorten outlined a plan to tax trusts at 30% that would raise $17.2 billion over 10 years. Shorten said the extra revenue could be used to fund services such as education and health, while he stressed that the 30% tax plan would not be applied to farms or charity trusts. Shorten also said that his trust tax proposal would have no impact on 98% of wage earners and fits within Labor's inequality agenda.
Today, a report commissioned by the Australian Tax Office (ATO) has shown that wealthy people are funnelling billions of dollars per year into private trusts and avoiding paying tax. From The ABC:
The report by RMIT University said income from trusts was more than $340 billion in 2013-14, but there is no register of trusts in Australia and failure to lodge tax returns is a key problem.

In 2015-16, there were nearly 850,000 trusts in Australia — one for every 29 people, with assets of more than $3 trillion — and the report predicted there could be more than a million trusts by 2022.

One of the authors of the report, John Glover, a professor of law at RMIT, told the ABC that Australia was behind other countries when it came to the regulation of trusts…

The report, "Current issues with trusts and the tax system", said some wealthy Australians and high net wealth individuals were putting money into discretionary trusts to manipulate the tax system so they could pay less tax.

That is because income from trusts is usually taxed at the corporate tax rate of 30 per cent, compared to the highest marginal income tax rate of 45 per cent…

In five ATO investigations reviewed by the academics, it was estimated $195 million in tax was avoided on income of $729 million.

One case investigated by the tax office involved an attempt to hide $130 million in income across 14 trusts, with potentially $55 million in tax avoided…

Professor Glover said the US and Canada taxed income (including capital gains) from trusts at a high marginal tax rate, but trustees could get deductions for income distributed to beneficiaries.

"That is a very sound way of taxing trusts as we see it," he said.

New Zealand imposes a 33 per cent tax rate on the trust income of trustees.
Last year, The Australia Institute (TAI) produced research showing that the use of trusts has exploded: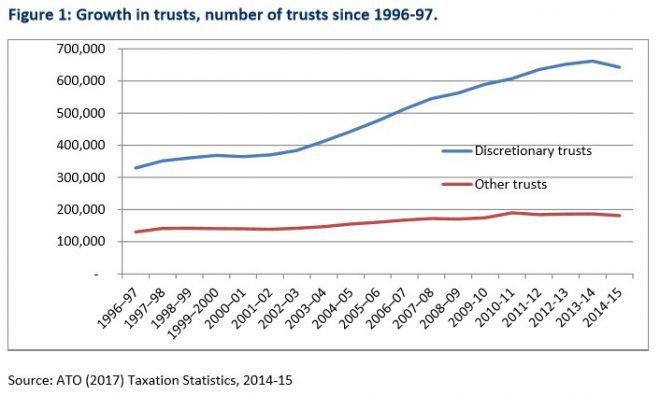 And that the equivalent of 21.6% of Australia's national income was run through a trust, which is overwhelmingly skewed to high income earners: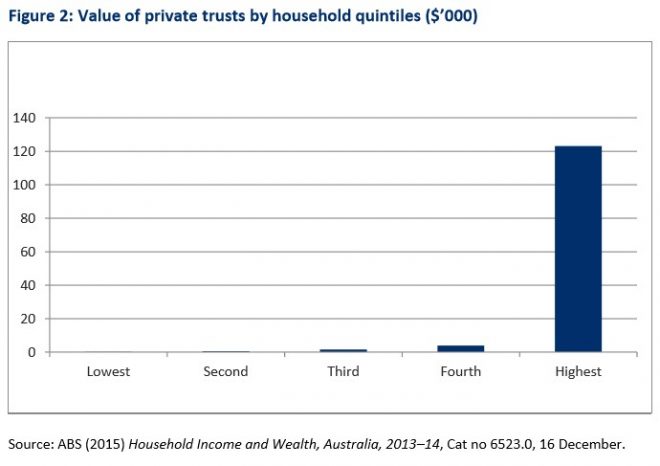 TAI also argued that the revenue foregone by the Budget from the use of trusts might be $3.5 billion a year.
Thus, there appears to be a strong case to target trusts used purely for tax minimisation purposes.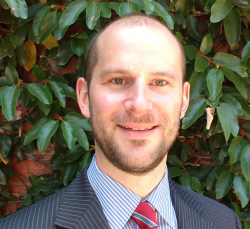 Latest posts by Leith van Onselen
(see all)