In recent times, a veritable conga-line of groups, representing a huge cross-section of society, have called for the federal government to lift Australia's pathetically low Newstart Allowance for the unemployed (aka 'Dole'), including:
Deloitte Access Economics senior partner Chris Richardson;
the Business Council of Australia;
Former Treasury Secretary, Ken Henry;
Professor Peter Saunders from UNSW;
Former Liberal leader, John Hewson;
Former Prime Minister, John Howard;
Business lobbyist, Heather Ridout;
independent senators Tim Storer and Derryn Hinch;
The Australian Council of Social Service (ACOSS);
The Salvation Army;
South Australian Council of Social Service (SACOSS); and
The Australian Greens.
Today, Labor has indicated that it will significantly lift Newstart if elected. From The Courier Mail:
Labor has already committed to review the adequacy of Newstart if it wins the next election and investigate ways to get more long-term unemployed into work.

But a motion to be debated at the conference, obtained by The Courier-Mail, commits Labor to go further and deliver "a substantial increase to Newstart payments in the first term of an elected Federal Labor Government"…

Mr Byrne, who is close to frontbencher Anthony Albanese, told The Courier-Mail the dole payment was a "national shame" and there was growing pressure for Labor to increase it.

"Not a single soul in the Labor Party or the trade union movement thinks the rate of Newstart is fair or adequate," he said.

"After years of derogatory rhetoric towards Australians who are out of work, Labor has an opportunity this weekend to recast the national debate."
However, Prime Minister Scott Morrison said that pensioners deserve a welfare increase ahead of the unemployed:
"We're for jobs. Labor's just for welfare. I heard the other day that they are thinking of increasing the Newstart payment. Well I've gotta tell you. If I thought I had the money to do that, I recon I'd do that for pensioners first".
This is the height of cruelty by the Scott Morrison. The Newstart Allowance has not increased in real terms (i.e. above the Consumer Price Index) since 1994, whereas the Pension has received significant increases. This means that people who are unemployed have not shared in increases in living standards received by the rest of the community for more than 20 years: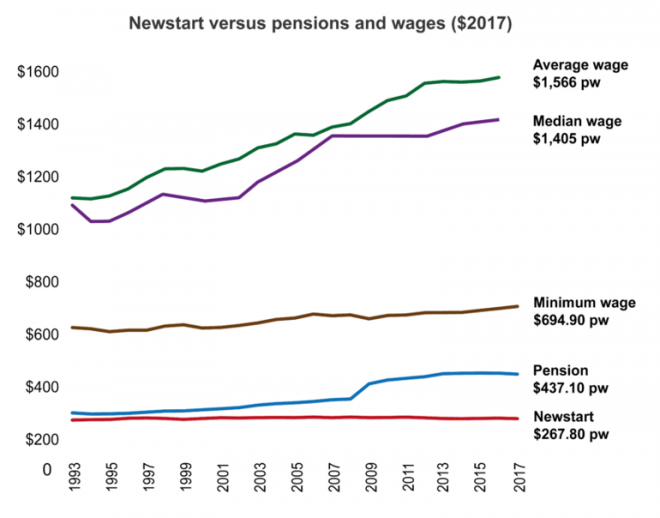 And Newstart will soon fall to 30% below the poverty line – the lowest level on record: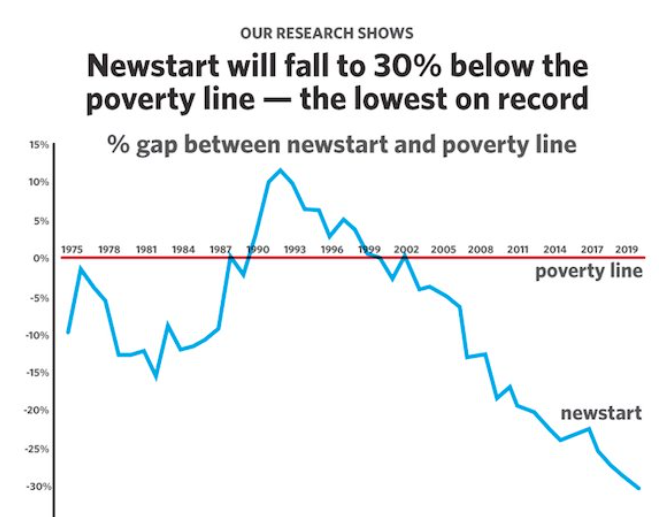 By contrast, the last decade has been very kind to older Australians, who have experienced large rises in both real after-inflation income and wealth:

No matter which way you cut it, the situation facing unemployed Australians is appalling and needs rectification.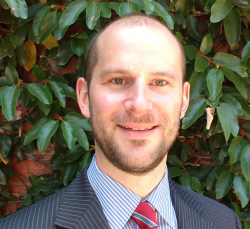 Latest posts by Leith van Onselen
(see all)