NBN Co CEO, Bill Morrow, last year warned that Australia's National Broadband Network (NBN) faces damaging competition from the upcoming 5G network, and called for a levy on mobile broadband services, which was thankfully rejected.
Today, The AFR reports that one-in-three households are looking at 5G wireless services for their home internet connection, thus threatening NBN's rollout of fixed-line broadband:
One in three Australian households is interested in subscribing to 5G wireless services for its home internet connection… 41 per cent of households would use 5G wireless services to either replace or supplement their fixed broadband, according to the Telsyte Australian Mobile Services Market Study FY2018.

5G, the technology that is expected to replace the 4G networks at Telstra, Vodafone and Optus during the next few years, is capable of speeds of up to 20Gbps, much faster than the 100Mbps that most NBN customers are limited to…

A figure of one in three households using 5G instead of fixed-line broadband is roughly in line with Telstra's prediction that the advent of 5G will increase the number of wireless-only households from 15 per cent at present, to 25-30 per cent in coming years.
The situation is probably not as dire for the NBN as suggested above. While mobile internet is growing strongly – and will likely continue to do so – the ABS' internet usage data shows that while mobile wireless has grown strongly:

Data downloaded via fixed line broadband (3.7 million Terabytes) accounted for 96.8.% of all internet downloads in the three months ended 30 June 2018: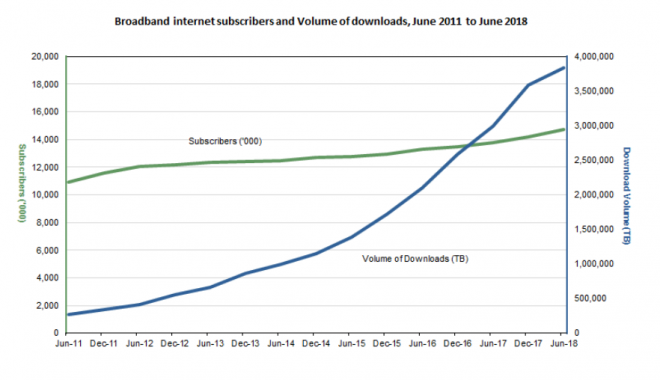 Thus, fixed line broadband will likely remain the dominant choice.
Still, any additional competitive pressure on the NBN will only compound its losses, driving an even bigger writedown for the federal budget.