DXY was down overnight with CNY and EUR up: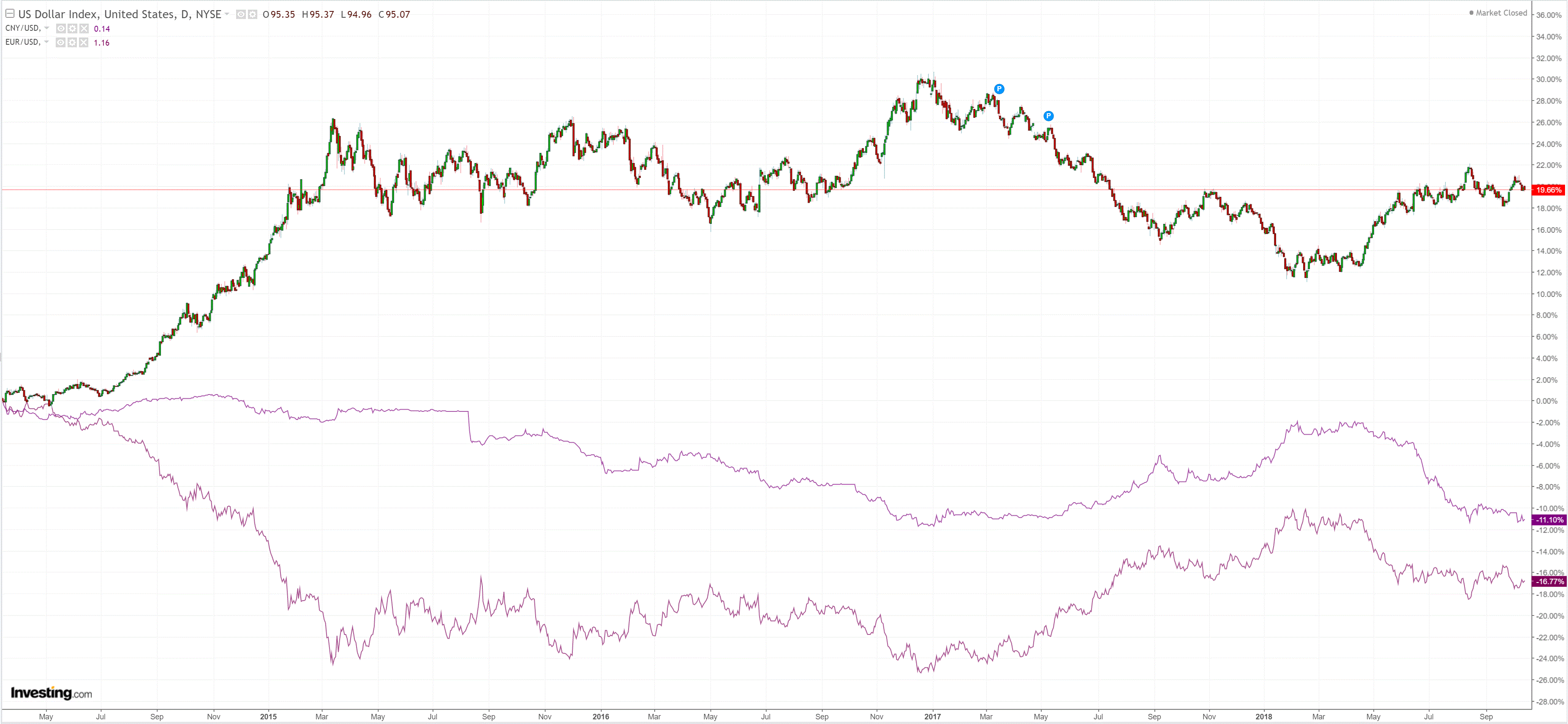 AUD was up modestly against DMs: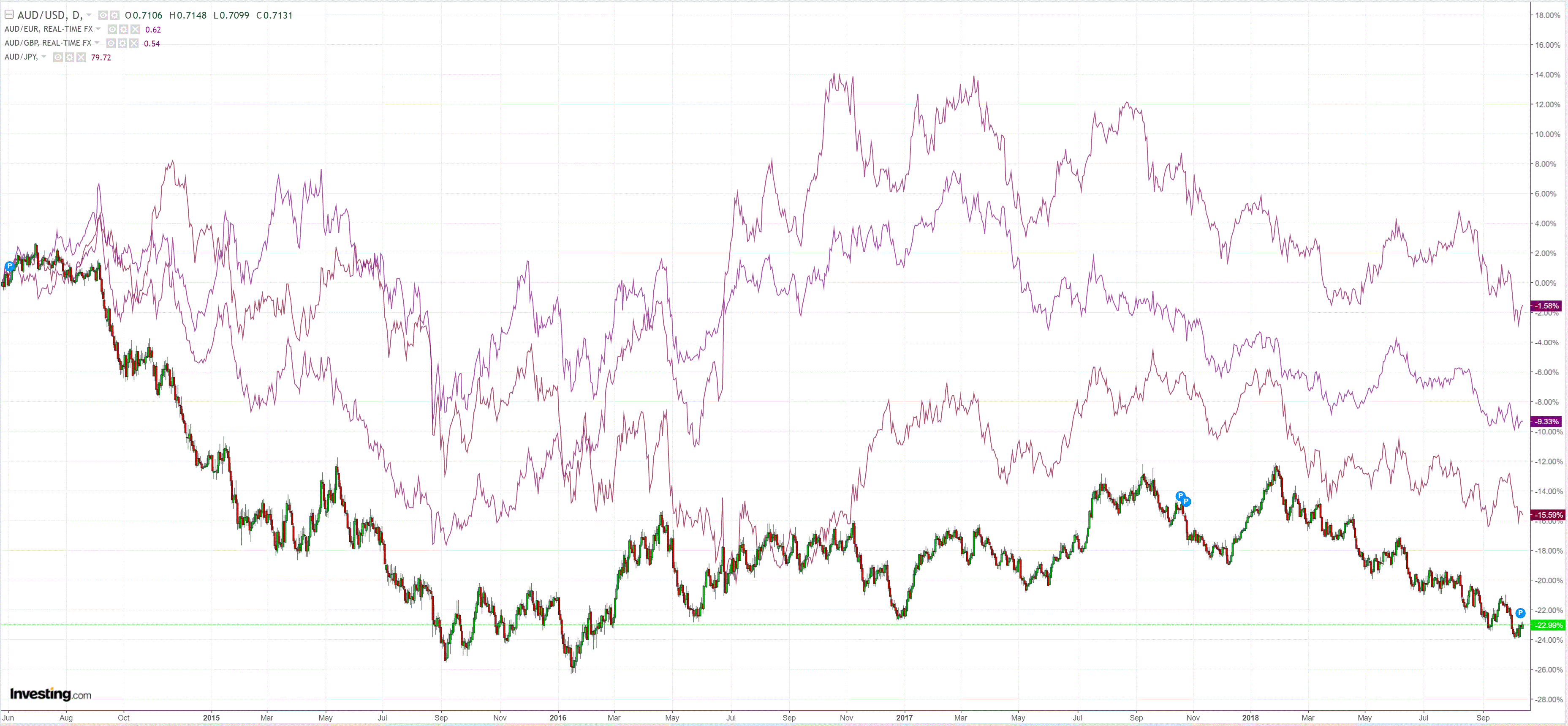 But could not match EMs: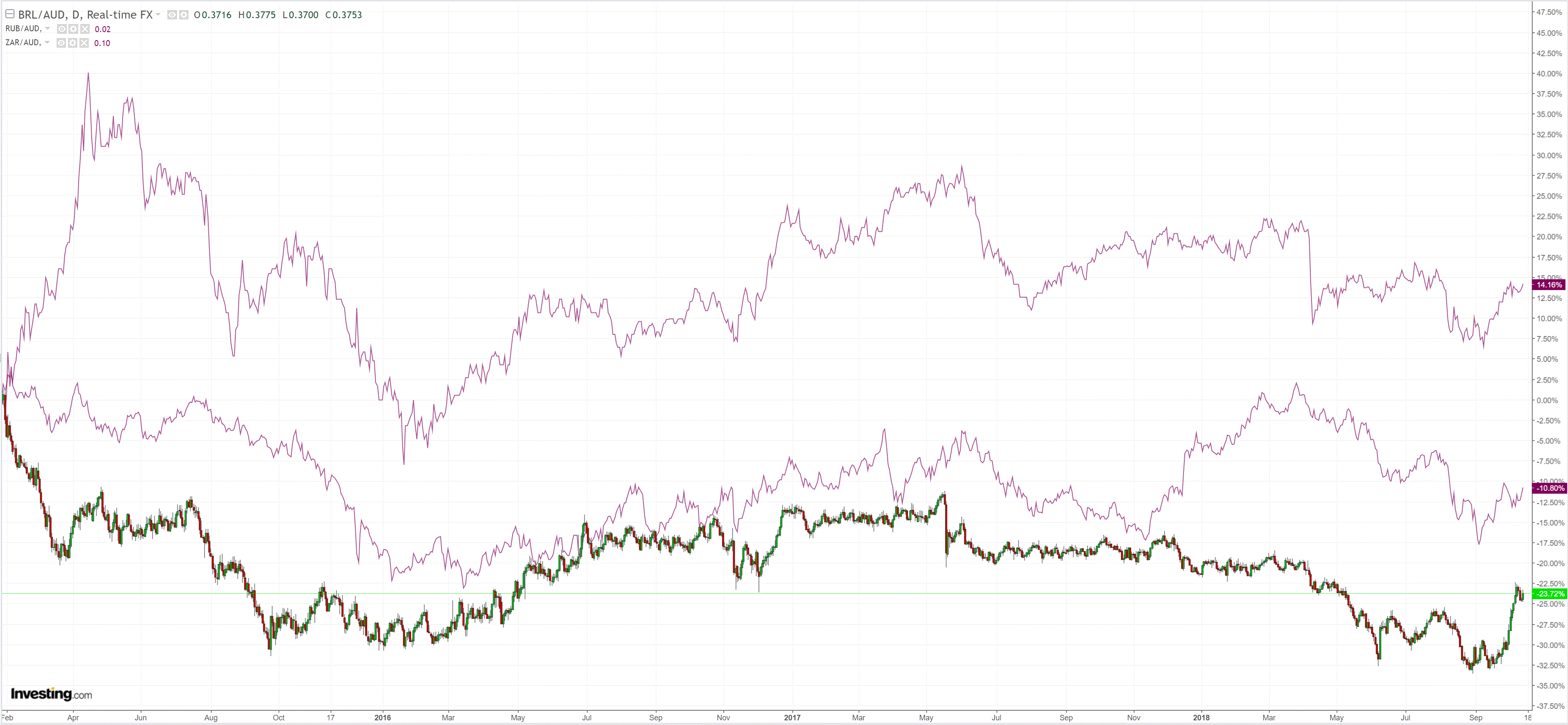 Gold rallied again: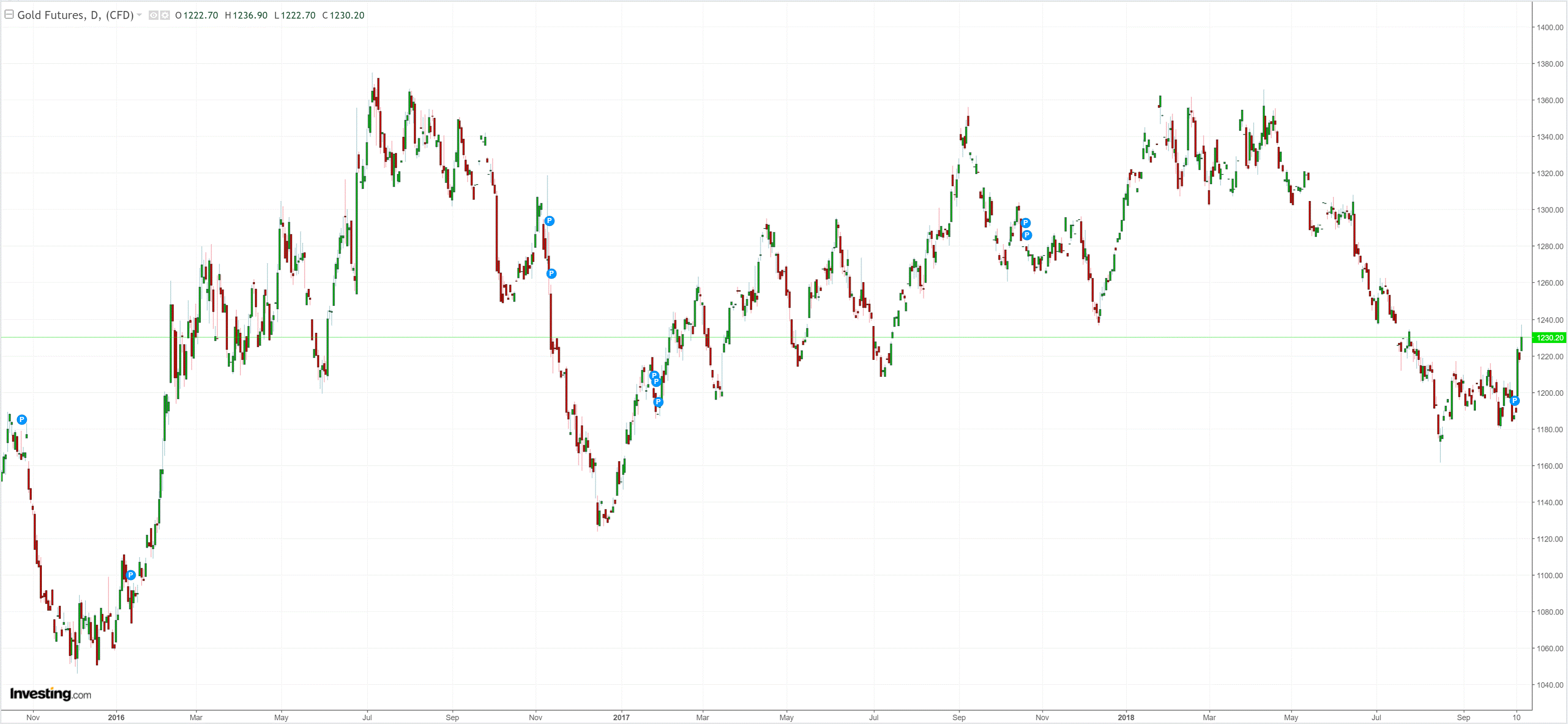 Oil held on: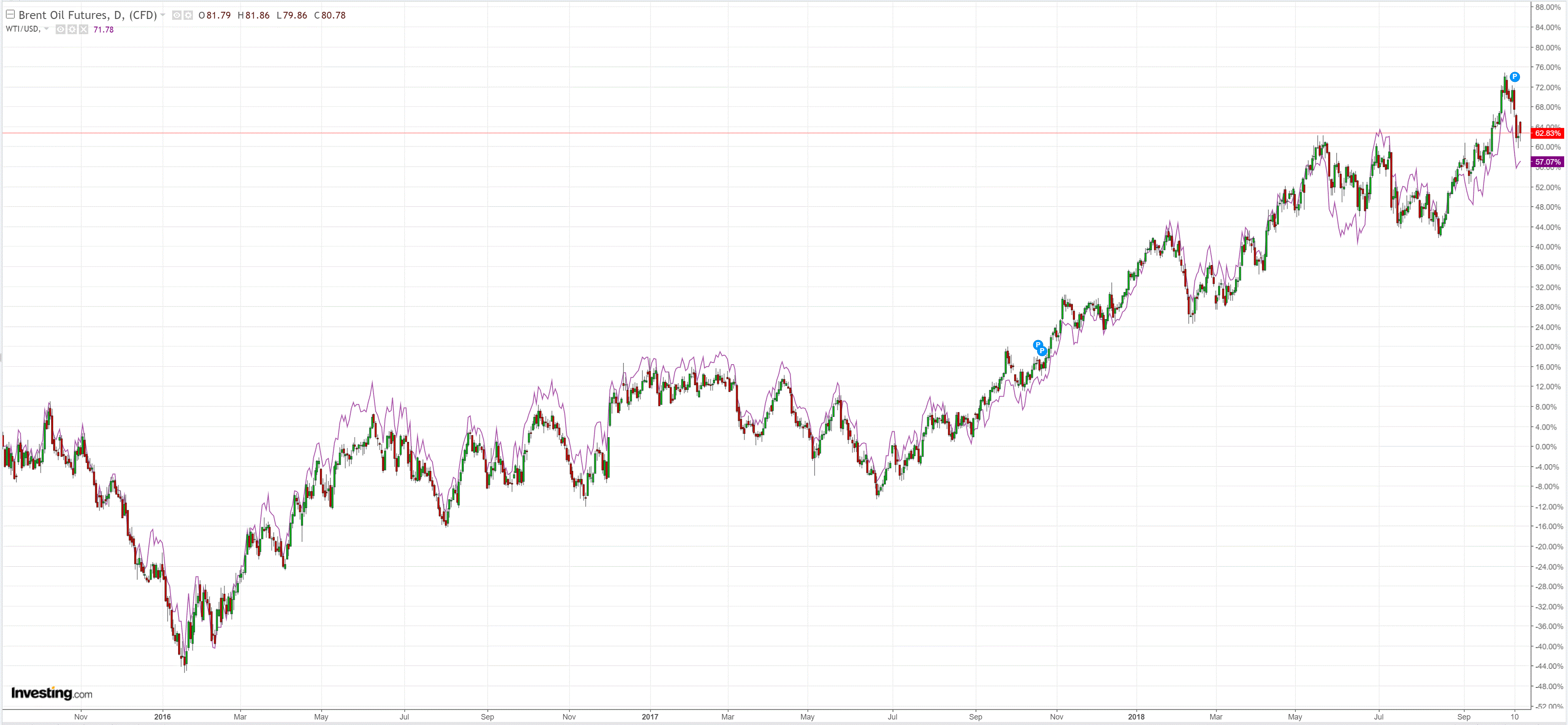 Base metals fell: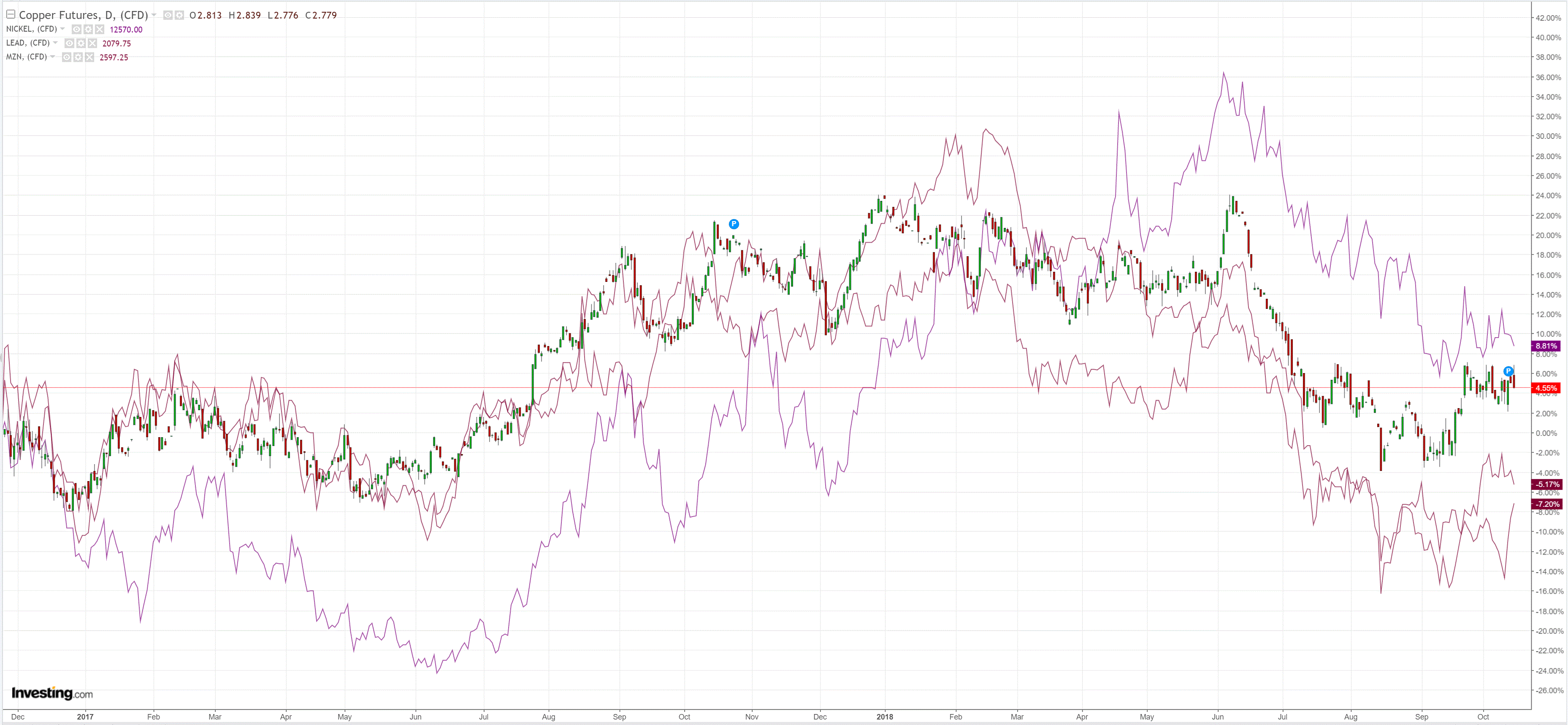 But miners rose: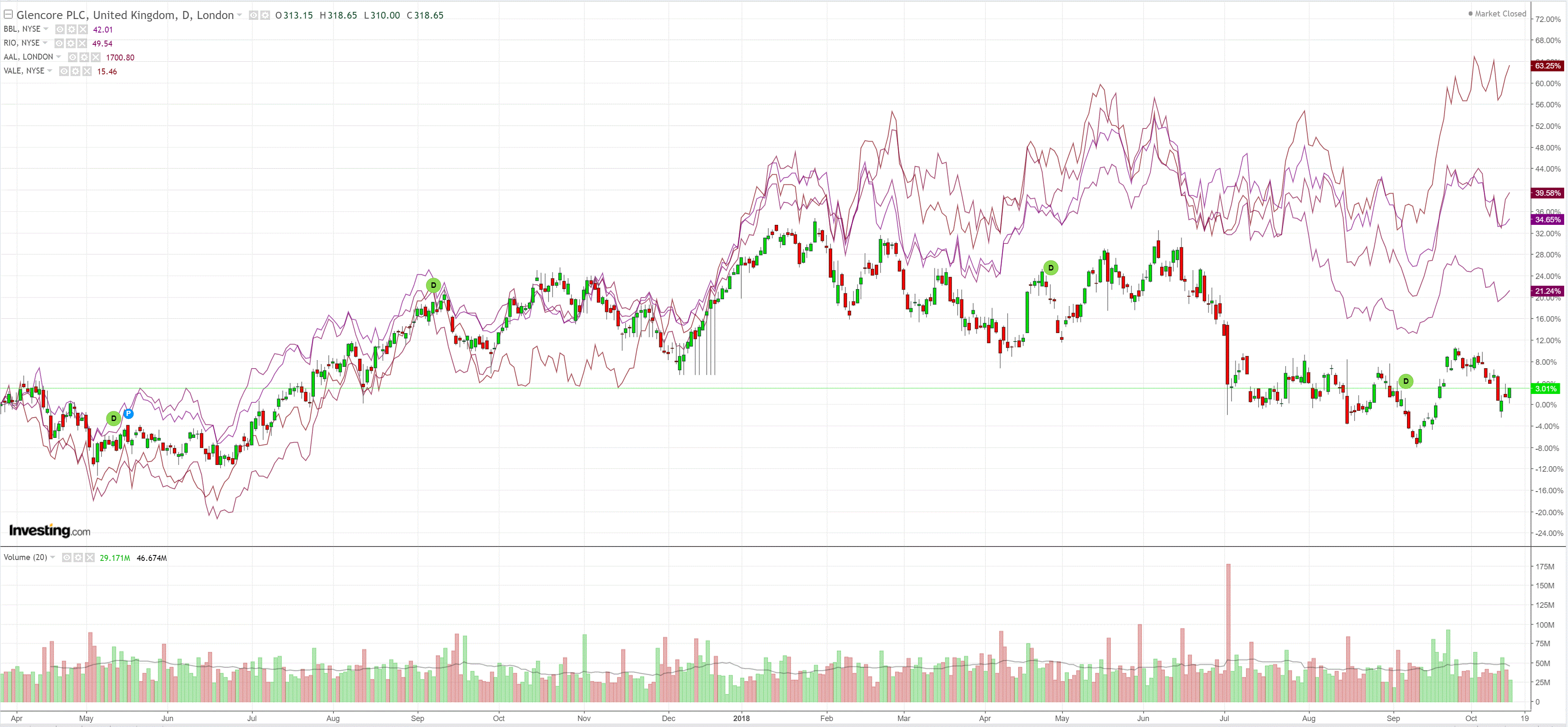 EM stocks fell: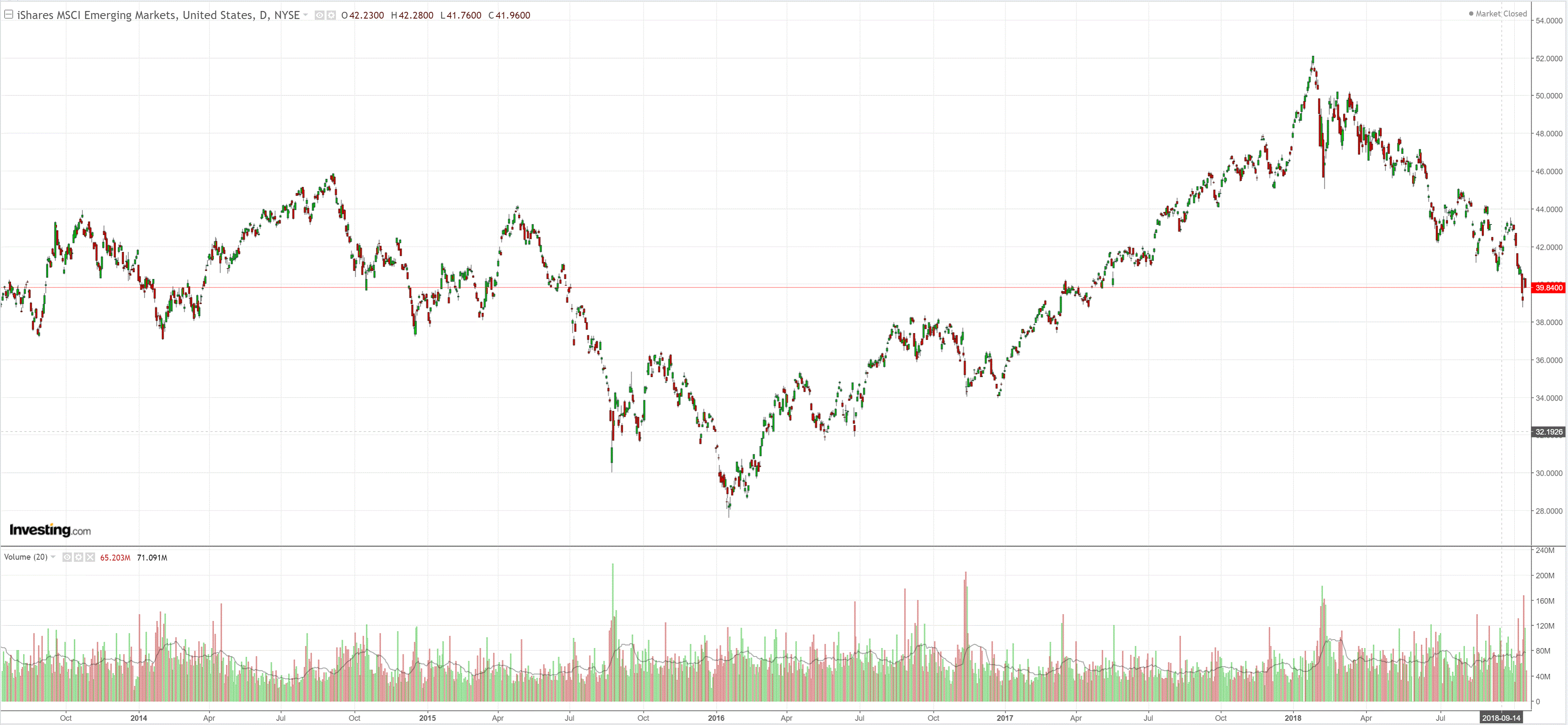 But junk rallied: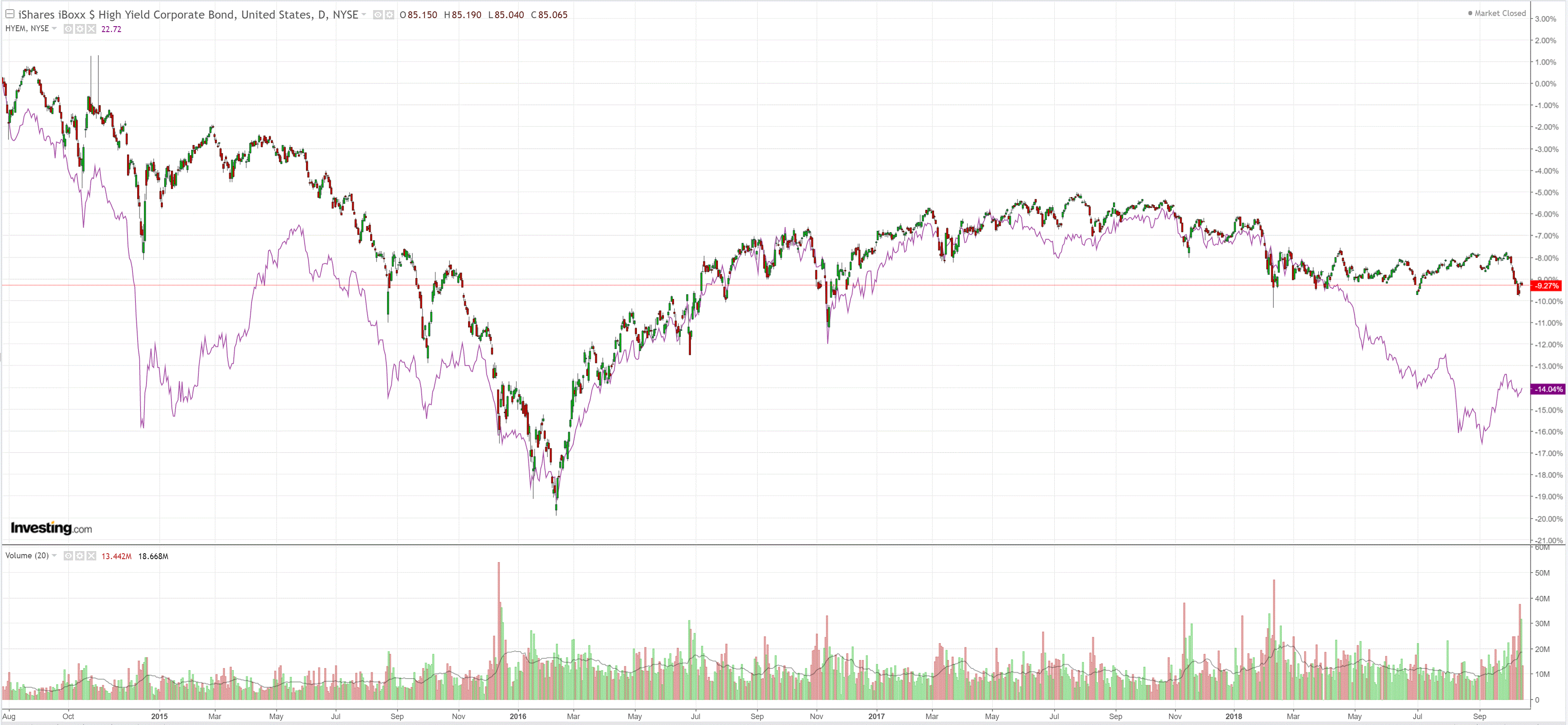 As Treasuries were bought: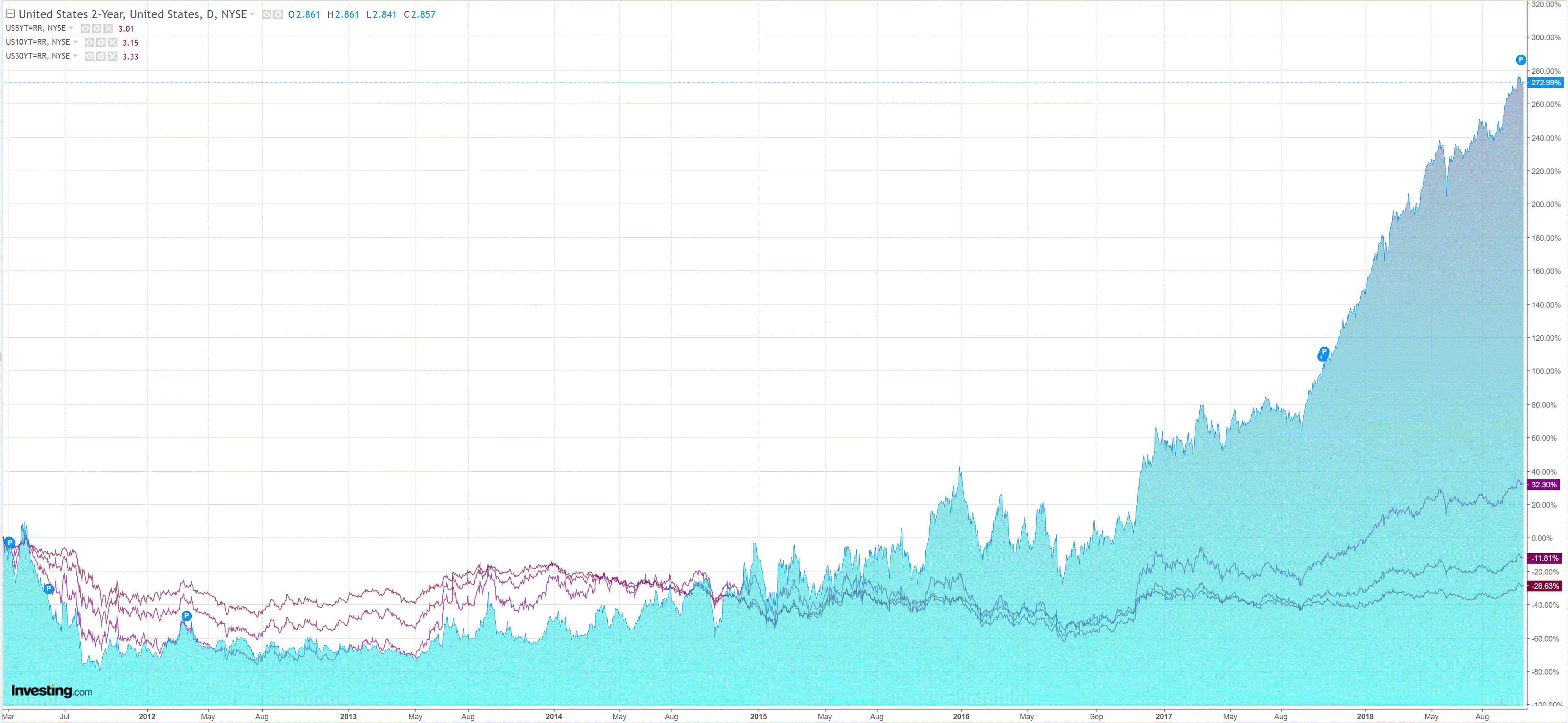 And bunds: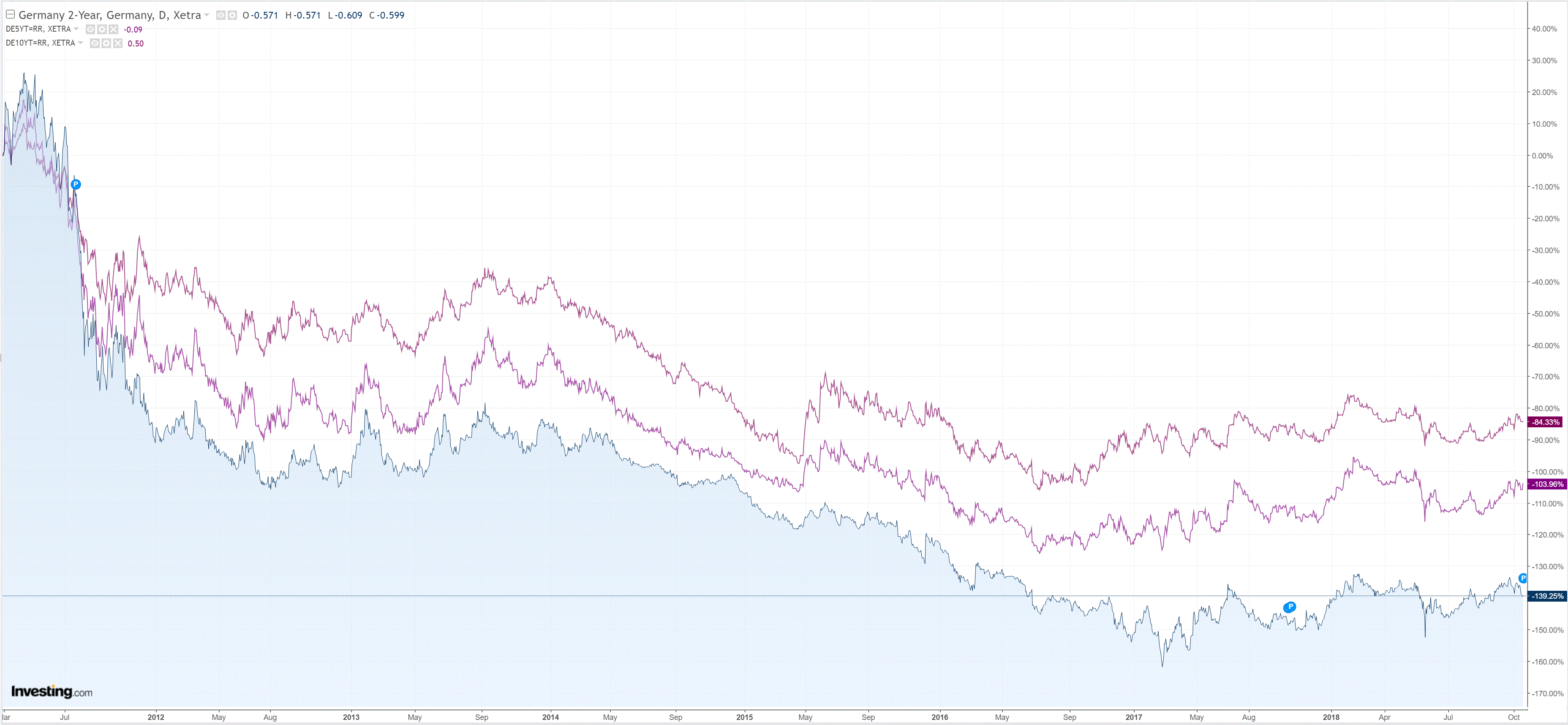 Even Italy a bit: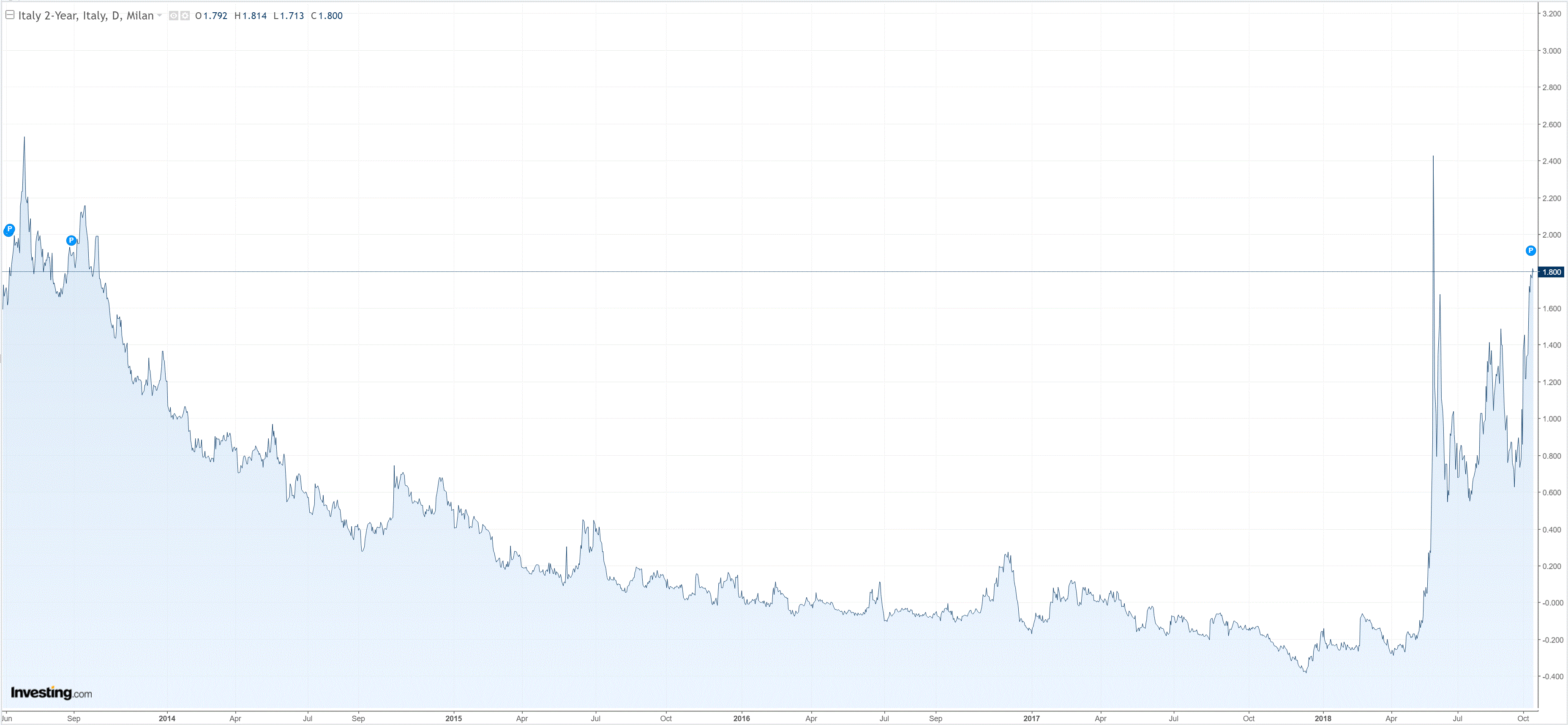 Stocks fell moderately: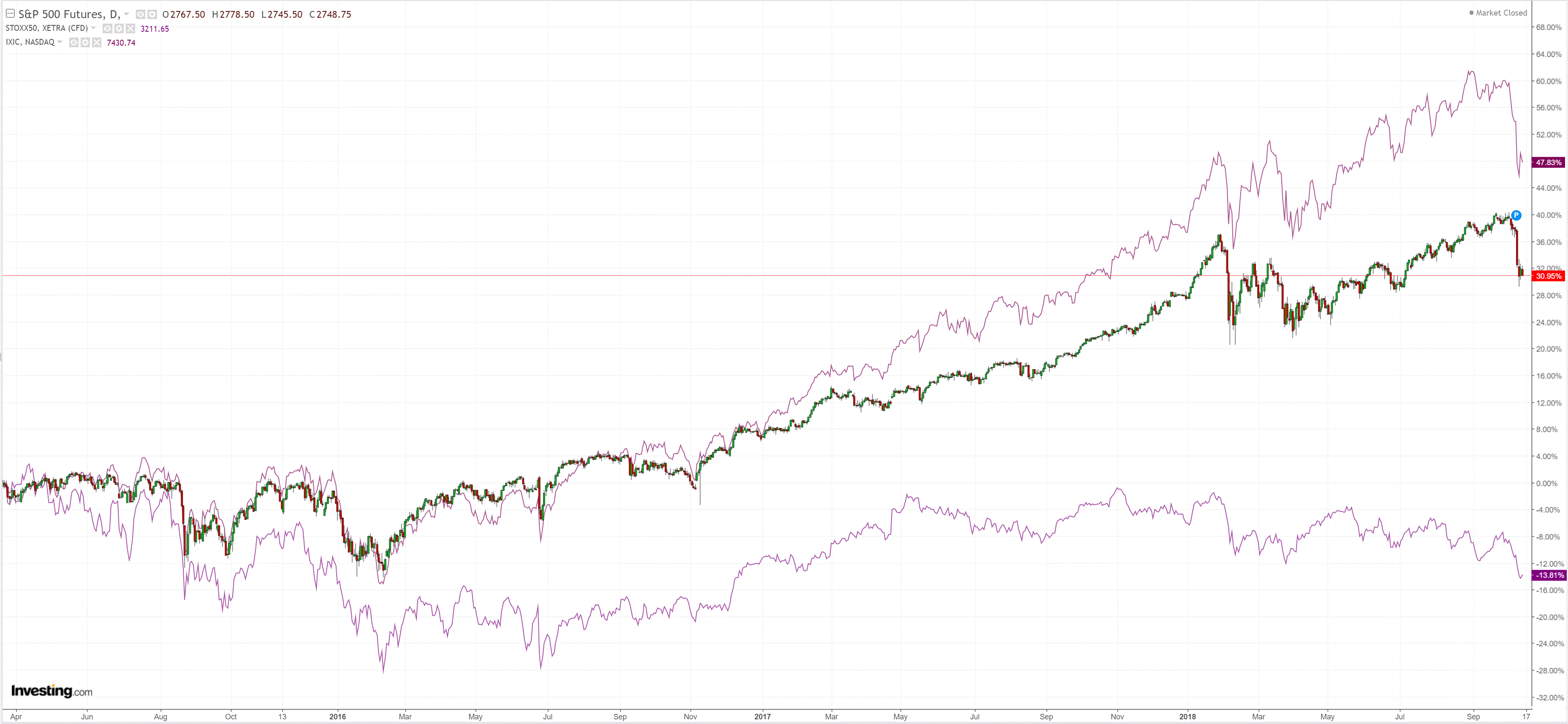 Westpac has the wrap:
Market Wrap

Global market sentiment: The US dollar weakened slightly, resulting in 1/2c gains for AUD and NZD, amid relief that last week's US equities rout has not persisted. The S&P500 is currently unchanged. US retail sales data disappointed, but there was little market impact.

Interest rates: The US 10yr treasury yield continued to range sideways, between 3.14% and 3.16%, while the 2yr yield ranged between 2.84% and 2.86%. Fed fund futures yields continued to price the chance of another rate hike in December at 80%.

FX: The US dollar index is down 0.1% on the day. EUR rose from 1.1545 to 1.1606. USD/JPY fell from 112.20 to 111.60. AUD rose from 0.7100 to 0.7149 – a two-week high. Outperformer NZD rose from 0.6500 to 0.6557 – a two-week high – amid bullish expectations of today's CPI data. AUD/NZD fell from 1.0935 to 1.0900.

Economic Wrap

US retail sales underwhelmed in September with a gain of just 0.1% (0.6% est) – a big miss, although the picture is healthier excluding volatile items. The retail control group – a subset that excludes food services, gasoline, auto and building materials and feeds directly in GDP – rose by a firmer looking +0.5%, in line with expectations net of small downward revisions to the prior month. The weakness in headline retailing may have been exaggerated by Hurricane Florence, with both restaurant retailing and department store sales posting steep declines. Beyond that gains were widespread among ten of thirteen retail groups, underscoring decent breadth. The NY Fed Empire survey rose by more than expected in October, to 21.1 from 19.0. This is the first glimpse at manufacturing conditions in Q4 and the result highlights an ongoing robust manufacturing sector. Gains were led by stronger new orders and shipments, but other detail including prices and employment plans moderated slightly.

Former Fed Chair Yellen said the Fed needs to move rates to neutral to stabilize the labour market, and was concerned the economy may overheat. She added that it's not desirable for the president to comment on Fed policy, since politicizing Fed policy risks undermining the institution. She also warned that the yield curve has previously been a good recession signal, but this time it may be different.

UK PM May delivered an update on Brexit negotiations to Parliament. Although admitting to frustration over a failure to progress on the thorny issue of the Irish Border and customs, she insisted that she would not allow this to derail negotiations. May's lack of an authoritative response on what now awaits UK means that uncertainty remains, but also suggests that negotiations are still continuing.

Event Risk

NZ: CPI is estimated to have risen 0.7% in Q3, for an annual rise of 1.7%.That is higher than the RBNZ's forecast of 0.4% and 1.4%, although much of the difference is related to higher fuel prices and a lower exchange rate.

Australia: the RBA minutes will provide further colour on the Board's opinions. A key area of interest will be their view on housing after Friday's Bi-annual Financial Stability Review examined the effect of recent lending policy measures.

China: Sep PPI is expected to show annual producer inflation easing to 3.6% from 4.1% while the CPI is anticipated to see consumer inflation up to 2.5% from 2.3% in Aug.

Euro Area: Aug trade balance is expected to be a 14.7bn surplus. Oct ZEW survey of expectations was last at -7.2 after stabilising in recent months from the easing in H1.

UK: Aug ILO unemployment rate is expected to hold at 4.0%.

US: Sep industrial production is anticipated rise 0.2%, continuing the moderate uptrend. Oct NAHB housing market index is seen to maintain a positive level of 67. Aug JOLTS data will provide additional detail on the labour market.
Stocks fell sharply into the close again. Further evidence that CTA and risk parity balancing is still driving the market. Still, we remain constructive on the new profit season: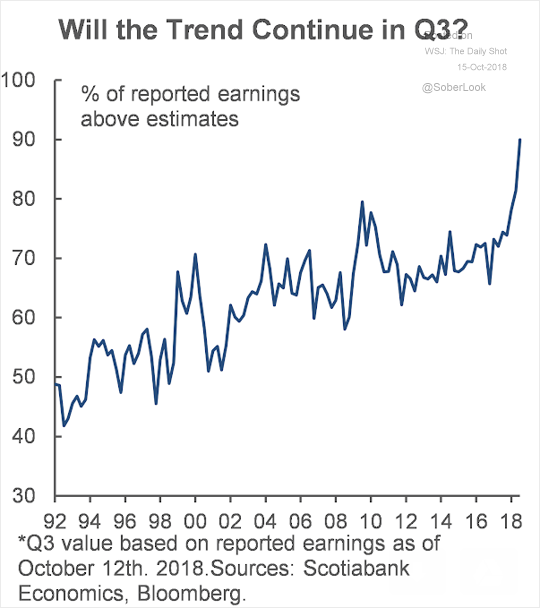 Where the pressure is coming to bear is on how to value those earnings as bond yields rise. Morgan Stanley has more:
…we are in the midst of a rolling bear market across all global risk assets caused by a drain in liquidity and peaking growth. While we have yet to see others adopt this narrative we are confident it is the right one. Therefore, it likely is not finished until it becomes more consensus thinking…Throw in the blackout period for share buyback programs and its not difficult to see why we had a few accidents this month for risk assets…this liquidity issue is unlikely to get better before the end of the month when share buybacks resume in full force.

As you can see, this balance sheet growth will go into negative territory by January and anytime we have see that in the past, it is typically not a happy time for risk assets.

We like to think about valuation in the context of rates and the equity risk premium. The matrices shown in Exhibit 5 show the sensitivity to both. Assuming rates stay between 3.00 and 3.25, an equity risk premium of 300 to 325 puts us at a S&P multiple of 15 – 16.0x.
That is roughly right, I think. Stock multiples have been correcting all year as yields (and profits) rise: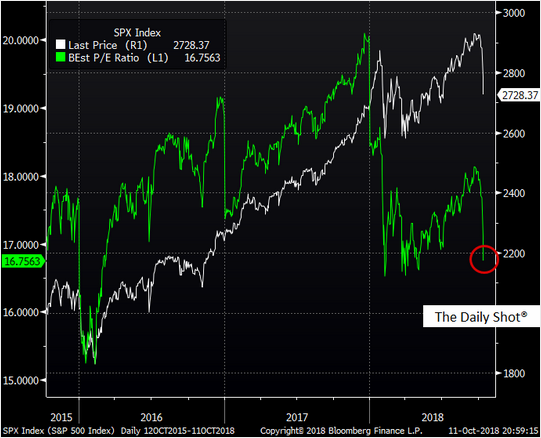 We do not see US yields tearing away from here but agree that the heavy lifting will need to be done by earnings for further upside in stocks.