I've seen some illogical arguments in my time. But the below one from Master Builders Australia (MBA) against Labor's negative gearing reforms takes the cake:
Labor's plan to end negative gearing and change the capital gains tax would result in fewer homes being built across the country and the loss of thousands of full-time jobs, according to a report.

Within five years of the Labor property policy being implemented, up to 42,000 fewer homes would be built in all states and territories, with the loss of 32,000 full-time jobs, according to the independent economic modelling by Cadence Economics, which was commissioned by Master Builders Australia.

"Labor's policies on negative gearing and CGT fails its own test," said Denita Wawn, the head of the building and construction body.

"Master Builders calls on the ALP to rethink their policies in the light of this new research and a changed housing market. Australia cannot afford for housing supply, building activity and employment to go backwards," she said in a statement.
This 'modelling' commissioned and paid for by the MBA is hilarious given Stockland last month stated that Labor's policy would "put a rocket under" home construction:
The Labor Party's plan to limit negative gearing tax breaks to new housing would put a rocket under the business of residential developers because demand from investors would surge, Stockland chief executive Mark Steinert says…

"Our business will rip," he said at the Property Council of Australia's annual congress in Darwin.

"We're all about new product. At the end of the day, half our buyers are first-time buyers, and 80 per cent of our buyers are owner-occupiers. If the investors are going to participate in the market like they have in the past, that means they're all pointing at our product and other developers' products"…
The data backs-up Stockland's position that Labor's policy would boost supply, given 90% of property investors purchase existing dwellings, not new construction: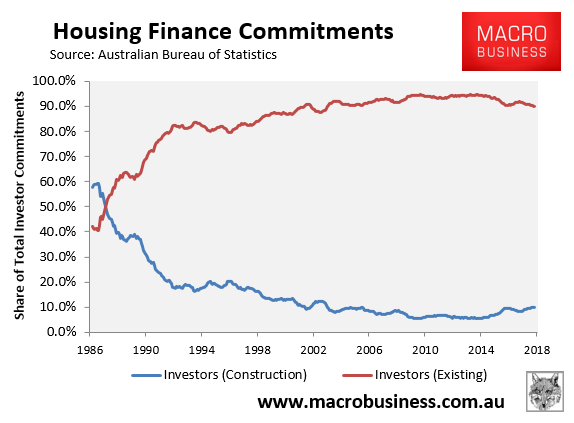 And that investors are crowding-out first home buyers: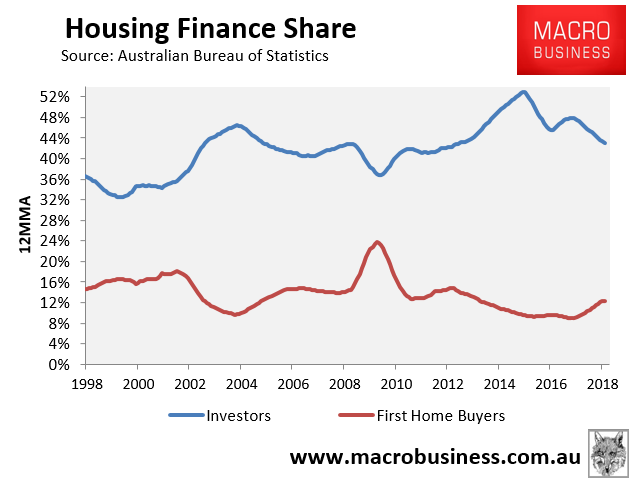 Clearly, by encouraging investment into existing dwellings, current tax settings (i.e. negative gearing and the CGT discount) are part of the problem, not the solution.
Here we have Labor proposing to restrict negative gearing to new homes only, thus channelling investment into the exact thing that the MBA is lobbying for – new supply – and boosting jobs for its construction members. And yet, the MBA is staunchly opposed to Labor's reforms? It doesn't make sense.
Let's also not forget that Labor's policy on negative gearing is practically the same as the Coalition's policy restricting foreign investment to newly constructed dwellings, which is aimed at boosting dwelling supply, economic activity and jobs. Here's the chair of the foreign investment inquiry, Liberal MP Kelly O'Dwyer, explaining the benefits of this 'new homes only' policy:
"Currently the framework seeks to channel foreign investment in residential real estate into new dwellings in order to increase the housing stock for Australians to build, buy or rent. Foreign investment is encouraged in new dwellings whether they be apartments, units or homes because in addition to creating more supply, it also creates more jobs for the building and construction sector – all of which helps to grow our economy".
I can only speculate that the MBA cares more about protecting the value of its developer member land banks, rather than actually boosting dwelling construction. Otherwise, why would it go to such great lengths and expense to oppose Labor's 'negative gearing for new homes' policy?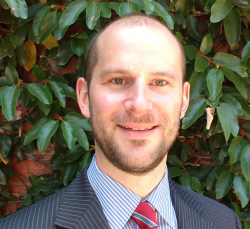 Latest posts by Unconventional Economist
(see all)