Volatility continues. DXY took off as EUR and CNY swooned: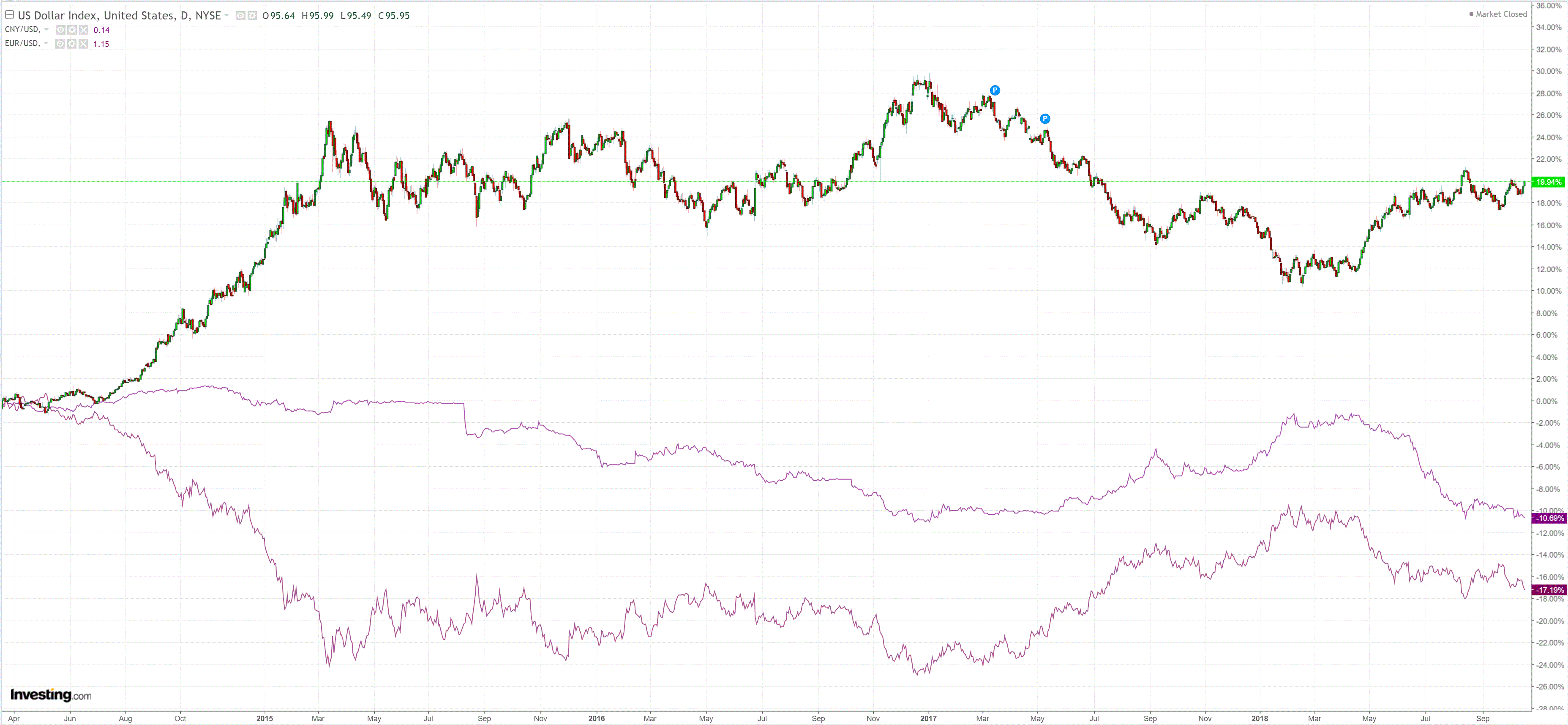 AUD was thumped against the USD but lifted against EUR: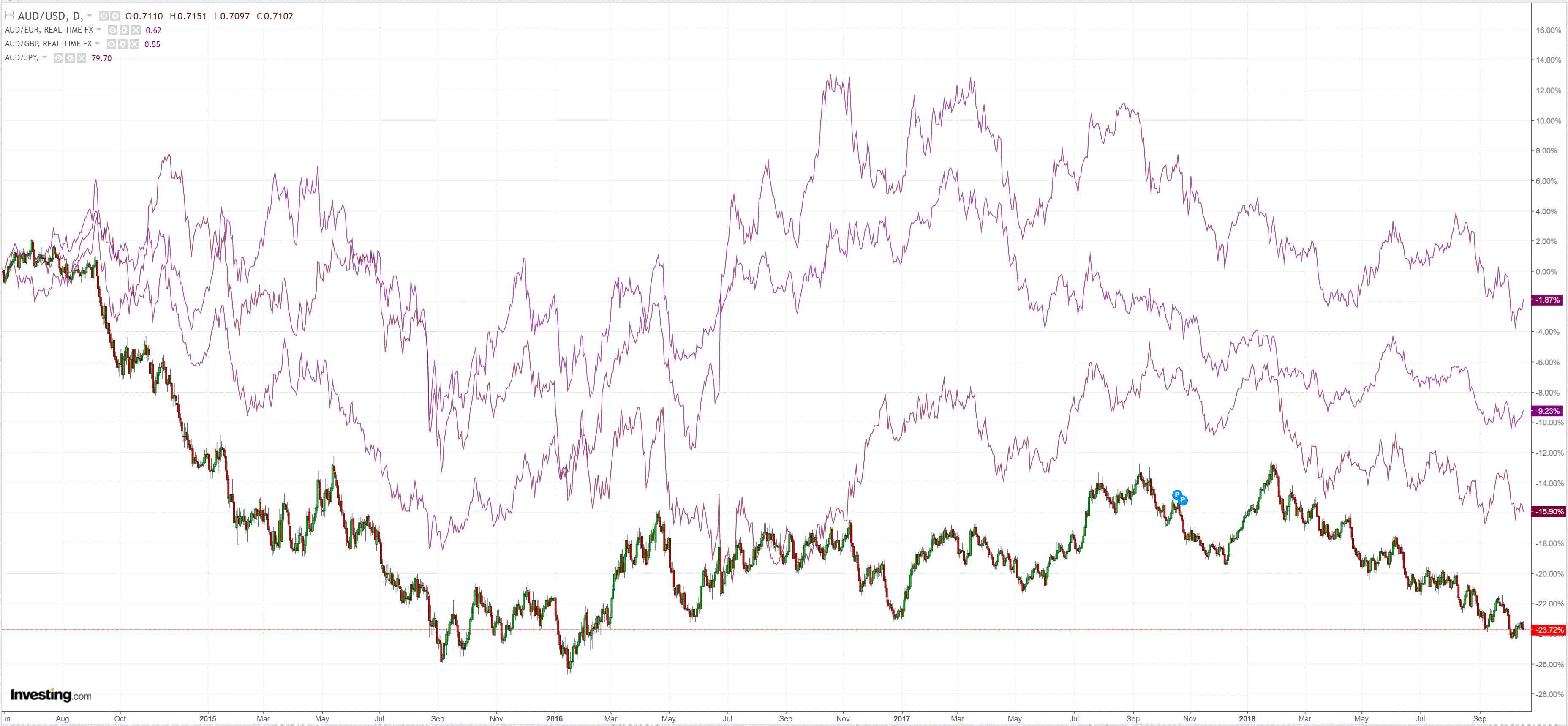 EM forex rolled over: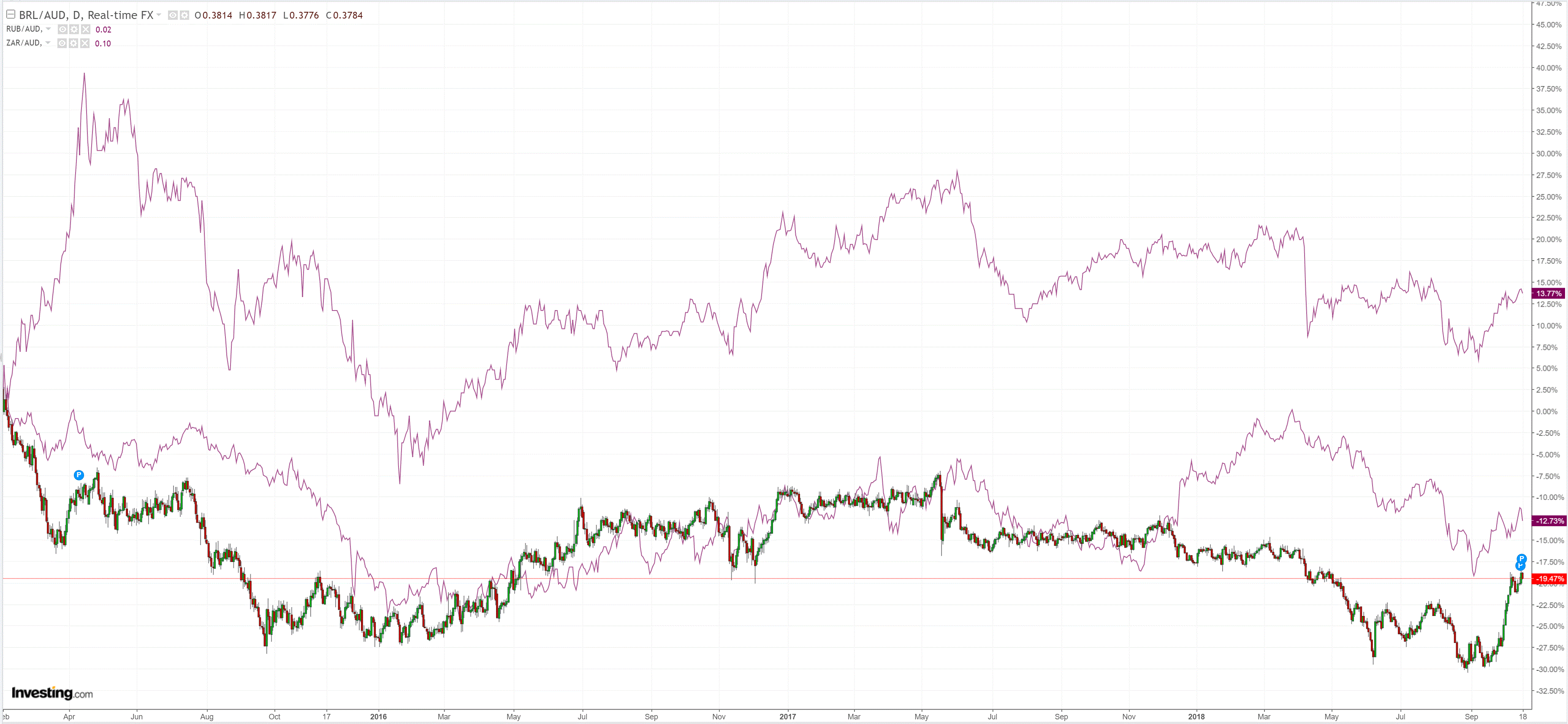 Gold held on despite the rising DXY. EUR fracturing is its best friend: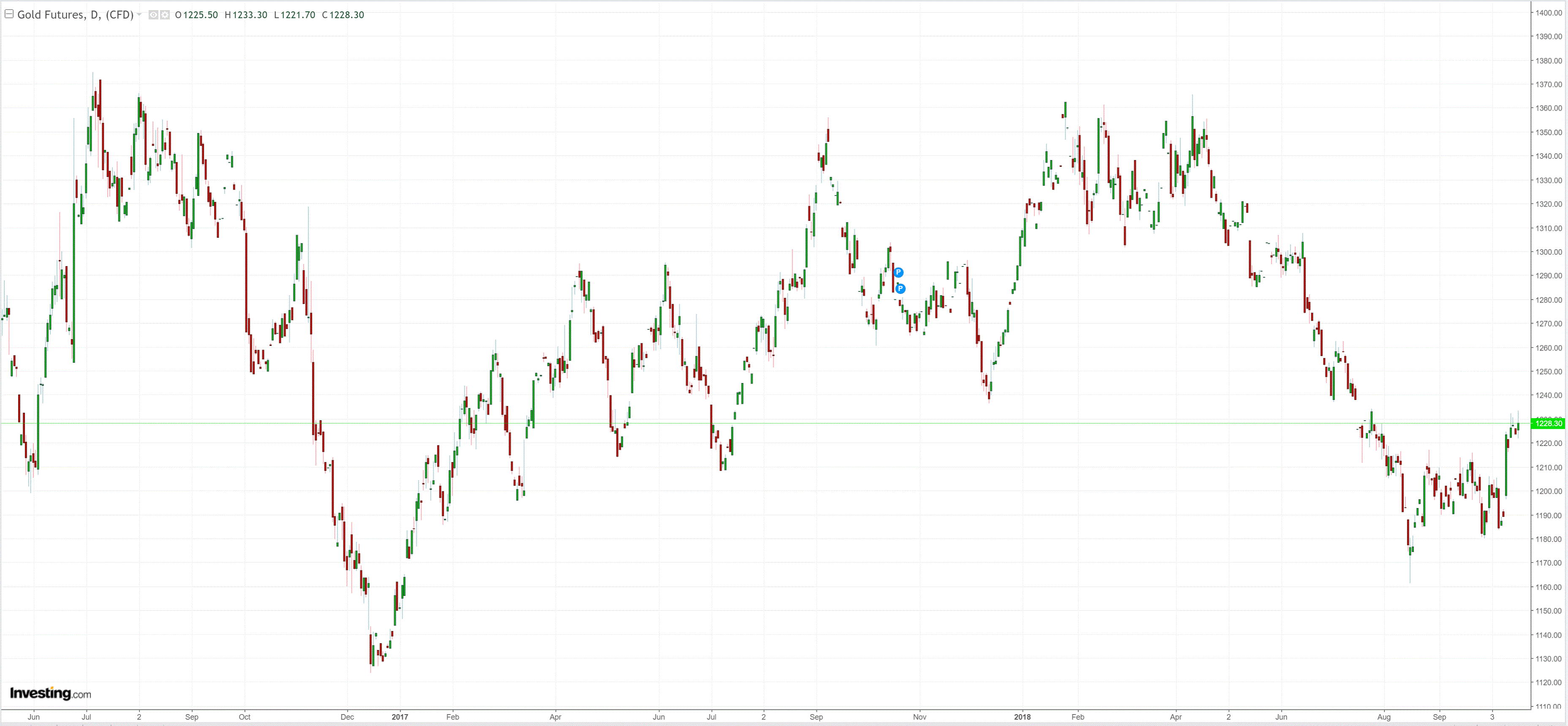 Oil fell: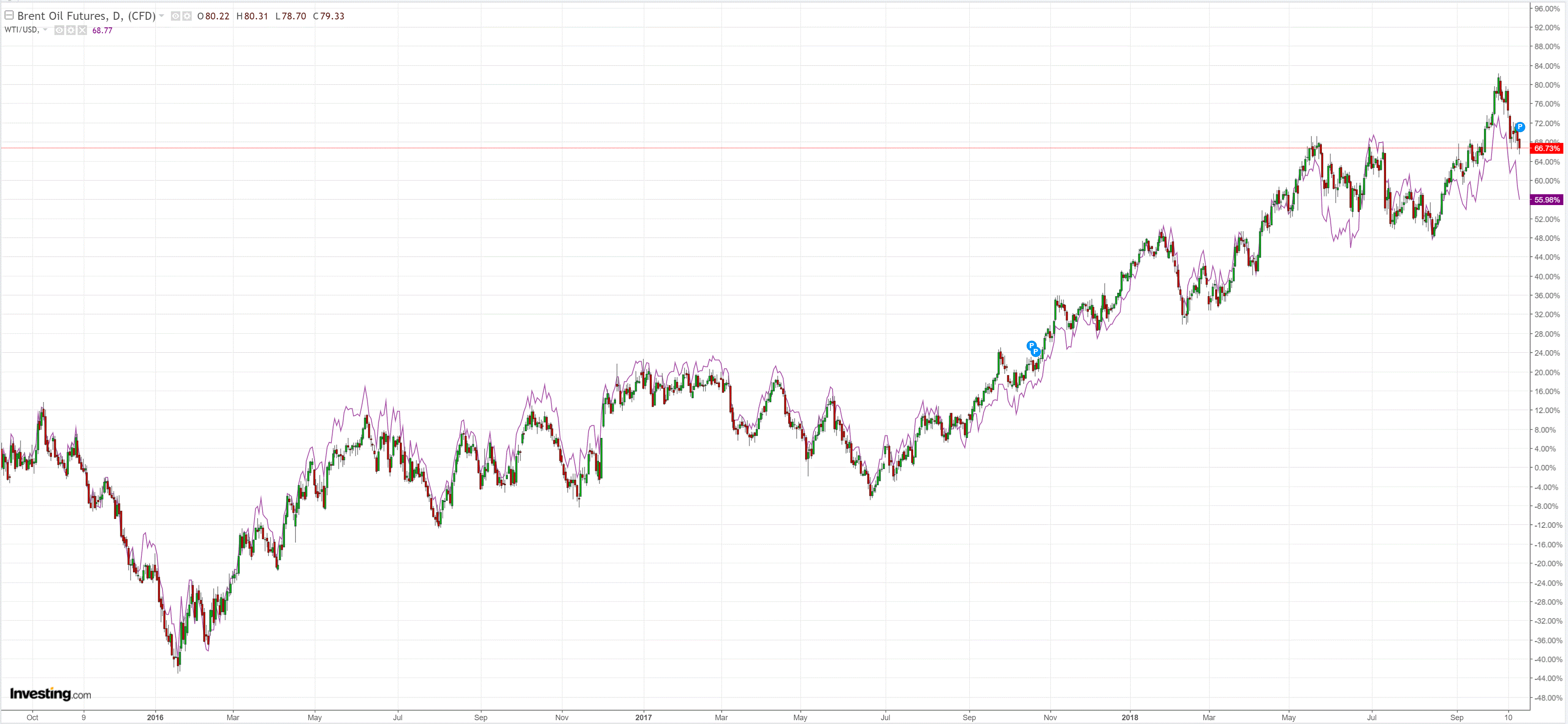 Base metals fell: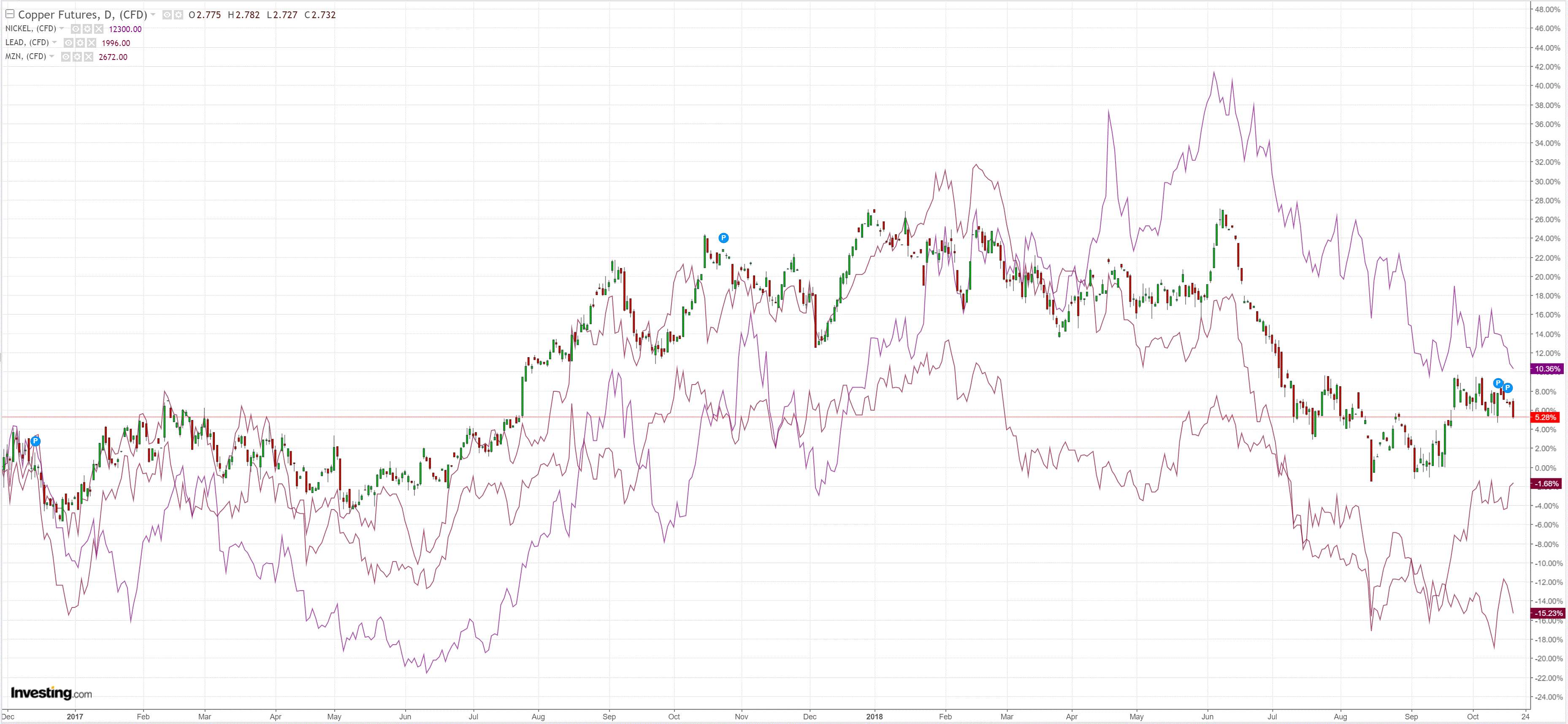 Miners fell: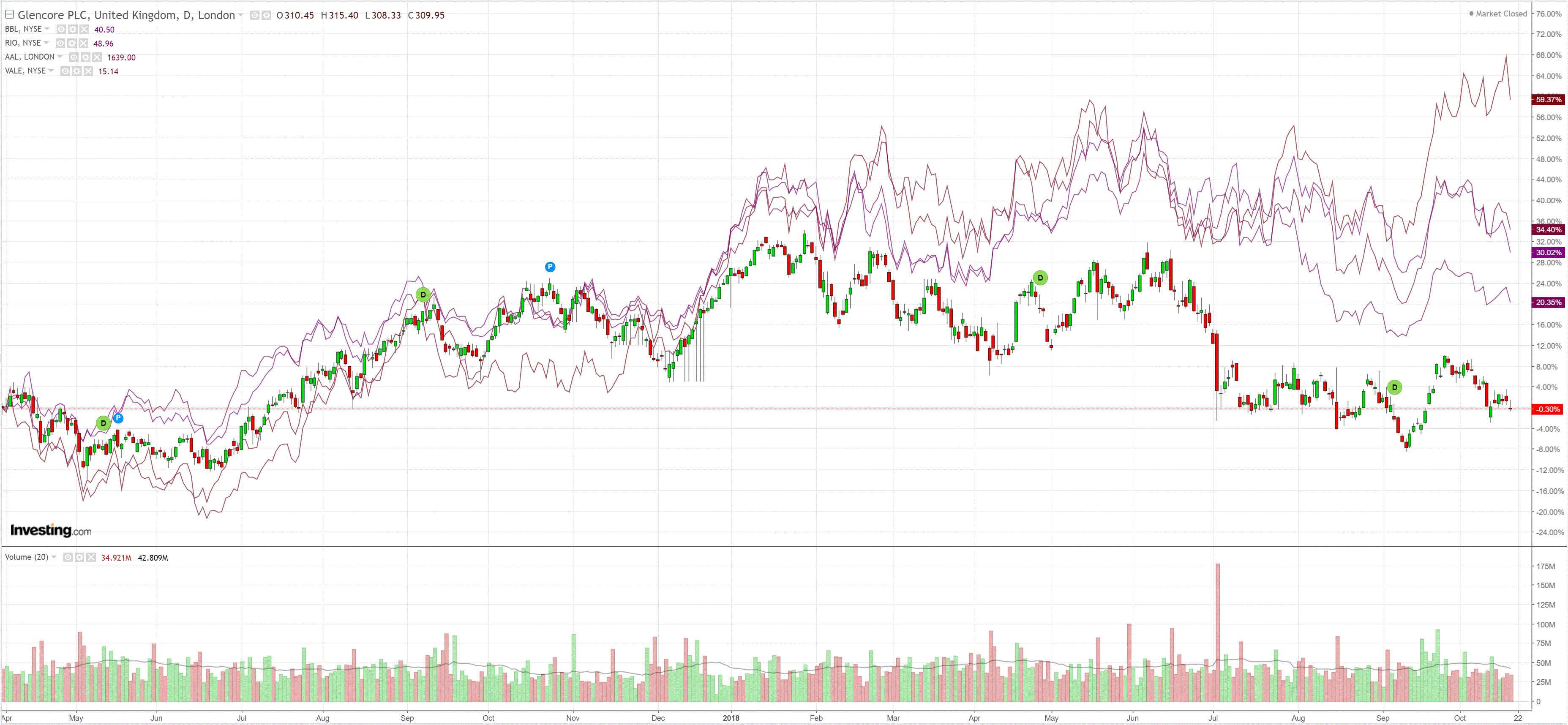 EM stocks got hosed: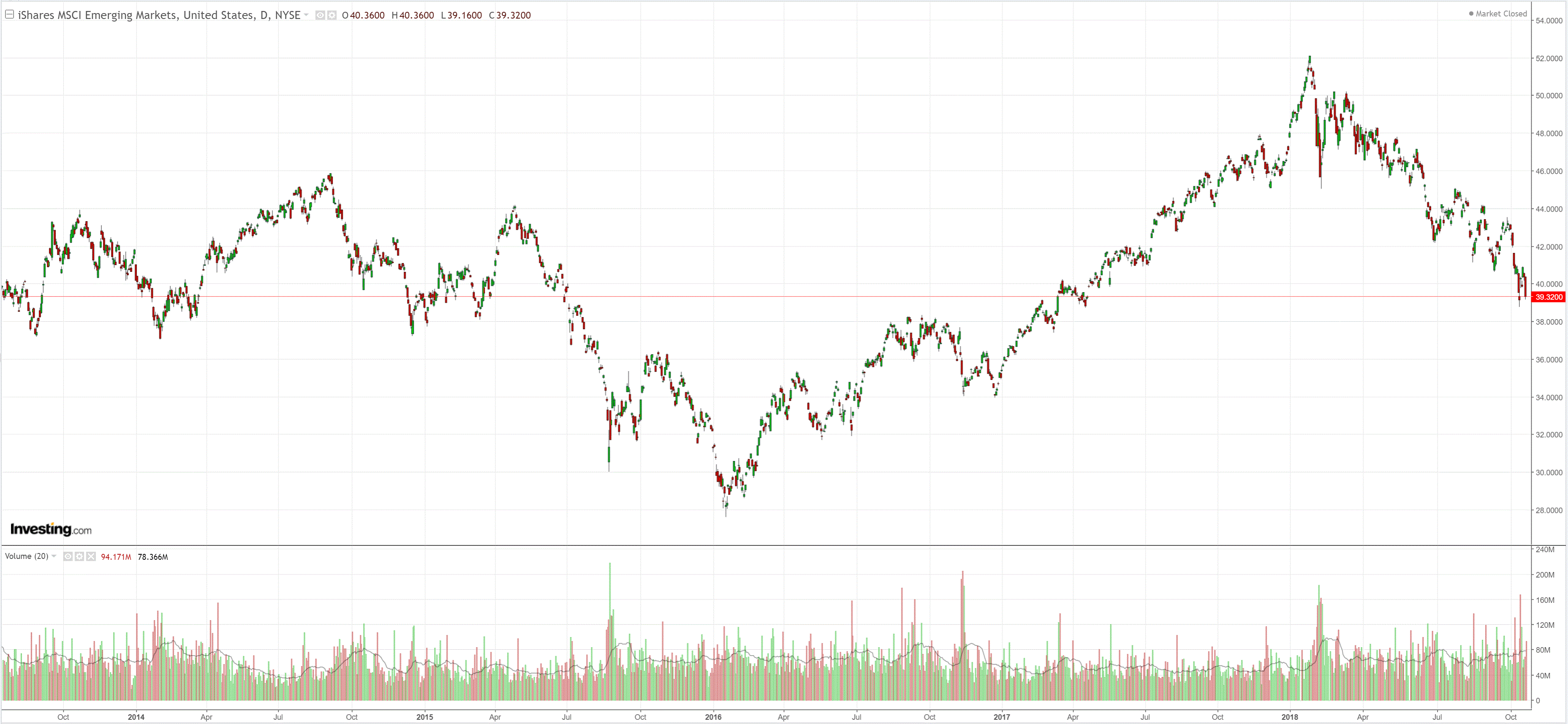 Junk fell: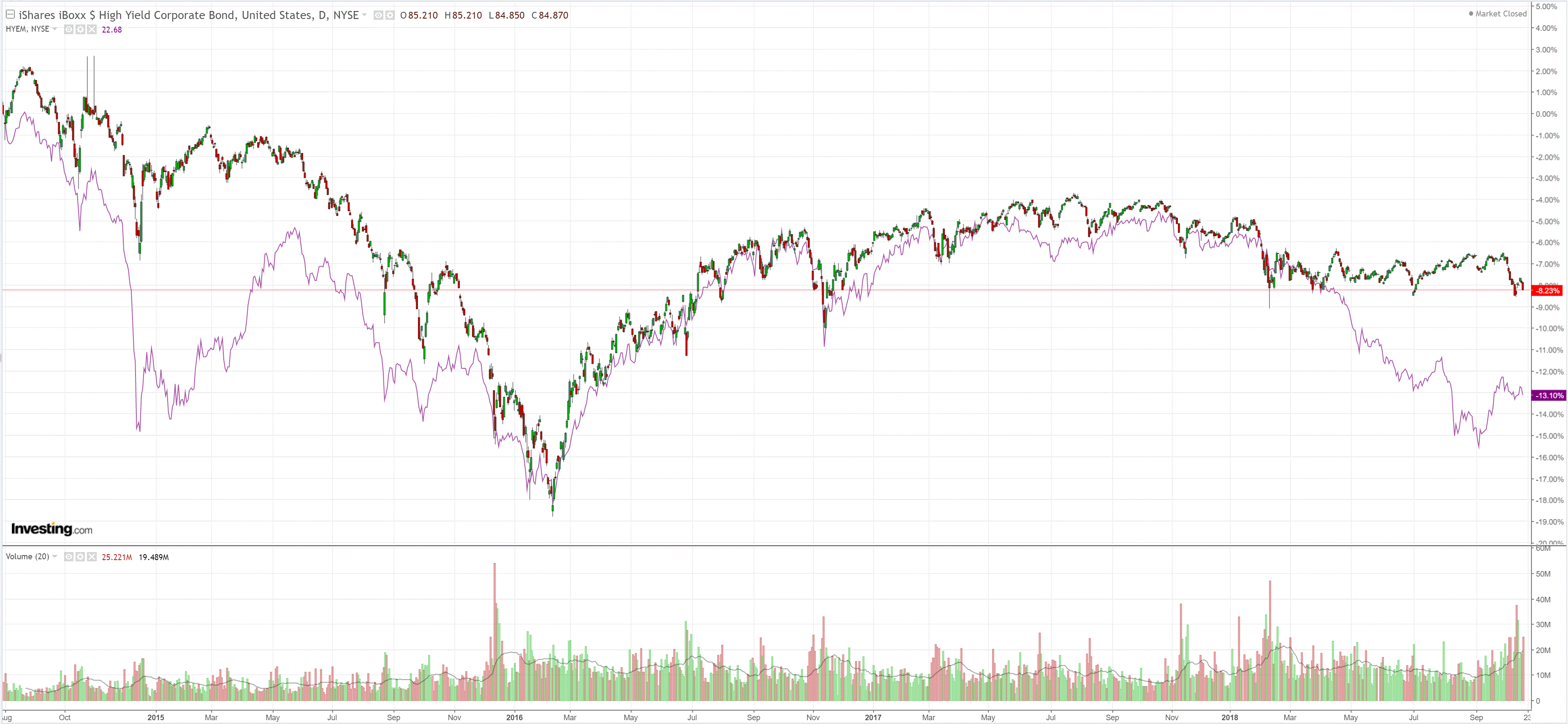 Treasuries were bid: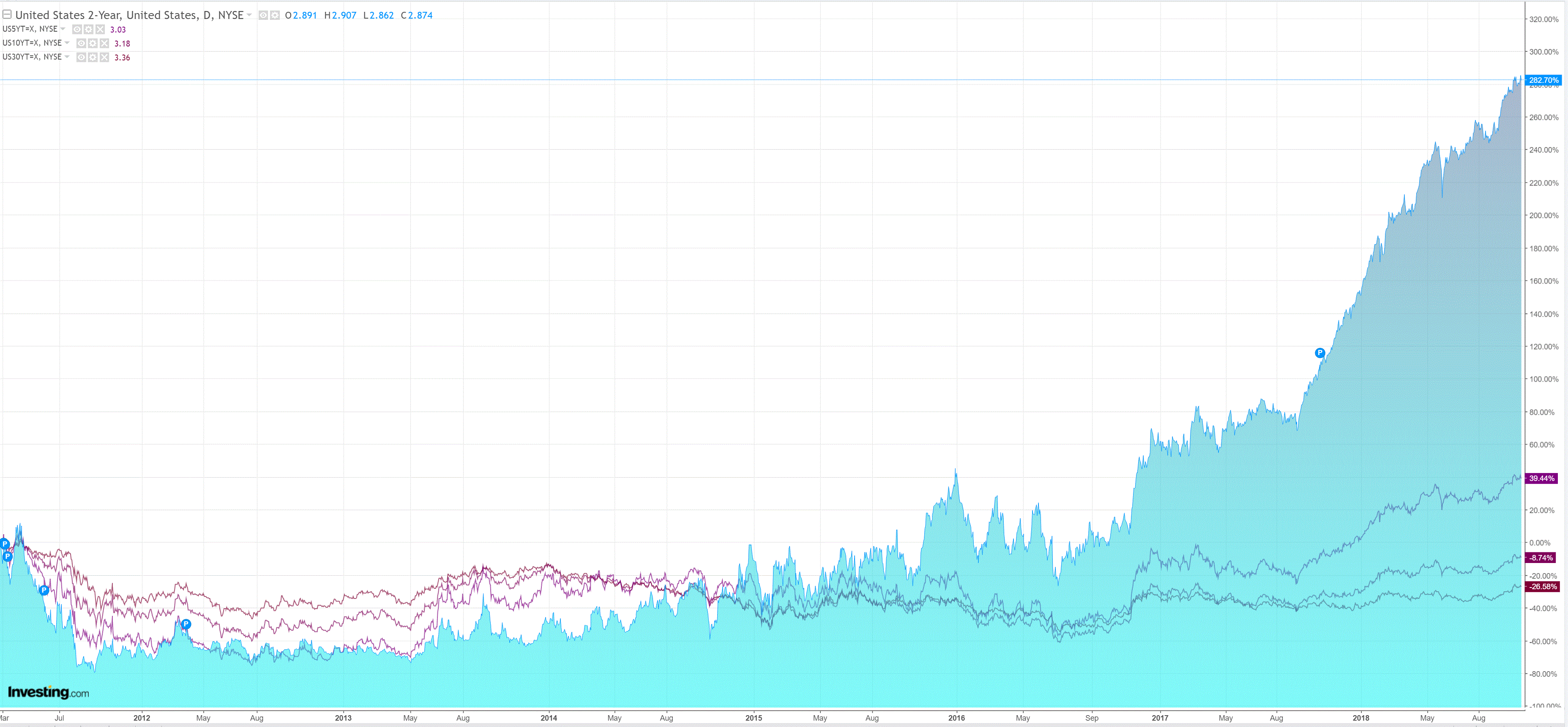 Bunds were gobbled up: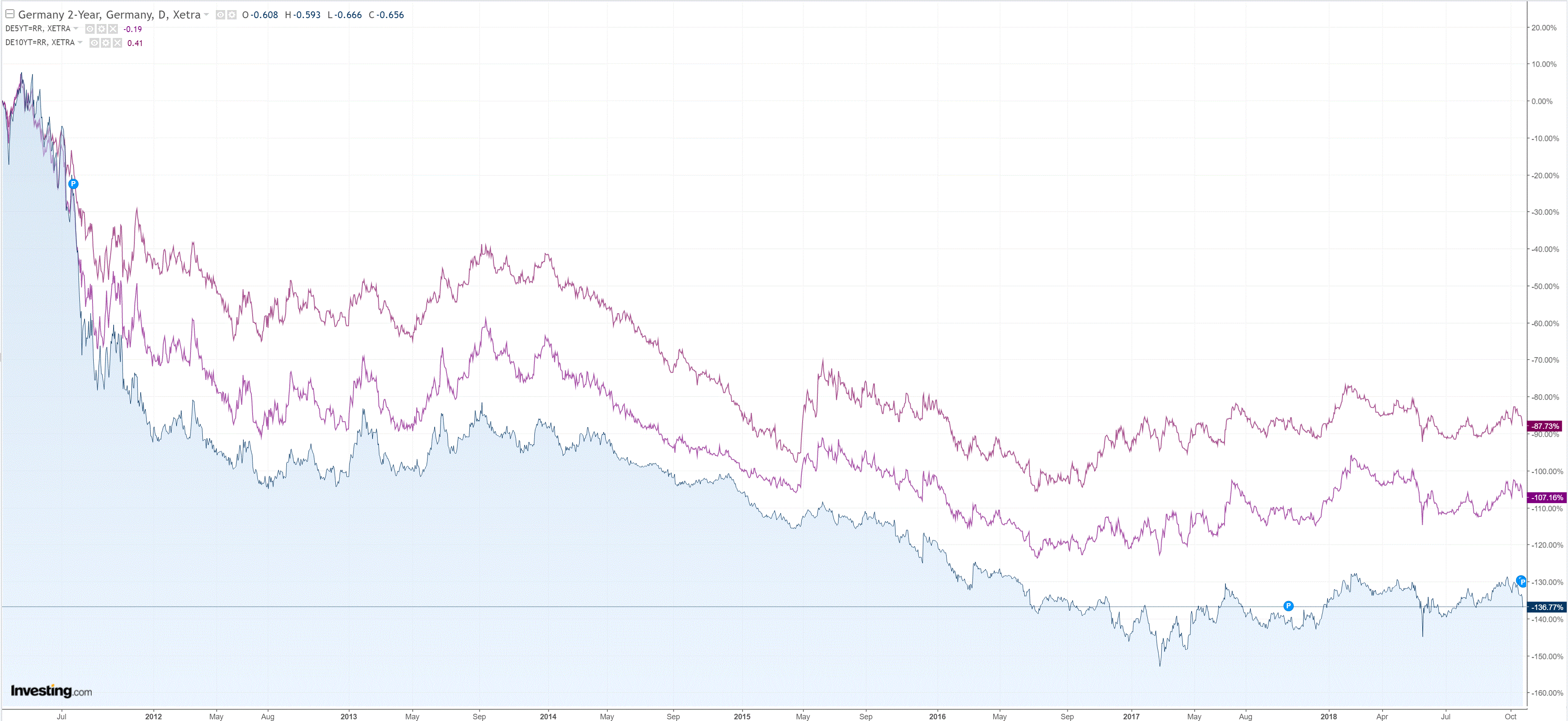 Italy puked: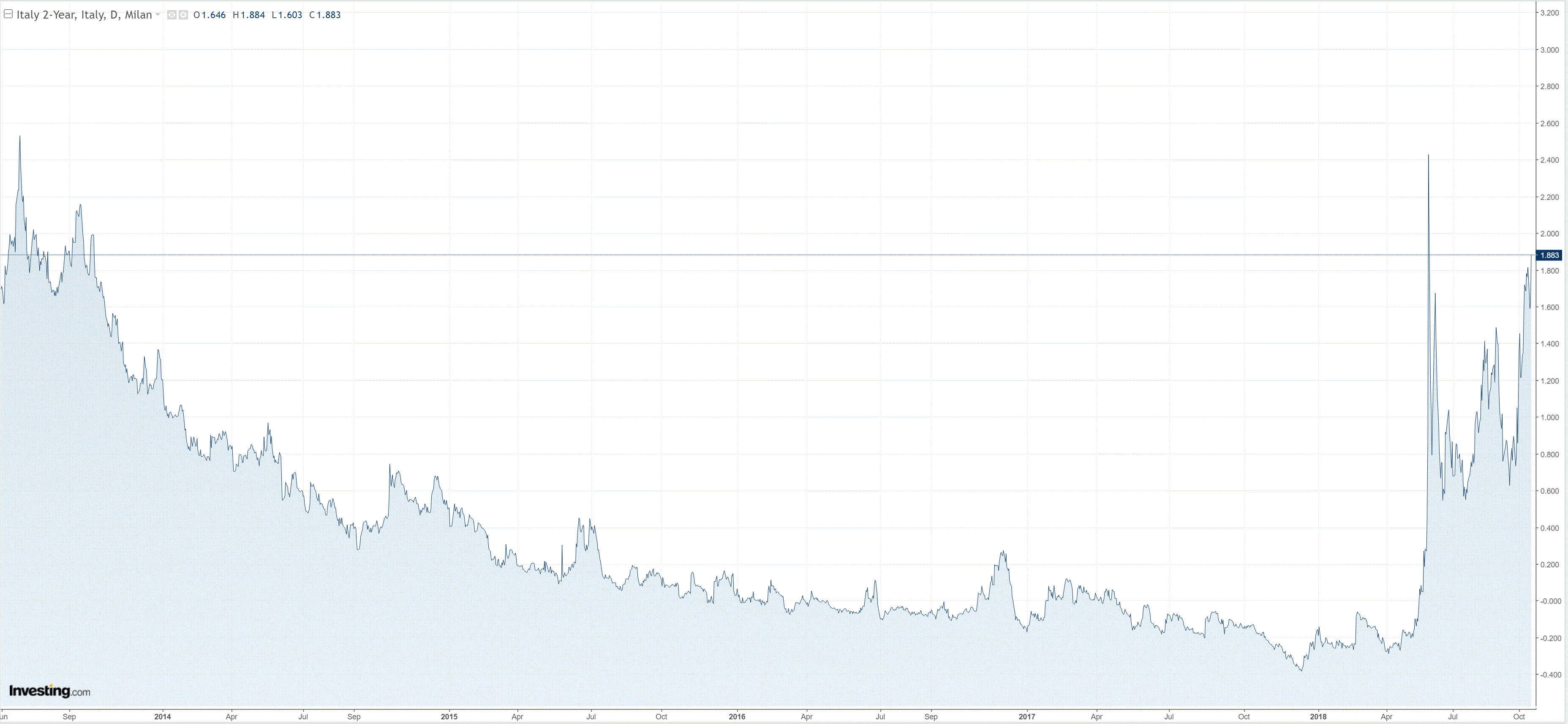 Stocks were hit hard: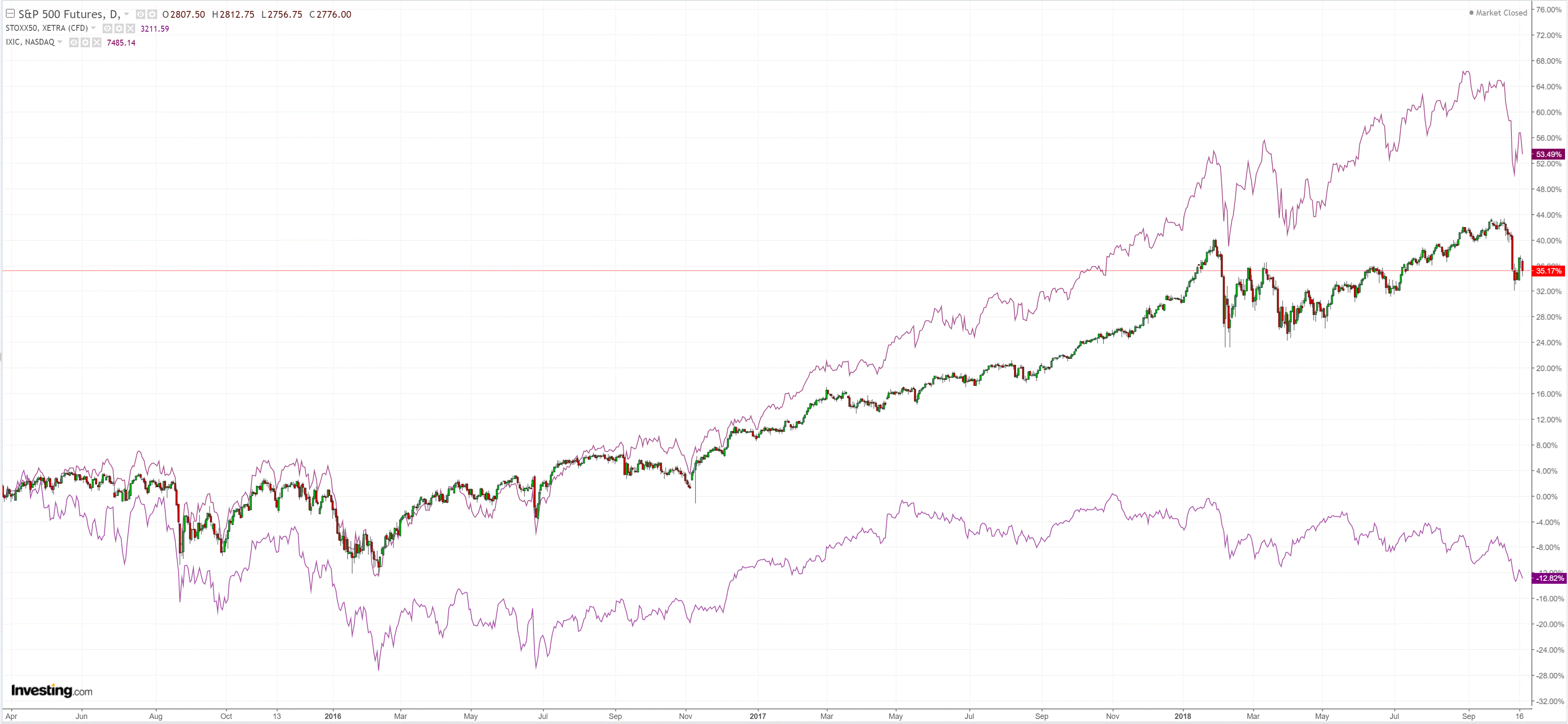 Wrap from Westpac:
Market Wrap

Global market sentiment: Equities fell sharply in the US, following falls in Asia and Europe, the S&P500 currently down 1.5%. Consistent with the risk averse mood, US bond yields also fell, and the US dollar rose. There was no obvious news catalyst for the mood, with explanations including the well-worn trade war and rising yield arguments as well as Saudi-world relations.

Interest rates: The US 10yr treasury yield fell from 3.22% to 3.16% as risk aversion took hold in equity markets. The 2yr yield fell from 2.91% to 2.86%. Fed fund futures yields repriced the chance of another rate hike in December, from 80% to 75%.

FX: The US dollar index is up 0.4% on the day. EUR fell from 1.1525 to 1.1455. USD/JPY fell from 112.65 to 111.95, the safe-haven yen the second best performer on the day. Underperformer AUD initially rose to 0.7150 before falling to 0.7097. NZD similarly rose to 0.6578 before falling to 0.6541. AUD/NZD, which had earlier jumped to 1.0900 following strong AU jobs data, fell to 1.0846.

Economic Wrap

The European Commission sent a letter to the Italian Government requesting clarification of its contentious budget proposals, citing several issues of "serious concern" and "significant deviation" from EU budget rules. A similar letter has been sent by EC to the Spanish Government over its budget.

UK retail sales pulled back more than expected in September from the summer splurge of spending. Volumes fell -0.8% (exp. -0.4%) but the prior data were revised marginally firmer and the larger slide was predominantly due to a -1.5% fall in food sales. Other goods held relatively firmly and so the overall take is of sound retail activity after the surprise surge since April.

Event Risk

NZ: net permanent migration has slowed from a peak monthly pace of 6500 in 2016 to around 5000 since February.

Australia: The federal Division of Wentworth by-election will take place on Saturday. The Coalition has a one seat majority government. Betting odds imply around a 35% chance that the Liberal party (Coalition) will retain the seat, while an independent is around a 60% chance. A federal election must be held before 18 May 2019.

China: Q3 GDP is anticipated to slow to 6.6% annual growth from 6.7% with the first half of 2018 seeing strong support from the consumer. We will also get Sep data for retail sales, industrial production, and fixed asset investment.

Japan: Sep CPI is anticipated to remain at 1.3% annual inflation with core inflation ex fresh food and energy at 0.4%yr. BOJ Governor Kuroda speaks at the National Credit Union's annual meeting.

UK: BoE Governor Carney speaks at the Economic Club of New York.

US: Sep existing home sales data is released. Limited supply remains a key issue. Fedspeak involves Kaplan at the Shadow Open Market Committee meeting and Bostic speaks on the economy and policy.

Canada: Sep CPI is expected to rise 0.1%. Headline inflation is elevated while core is at 2% but is rising.
Growth worries in general lets call it. China is being hit by the trade war and its stimulus efforts are sinking the yuan threatening a trade war feedback loop. Europe is slowing and is torturing itself over the Italian budget sinking the EUR. And notwithstanding the tightening Fed, the US also faces a slowdown owing to the fiscal cliff: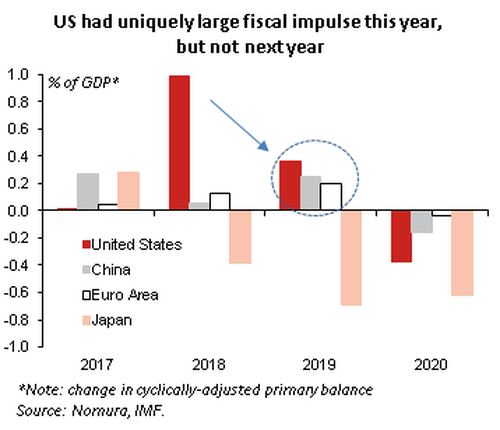 Then we have Kashoggi scandal running in the foreground with many world leaders abandoning Saudi Arabia as it threatens reprisals.
Policy risk is very high and is driving volatility worldwide.