Acadata has released its latest house price results for the UK, which shows that values in London are rebounding after a period of price falls. However, in real inflation-adjusted terms, property values are still declining across the UK:
Monthly prices rose modestly in August. They were up just 0.1%, but it is enough to put an end to consistent falls seen every month since March. Regional variances are still very evident. Annual price increases, by contrast, remain steady, holding at 1.8% for the third month in a row. That's up from a 1.7% annual increase in May, but a fall from 3.8% in January and 4.5% last August.

The 1.8% increase is significantly below inflation of 2.3% (CPI), meaning real-terms falls. However, every region continues to show nominal increases in annual prices.

The average home in England and Wales is now worth £303,199, up £5,300 on the previous year.

London posted an annual price increase of 3.6% in July. The West Midlands, East Midlands and North East also all continue to record rises above inflation. The South East, where growth is weakest, nevertheless saw its annual growth increase in July, bucking the trend nation-wide.

Broadly, though, the market is flat across regions, and transactions are low – down 0.1% in August compared to July with an estimated 79,900 completed. Annually they are estimated to be down 4% on the same period in 2017, and at their lowest in five years.

The real-terms fall in prices in many regions is likely to help first time buyers, however, and many expect these to be the dominant players in the market this year. Housing related announcements expected in November's Autumn Budget may also offer more help.

Oliver Blake, Managing Director of Your Move and Reeds Rains estate agents said: "The slower market should help ease the affordability challenge faced by many buyers. Even in London, where an average increase was recorded over the month, homes in most boroughs are significantly cheaper in real terms than they were this time last year."

The capital started the year recording the biggest monthly fall in prices since the financial crisis, acting as a significant drag on the market. Now prices are up 3.6% in the year to July at £625,040.
Transaction volumes have also softened, especially across Greater London: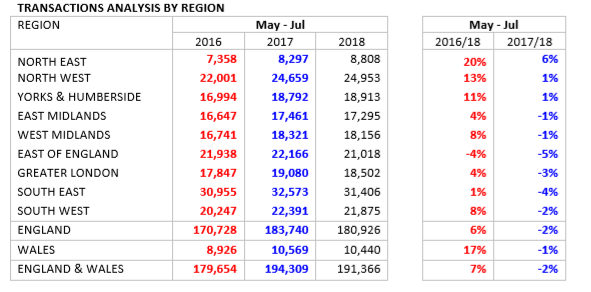 Thus, the UK housing market appears to be on a fragile footing.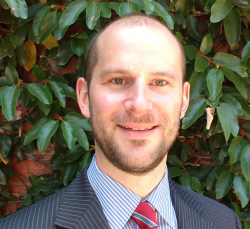 Latest posts by Unconventional Economist
(see all)