The Guardian's Greg Jericho has penned another article lamenting that workers continue to miss out on sharing in Australia's booming GDP growth:
The latest GDP figures show the continued poor return households are getting from a strong economy. While company profits soar, real household incomes continue to fall. As a result, we have reduced our savings to keep spending at a level that sees the economy running along stronger than it has for more than five years…

The reason is clear – wages and household incomes are not growing at a level that enables households to keep spending without eating into savings… the annual growth of average compensation per employee of 1.7% is woefully low… in real terms average compensation fell and remains below the level it was eight years ago…

Yes, the economy is growing well, but the income is flowing right now towards corporations…

Households will not be able to keep reducing the amount they save at the levels they have been for the past year. Household spending growth in the long term can only be sustained by real increases in household incomes – and we have not seen that for a very long time now.
Jericho makes some good points.
Australian workers' real incomes have been falling despite solid labour productivity growth: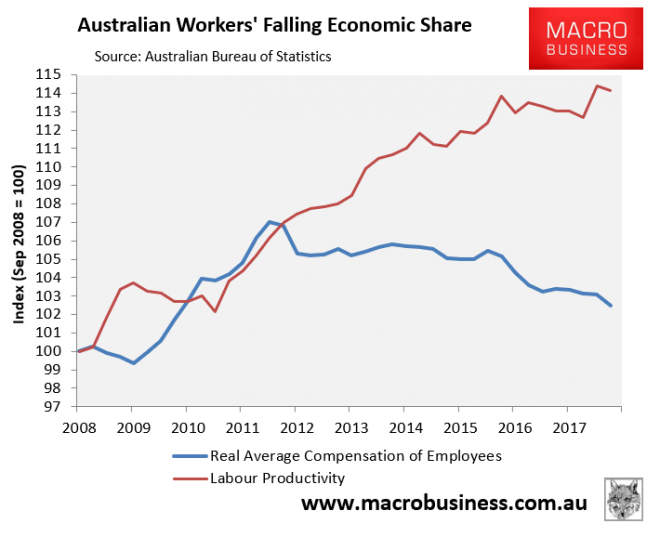 Whereas business profits has been booming: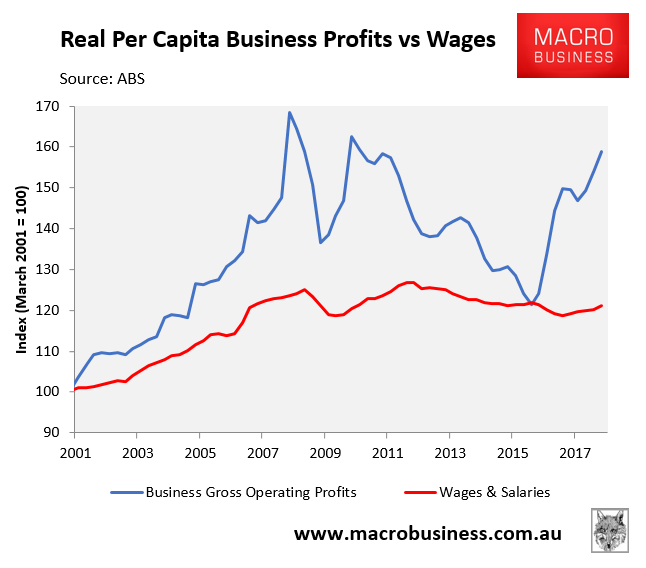 This has driven Australian workers' share of national income to near record lows: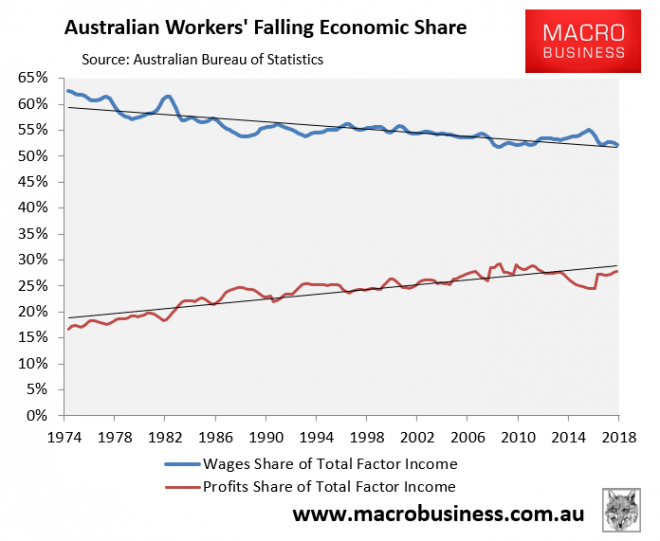 Whereas per capita household disposable income has fallen to 2011 levels: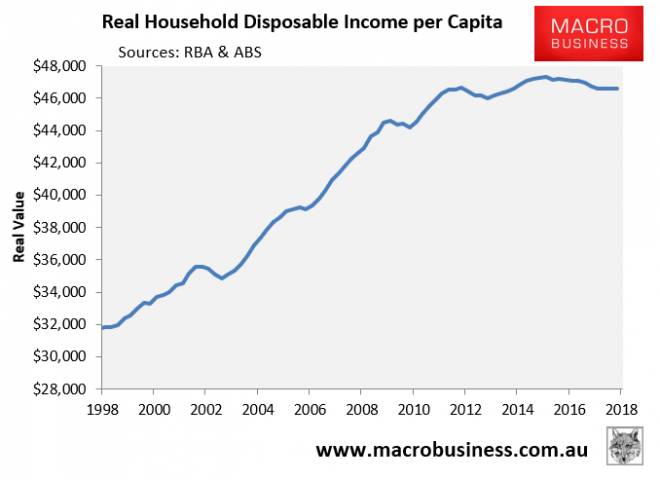 That said, Greg Jericho has once again refused to mention one of the reasons why business profits are booming at the same time as real wages are falling: mass immigration.
Clearly, when you funnel 200,000-plus extra workers into an already oversupplied labour market each year, then you will place downward pressure on wages, as well as boost business profits via extra consumption. This is why the business lobby loves the mass immigration model so much, since it gets to privatise the gains while socialising the costs on the broader community.
Former treasury secretary turned NAB chairman, Ken Henry, explained this model in a speech last year:
Research NAB carried out earlier in the year showed that among our customers there's not wholesale support for a larger Australia. For many, the prospect of a higher Australian population means more stress in the ability to buy a house, to live where you want to live, to get to work with a reasonable commute time. And many in the community are also concerned about our ability, as a nation, to maintain norms of Australian social and economic inclusion, and to continue to provide access to high quality services in areas such as healthcare and education…

But what is the business perspective? The same NAB research showed that most of our business customers would strongly prefer a larger population, which supports better business growth.
Various Productivity Commission modelling has also shown that immigration lowers the wages of incumbent workers (see here). These results were confirmed recently by modelling from Victoria University (see here). Several notable Australian economists have noted similar.
It is basic economics that if you stem the flow of foreign workers, then workers' bargaining power will increase. This was explained beautifully by The Australia Institute's chief economist, Richard Denniss, last year when he noted that the very purpose of foreign worker visas is to "suppress wage growth by allowing employers to recruit from a global pool of labour to compete with Australian workers".  That is, in a normal functioning labour market, "when demand for workers rises, employers would need to bid against each other for the available scarce talent". But this mechanism has been bypassed by enabling employers to recruit labour globally. "It is only in recent years that the wage rises that accompany the normal functioning of the labour market have been rebranded as a 'skills shortage'".
Even left-leaning economist, Stephen Koukoulas, has noted similar recently on Twitter: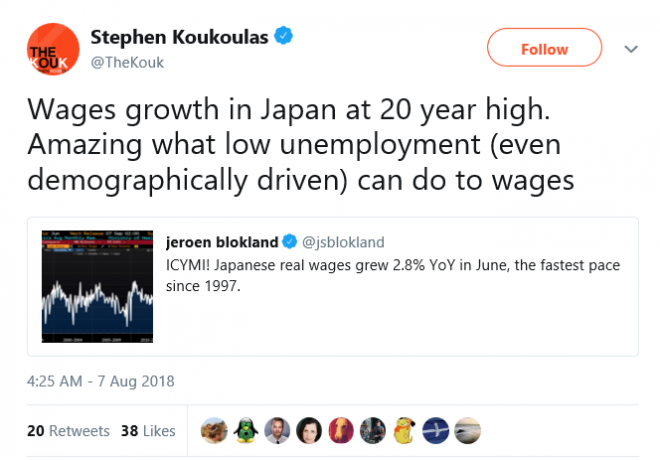 Sadly, Fake Left economic commentators like Greg Jericho cannot bring themselves to even acknowledge these basic facts when discussing wages, because to do so would somehow be 'racist':
Immigration – because there are many desperate to hate – must be treated with extreme care by politicians and journalists, and certainly with more care than Abbott seems capable. The inherently racist parties will seek to use any discussion and any seeming evidence of the negative impact of migrants as fuel to burn their fires of hate.
I say again: when will Greg Jericho stand up for ordinary Australian workers and lobby to lower Australia's reckless 'Big Australia' immigration program, which is not only lowering workers' wages, but also raising their cost of living via housing, as well as eroding their overall living standards and wrecking the natural environment?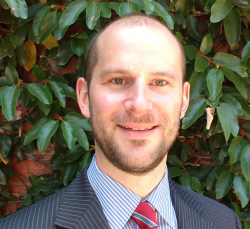 Latest posts by Unconventional Economist
(see all)