After last week's house price results from CoreLogic revealed a deepening correction, especially in Sydney: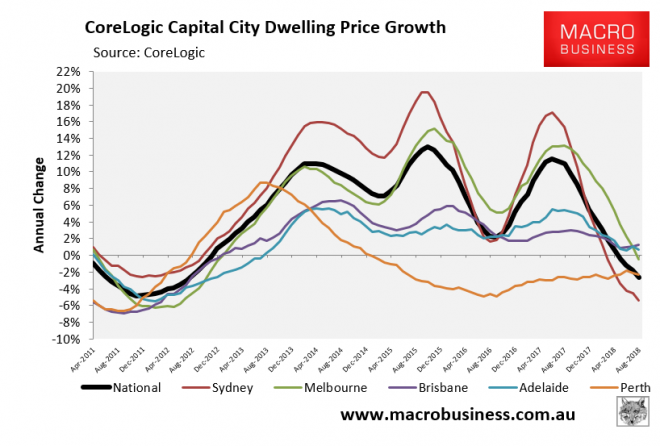 Australian Treasurer, Scott Morrison, was quick to use the opportunity to attack Labor's planned changes to negative gearing, warning they would 'crash' the housing market:
SYDNEY could face a crash in house prices throwing the economy into turmoil under Labor's "dangerous" policies, Scott Morrison has warned…

The Treasurer said the "softening" of the Sydney housing market over the past 12 months as a result of the Government's "delicate" policy change was necessary to tackle affordability…

[Morrison] seized on analysis released by CoreLogic yesterday which found Labor's policies to wind back negative gearing and increase capital gains tax were "playing on the minds of investors" and have a "further dampening effect".

"We (the Turnbull Government) took the very careful action we did through APRA (Australian Prudential Regulation Authority) to slow down the level of investor participation in the market," he said.

"(It) was making … the imbalance between supply and demand an even bigger issue because there was this easy credit flowing through to investors"…

Mr Morrison feared that compared the Government's "air rifle" strength change, Labor's policies which he said were as powerful as "Clint Eastwood's magnum".

"Even if Labor thought in their madness that this is a good idea, two years later when the market has softened … the idea of going ahead with this now is arrogant and more importantly its incredibly dangerous," he said…
Estimates of Labor's policy's impact on the housing market vary.
On the moderate side, the Grattan Institute forecast only modest declines in house values in the order of 2%.
Whereas a Freedom of Information request from the Australian Treasury also estimated that the impact would only be modest:
"The ALP policies could introduce some downward pressure on property prices in the short term, particularly if the commencement of the policy coincides with a weaker housing market," they wrote.

"In the long term, increases in taxation on rental property could have a relatively modest downward impact on property prices"…
On the other hand, recent analysis by property consultants RiskWise Property Research and Wargent Advisory suggests a 9% impact on property values; albeit with significant variation around the country: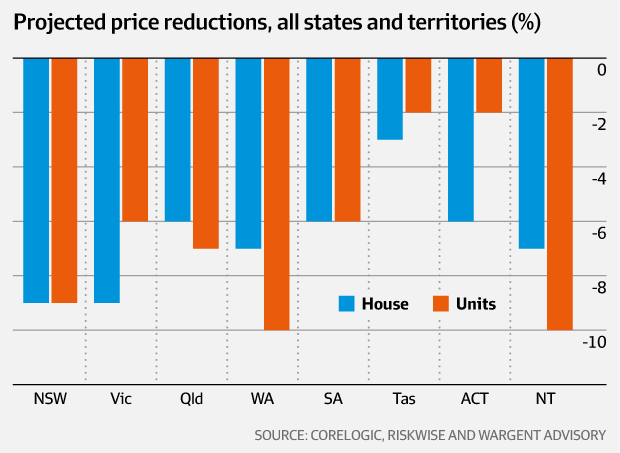 About -10% is the MB estimate. But that is only initially. The ongoing impact will be much higher given it will materially reduced future price growth, as well as increased supply (at the margin) from the policy remaining on new builds.
Furthermore, given Sydney (and to a lesser extent Melbourne) is where investors congregate most intensively, it is likely to be hardest hit: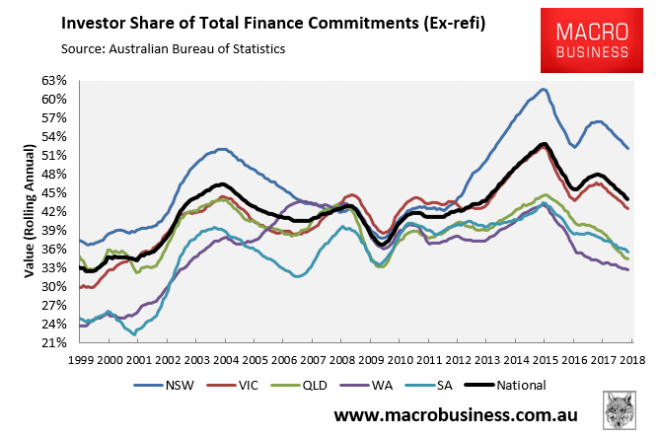 This is particularly pertinent given investor finance has a very strong correlation with price growth: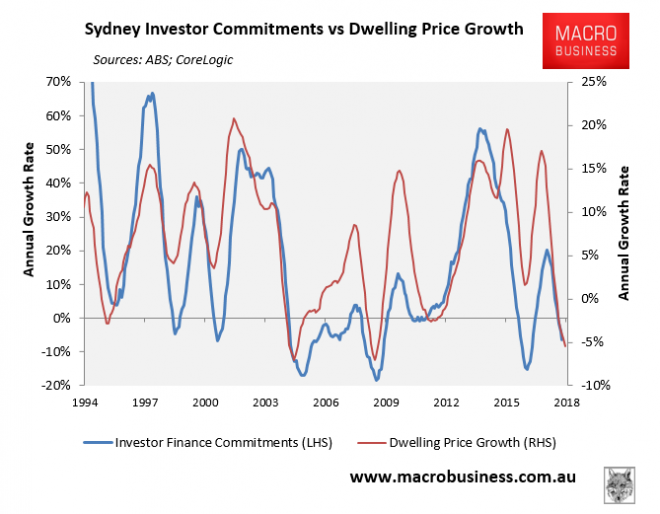 There's no doubt about it. Coming on top of the current correction, as well as the interest-only reset, it will be nasty for house prices.
That's not to say that Labor's policy is not excellent – it is. Malcolm Turnbull admitted so in his 2005 Tax Policy Paper, when he described negative gearing and the CGT discount as a "sheltering tax haven" that is "skewing national investment away from wealth-creating pursuits, towards housing", and has caused a "property bubble".
It's just that Labor's policy will likely arrive too late, at the wrong time, and exacerbate the downturn.
Nevertheless, MB hopes Labor will stick to its guns and keep persist with its policy should it win the next election. The only way to 'fix' housing affordability is through lower prices.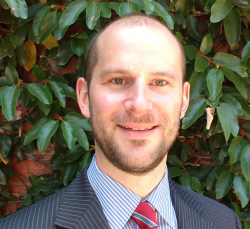 Latest posts by Leith van Onselen
(see all)