In August last year, Bernard Doyle, a strategist at JBWere, penned a ripping report on the New Zealand economy, arguing that rabid population growth was masking underlying weak productivity and poor per capita GDP growth:
New Zealand has been in a productivity recession since 2012. Not that you'd notice from headline GDP numbers, which continue to print impressively. However GDP per hour worked has flat-lined for five years…

In the absence of productivity gains, our economy has relied on more people, working more hours. Net migration provides a conveyor belt of fresh labour, but it comes with attendant bottlenecks in housing and infrastructure…
Then in May, Interest.co.nz published an alarming report on the "massive" infrastructure deficit that has engulfed New Zealand, especially Auckland, as the nation's population has surged by more than half a million people over the past decade:
Infrastructure New Zealand chief executive Stephen Selwood… describes the issue as "massive."

"Nationwide we have an enormous challenge in front of us."

Auckland Council's infrastructure deficit, which includes public transport, roading, water and housing, is estimated to be in the tens of billions of dollars.

"The problem is just getting bigger and bigger. The evidence is clear," Selwood says.

A recent ANZ report found that because of under-investment, "infrastructure spending needs to be urgently undertaken on a range of fronts."

Over the last decade, New Zealand's population has grown by more than half a million people, half of which was during the last three years.

But public and private sector spending on infrastructure was flat between 2015-2017, according to the Ministry of Business, Innovation and Employment.

ANZ's data also shows new capital spending for each 1,000-additional people has fallen from $142 million in 2011/12 to $37 million in 2016/17…

But borrowing more money to address the deficit is problematic.

Not only are councils – such as Auckland's, Tauranga's and Queenstown's – up against their debt limits, the Government has committed to getting core Crown debt to 20% of GDP by 2021/22.
Yesterday, the annual National Construction Pipeline report was released by the Ministry of Business, Innovation and Employment (MBIE), which revealed that infrastructure investment projections have fallen dramatically compared to last year. From Interest.co.nz:
Last year's report expected 6% infrastructure growth, where the actual recorded activity was a 3% decrease.

"[This report] highlights the problem of uncertainty in the infrastructure sector and raises serious questions about New Zealand's ability to service new housing," says Infrastructure New Zealand chief executive Stephen Selwood.

He adds that while the research indicates an increase in capital intentions in the near term, it also reveals a subsequent drop-off from the beginning of 2021.

"Putting the initial bump aside, overall infrastructure capital expenditure is forecast to flatline over the next five years"…

Selwood says more needs to be done and has a bleak warning.

"Auckland, a city buckling under the pressure of growth compounded by decades of infrastructure underinvestment, will, even with major government investments announced to date, fall in real terms over the next five years."
New Zealand, like Australia, has effectively engaged in a form of population 'quantitative easing', whereby it has inflated aggregate growth by boosting the numbers of consumers in the economy via mass immigration. But in the process it has damaged individual living standards as GDP growth per capita has slid all the while infrastructure has become crush-loaded, housing more expensive, and the natural environment degraded: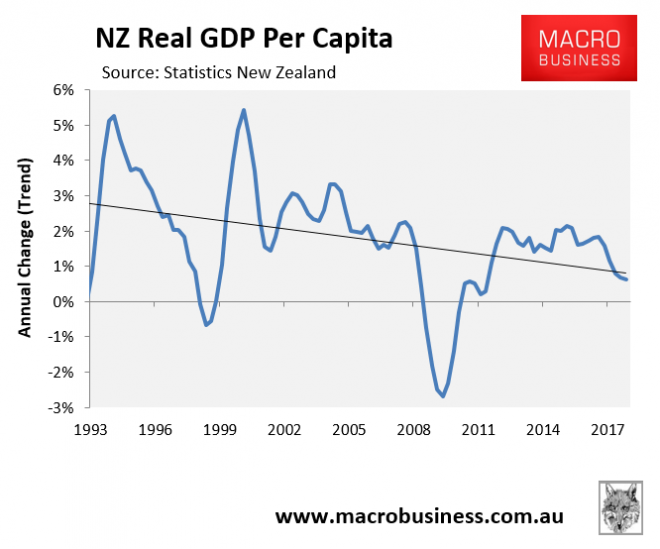 As noted recently by former RBNZ economist, Mike Reddell:
There has been no productivity growth at all in the last year, and in the last five years ( the grey line relative to the orange line) average annual labour productivity growth has been only around 0.3 per cent per annum.   And this in an economy that the previous government liked to boast –  and the new government seemed happy to concede –  was doing pretty well.  Productivity growth is the only sustained basis for long-term improvement in material living standards.   We have very little of it –  even as we start so far behind most other advanced countries.
The situation is worst in New Zealand's largest city – Auckland – which has received roughly half of New Zealand's net overseas migration (NOM). In fact, according to Mike Reddell, as overseas migrants have flooded into Auckland, local Kiwis have been driven-out (much like Sydney), likely from the exorbitant cost of housing (where the median price exceeds $1 million), as well as ever rising traffic congestion: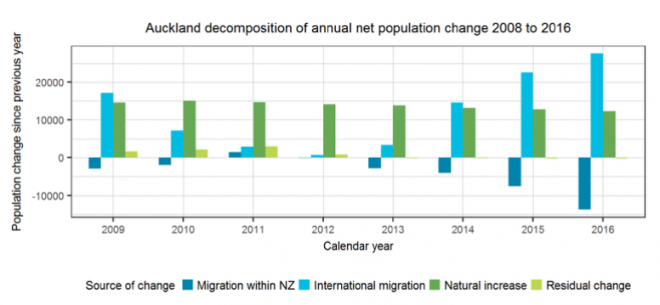 Moreover, according to Mike Reddell, Auckland's economy has underperformed relative to other major cities, with the gap between its GDP per capita growth and the rest of the country razor thin:
I've shown previously a chart looking at GDP per capita in EU countries, looking at the ratio over time of that in the biggest city relative to GDP per capita for the country as a whole. Over this century there has been a clear upward trend.

As for Auckland, in 2000 GDP per head in Auckland was 15 per cent higher than for the country as a whole, but by last year it was only 9 per cent higher. I've shown previously (a couple of years ago) this chart of how small the New Zealand gap is between GDP per capita in the biggest city and that for the country as a whole, by comparison with many other advanced countries.

…the metropolis isn't powering ahead at all – just getting more and more people, in a city which is underperforming a country with weak (almost non-existent in recent years) productivity growth.
Much like Sydney and Melbourne, Auckland is hooked on quantity-based 'ponzi' growth – a model that is both unsustainable and likely to lower the living standards of incumbent residents via the perpetual crush-loading of housing and infrastructure.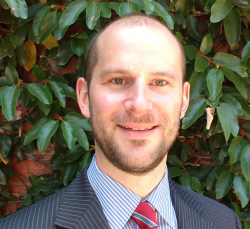 Latest posts by Leith van Onselen
(see all)