Bernard Doyle, a strategist at JBWere, has penned a ripping new report on the New Zealand economy, arguing that rabid population growth is masking underlying weak productivity and poor per capita GDP growth. From Interest.co.nz:
New Zealand has been in a productivity recession since 2012. Not that you'd notice from headline GDP numbers, which continue to print impressively. However GDP per hour worked has flat-lined for five years. Our per capita GDP growth is similar to Japan.

In the absence of productivity gains, our economy has relied on more people, working more hours. Net migration provides a conveyor belt of fresh labour, but it comes with attendant bottlenecks in housing and infrastructure. The profitability windfall for these sectors has not arrived, with earnings warnings from all the major listed construction companies this year.

An economic growth model that is reliant on pushing the capacity envelope can be prone to mishap. Against that, our key sources of demand: agricultural commodities, tourism and net migration, are volatile and have a habit of evaporating at short notice. Moreover asset prices have become a vulnerability: both housing and equity markets in New Zealand are priced for perfection…

The New Zealand economy appears locked in a volume game. Since the turn of the century, the economy has grown in size by around 50%. However most of the growth has come from more workers, working harder…

The holy grail of prosperity, GDP per hour worked, has grown at a far less impressive 13%. In other words, only about a quarter of our growth has come from working smarter. More worryingly, GDP per hour stalled in 2012. So, for the past five years, all of our economic growth has relied on more people, working more hours…

Japan for example, which has similar per capita GDP growth to New Zealand, could conceivably achieve similar headline GDP growth if it chose to loosen its immigration policy…

High immigration is touted as a solution to alleviating capacity pressures, but it becomes a game of bop-a-mole. Shortages of labour in specific sectors (agriculture, tourism) may be relieved, but exacerbated in others (housing, infrastructure, education). Why? Migrants, like locals, need accommodation, transport, schools, hospitals and other necessities of life.

Wage increases to attract talent into successful businesses can be undermined if the solution to input shortages is invariably tapping into the vast global labour pool. Relative prices play a critical role in winnowing the wheat from the chaff in the productive sectors. If a business cannot afford to attract staff from another area of the economy, it can be a signal to adapt. Dampening this will ultimately hamstring productivity growth.
Of course, exactly the same arguments can be applied to Australia, where headline economic growth has been maintained at reasonable levels – due to strong population growth (immigration) – but per capita growth has collapsed: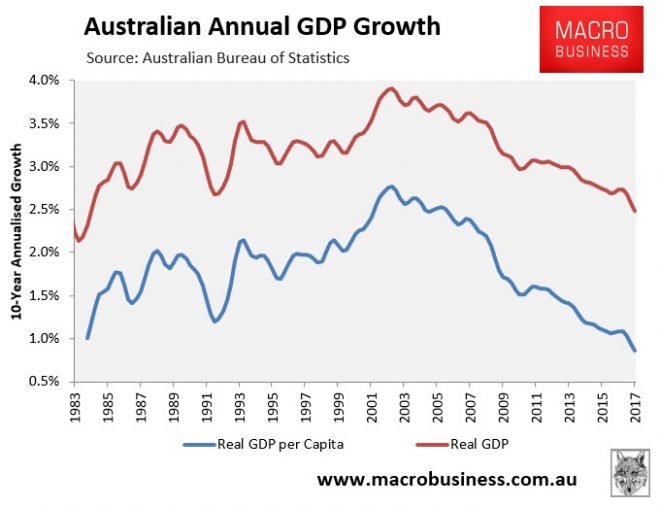 Both nations have effectively engaged in a form of population 'quantitative easing', whereby they have inflated aggregate growth by boosting the numbers of consumers in the economy via mass immigration. But in the process they have damaged individual living standards as GDP growth per capita has stagnated all the while infrastructure has become crush-loaded and housing more expensive.
The focus of both governments should shift to focusing on qualitative measures that improves productivity and living standards on a per capita basis.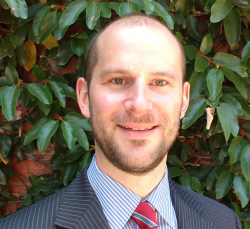 Latest posts by Unconventional Economist
(see all)