They just keep coming.
The first shock was an unlooked for and thoroughly welcome closure of the Chinese capital account which smashed the number of foreign buyers: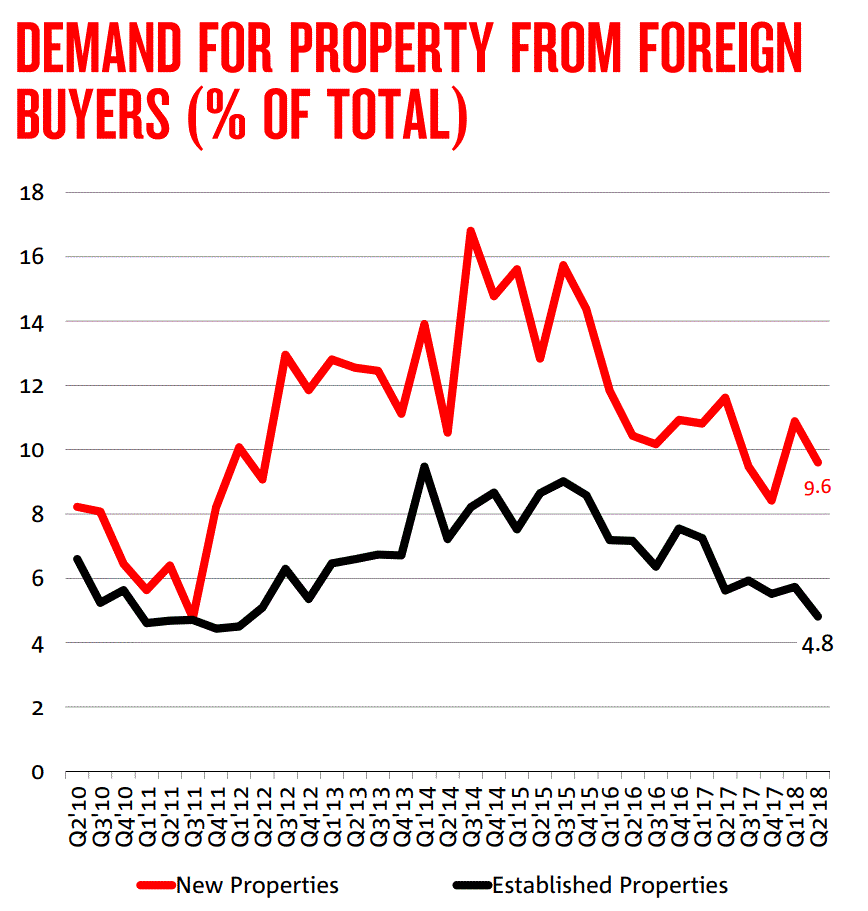 It's only likely to intensify as China fights the trade war.
Even as we mulled which alien species would arrive to replace the Chinese at auctions, a second shock transpired when APRA tightened and short-circuited the engine of the previous boom: interest-only mortgages. That created an interest-only mortgage reset mountain that is similar in relative magnitude as the sub-prime accident in the US. This is a rolling three year shock that will challenge bank and borrower alike: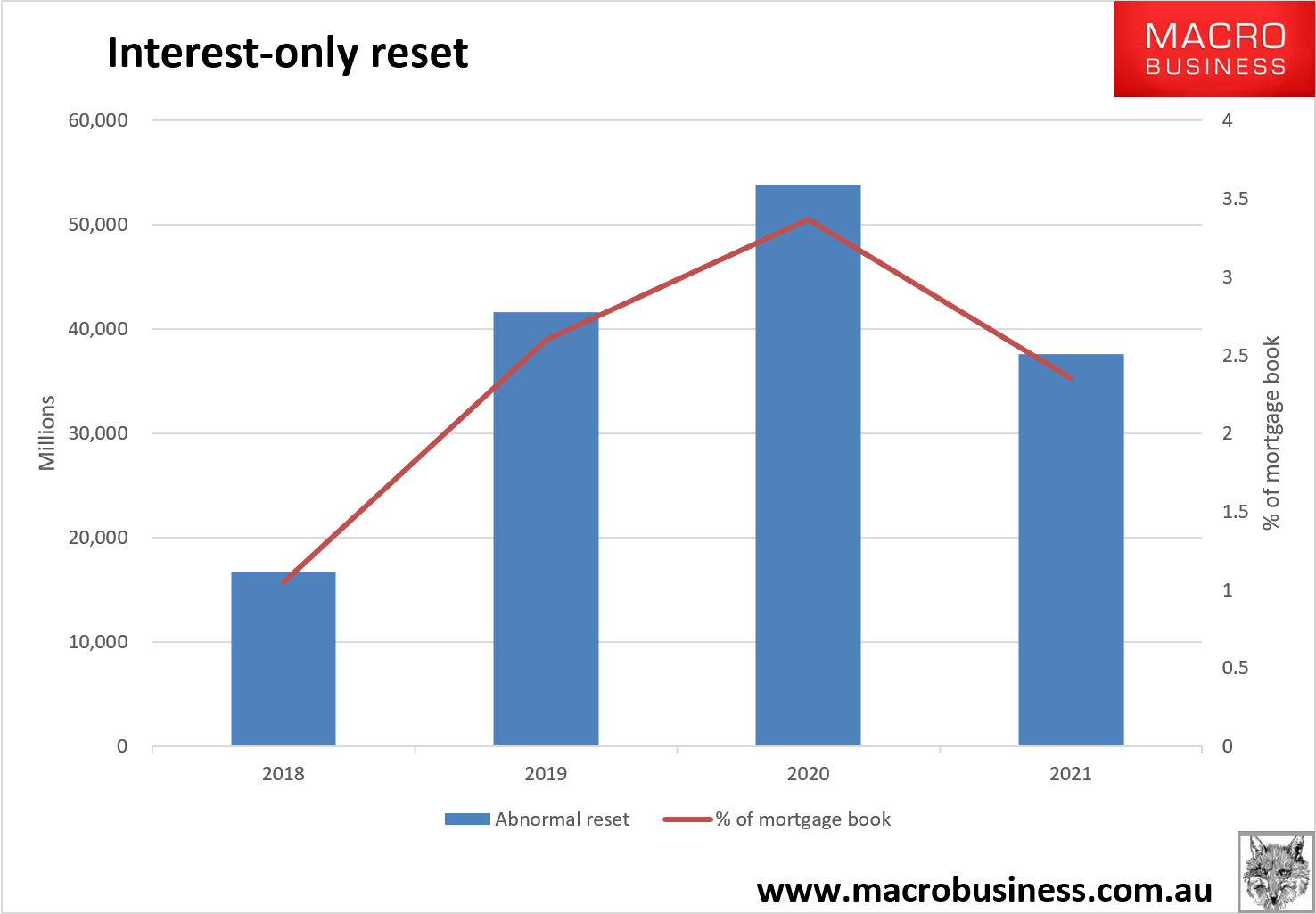 Then just when property was about to double over the next seven years, along came the third shock in the Banking Royal Commission and revelations of wall-to-wall "liar loans". This lifted lending standards across the board delivering a legally-based credit crunch making it much harder for interest-only ponzitiers to refinance, as well as for anyone to get new loans.
Before we could draw breath and declare it was about land and God wasn't makin' any more it, the fourth shock arrived and is also ongoing and likely to intensify. Donald Trump fired up global interest-rates and helped tighten Australian money markets forcing banks to hike mortgage rates out of cycle (the smaller ones so far, majors to come):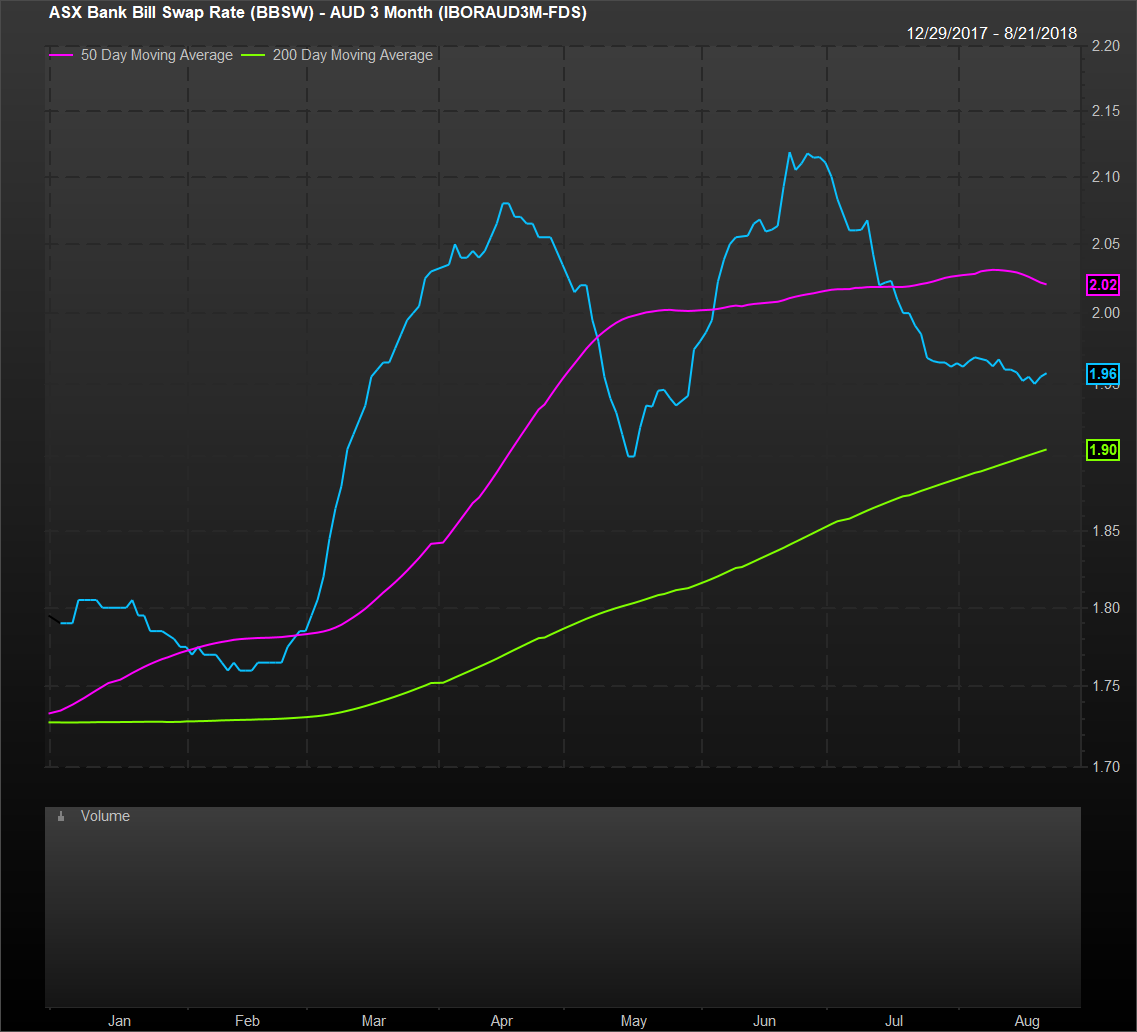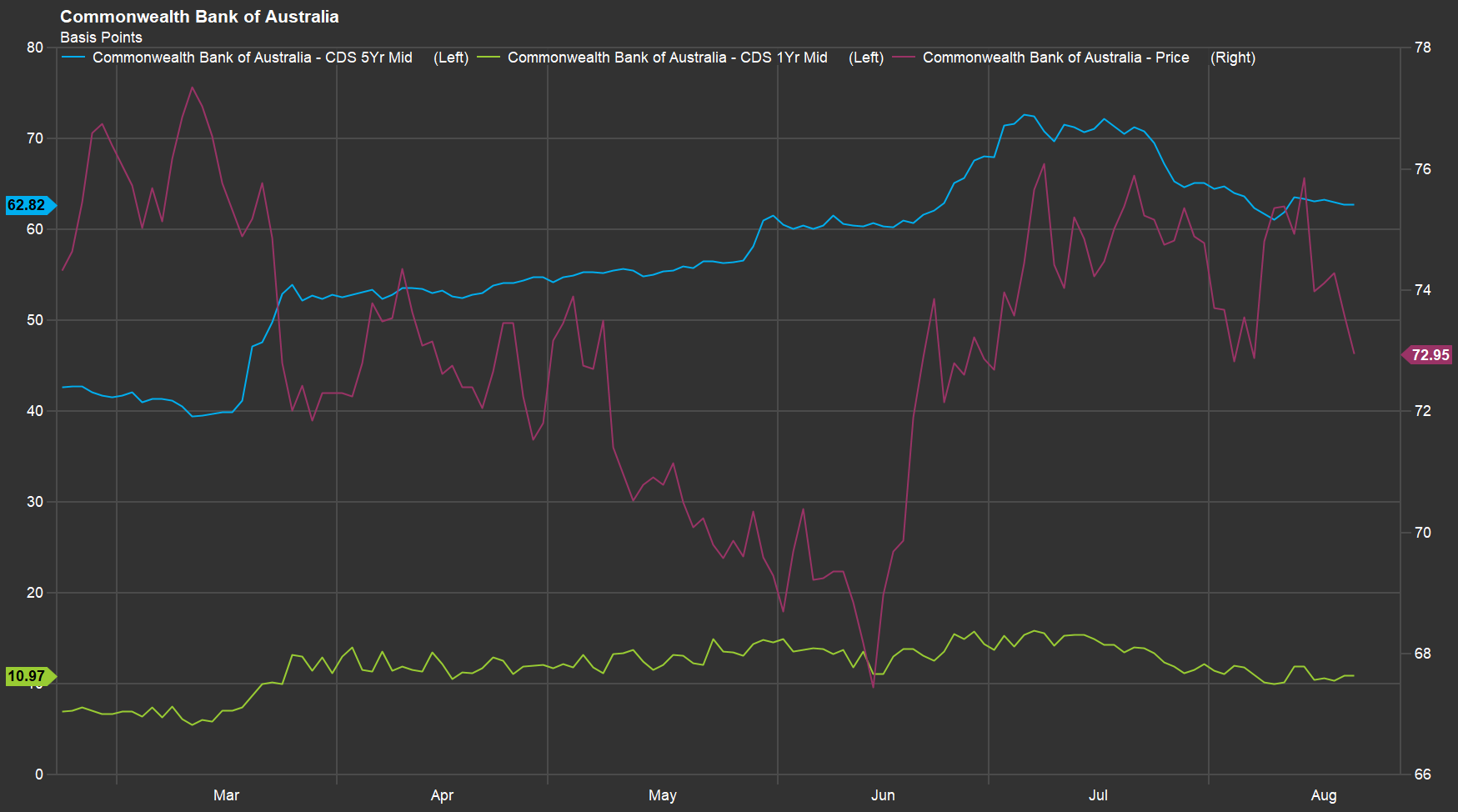 And, when we thought it is was safe to say that the housing shortage made high prices rational, along came the fifth shock in the form of Prime Minister Peter Dutton carrying the Tony Abbott banner and a material cut to immigration. From the AFR today:
As well as listing policy priorities of spending on health, education, aged care and water resources for farmers, he hinted at a hard line policy agenda on power prices and immigration.

Mr Dutton said he was neither influenced by Tony Abbott nor running his agenda but he declined to rule out abandoning Australia's climate change commitment of a 26 per cent to 28 per cent emissions reduction by 2030. Mr Abbott made that pledge as prime minister and now wants to abandon it.

Mr Abbott has also called for the annual immigration cap of 190,000 to be cut by 80,000.

It is understood Mr Dutton does not support that number and will propose a more nuanced approach designed, he said, to ease the pressure on the overburdened infrastructure in Brisbane, Sydney and Melbourne.

Numbers could be capped in these cities but he flagged sending migrants west of the divide to South Australia and West Australia where people were needed.

"We can do more on infrastructure and in particular around the migration program, until the infrastructure can catch up in our capital cities," he said.
Neither WA nor SA need more people for anything. The solution is also unworkable unless you're going to erect a migrant proof fence so I'm not sure how it will be delivered. But this is the only policy lever that can win the Dutton Government any votes at all so it will come in some form: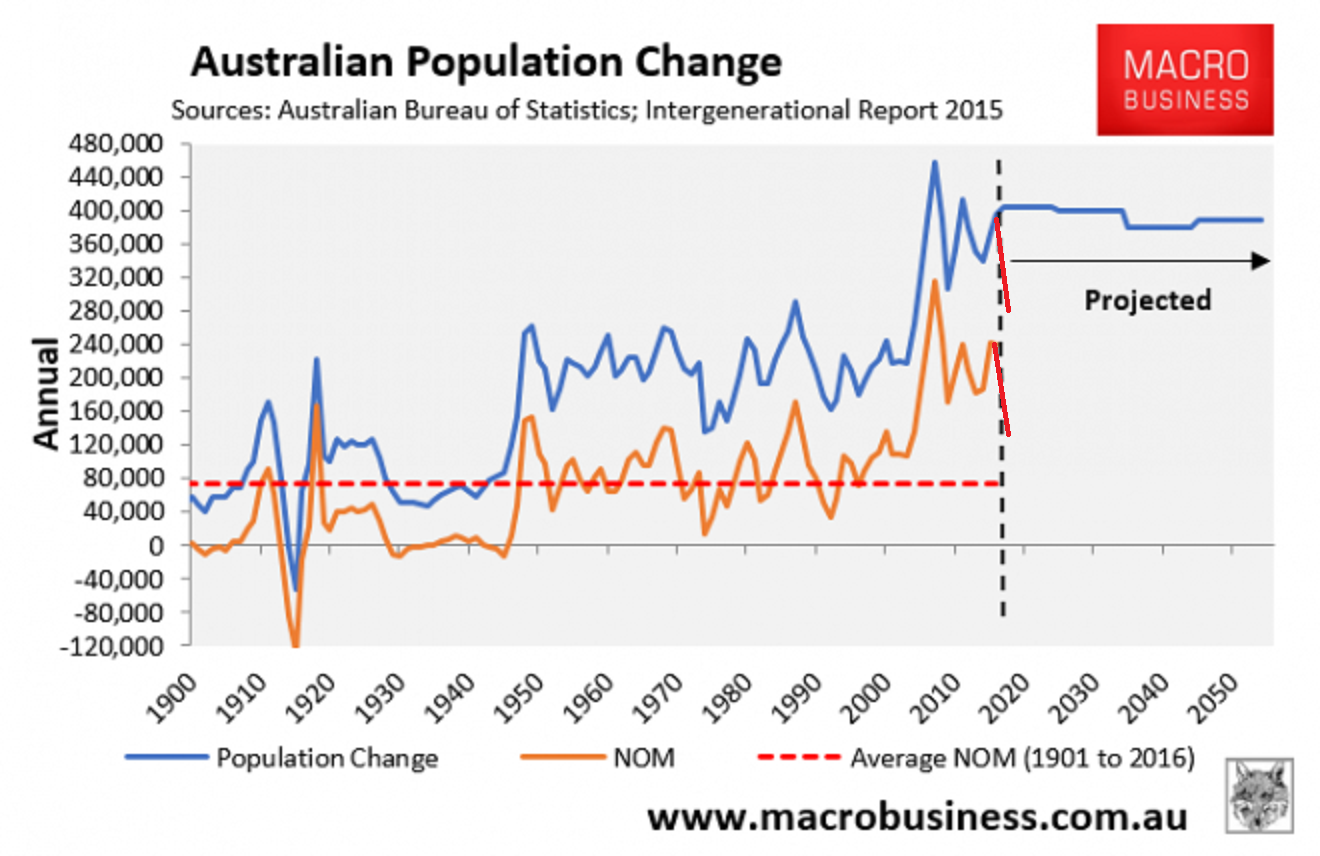 We might have been getting set to declare that it was all as solid as bricks and mortar when the sixth shock reared its ugly head, a ruinous election campaign replete with confidence destroying polarisation and investment-retarding policy chaos to suck in the wider economy: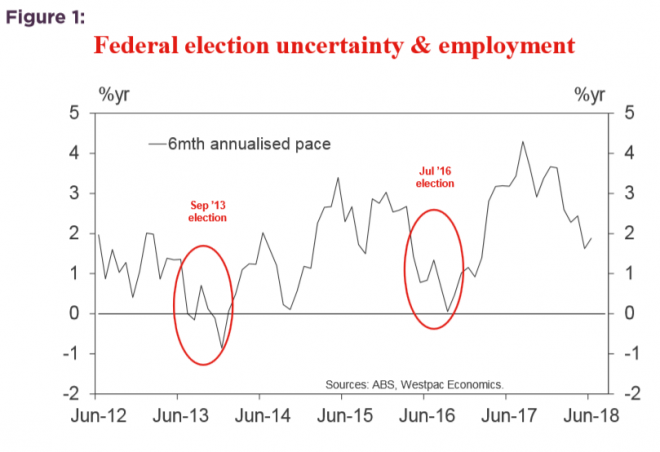 Finally, as we considered that house prices always go up, the inevitable Labor election victory is scheduled to deliver within six months negative gearing and capital gains tax reform that is thought to be worth 10% to house prices: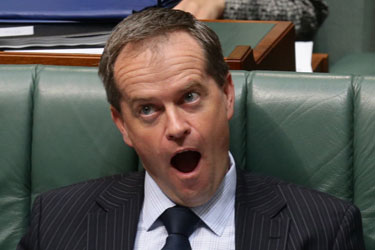 There are seven concurrent exogenous shocks about to rain upon Aussie property. Neither is perhaps big enough in itself to tilt the market towards an internally driven adjustment as falling prices beget sales beget falling prices. But all together is enough to do so and to exhaust the last vestiges of available fiscal and monetary support which we will see in due course.
Then comes the final blow: the global end-of-cycle external shock as the global economy runs into whatever brick wall that the Fed ultimately puts in front of it. It lands on an Aussie property market left naked before hostile elements, stripped of all supports: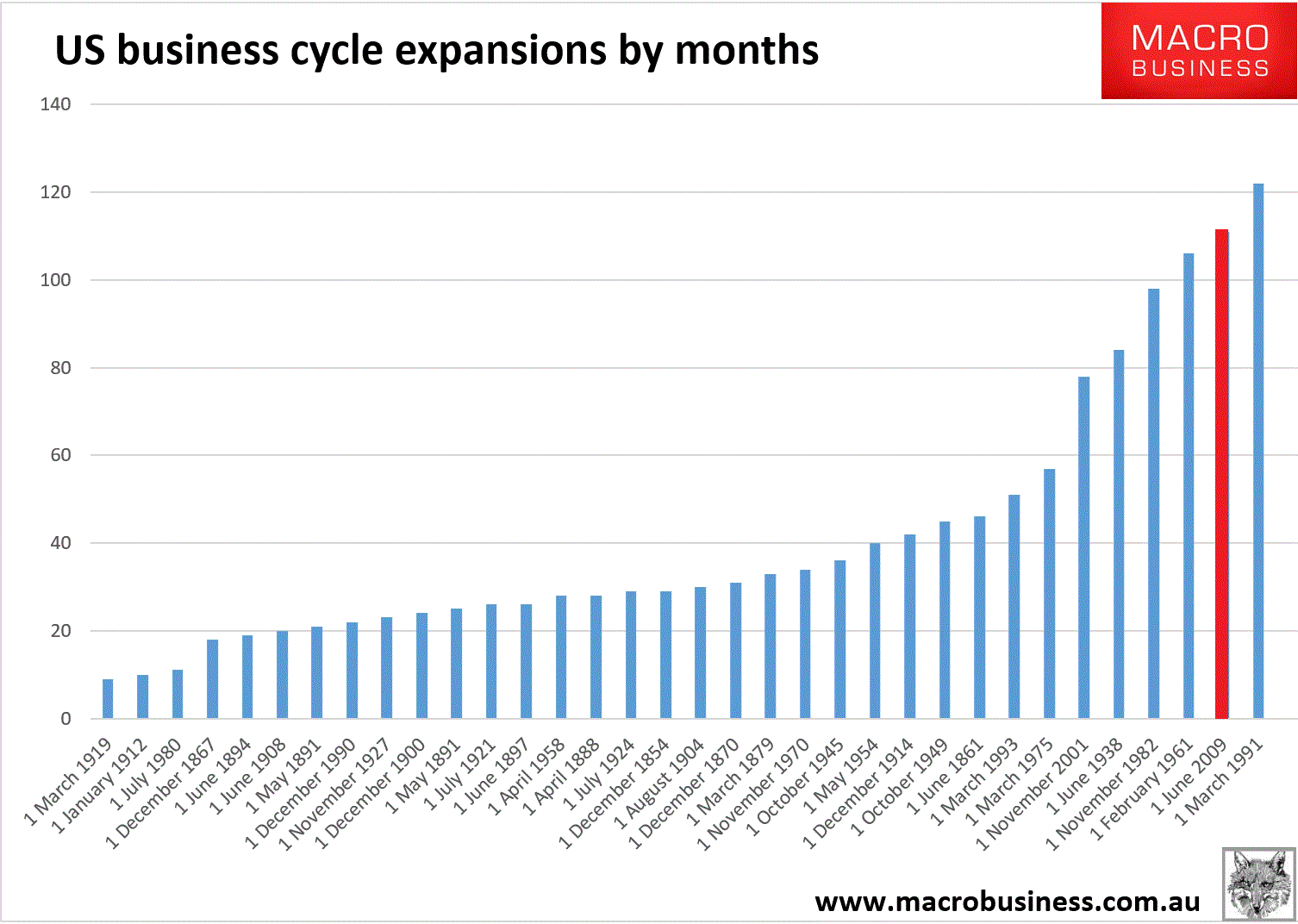 This is not the usual Australian property correction.