With Australian property values falling for nine consecutive months: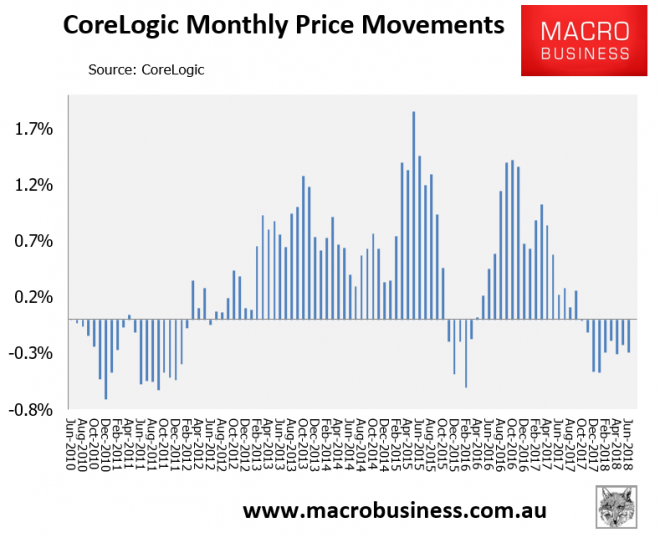 Online mortgage marketplace, HashChing, is urging Australia's financial regulators to relax mortgage standards:
Lending regulations have gone overboard, said Chief Customer Officer Siobhan Hayden said, and the tightening restrictions have, at times, become the reason for the unnecessary disapproval of loan applications.

HashChing's recent broker survey showed that 73% of respondents believed most customers whose mortgages were changing from interest-only to principal and interest would opt to refinance.

Factoring in the new lending restrictions, 24% of the brokers surveyed believed more than half of these refinancing applications would fail. Additionally, 91% of the brokers said that they believed the public to have a neutral or negative view of the marketplace.

"With approximately $120 billion worth of interest-only mortgages converting to principal and interest mortgages over the next three years, it's no surprise that 73% of brokers are predicting that most of the customers affected would be refinancing," Hayden said.

For individual households, converting to principal and interest payments could drive mortgage repayments up to 35% higher.

"The tighter lending restrictions born out of the banking royal commission means we've gone from banks handing out home loans indiscriminately to rejecting loans unnecessarily," Hayden said.
This is the interest-only refinancing cliff that MacroBusiness has warned about for months.
In a nutshell, Australia's banks can only issue 30% of new loans as interest-only now. That's roughly $40 billion per quarter, which would mean that the reset could absorb the banks' entire front book interest-only capacity.
Therefore, some large portion will have to transpire in the back book. Our best guess how much that will be is based upon the history of what the banks have managed previously. We've guessed the banks will be able to manage some $25 billion per quarter in the back book as the great reset builds. That means we'll see the following total resets to principle and interest: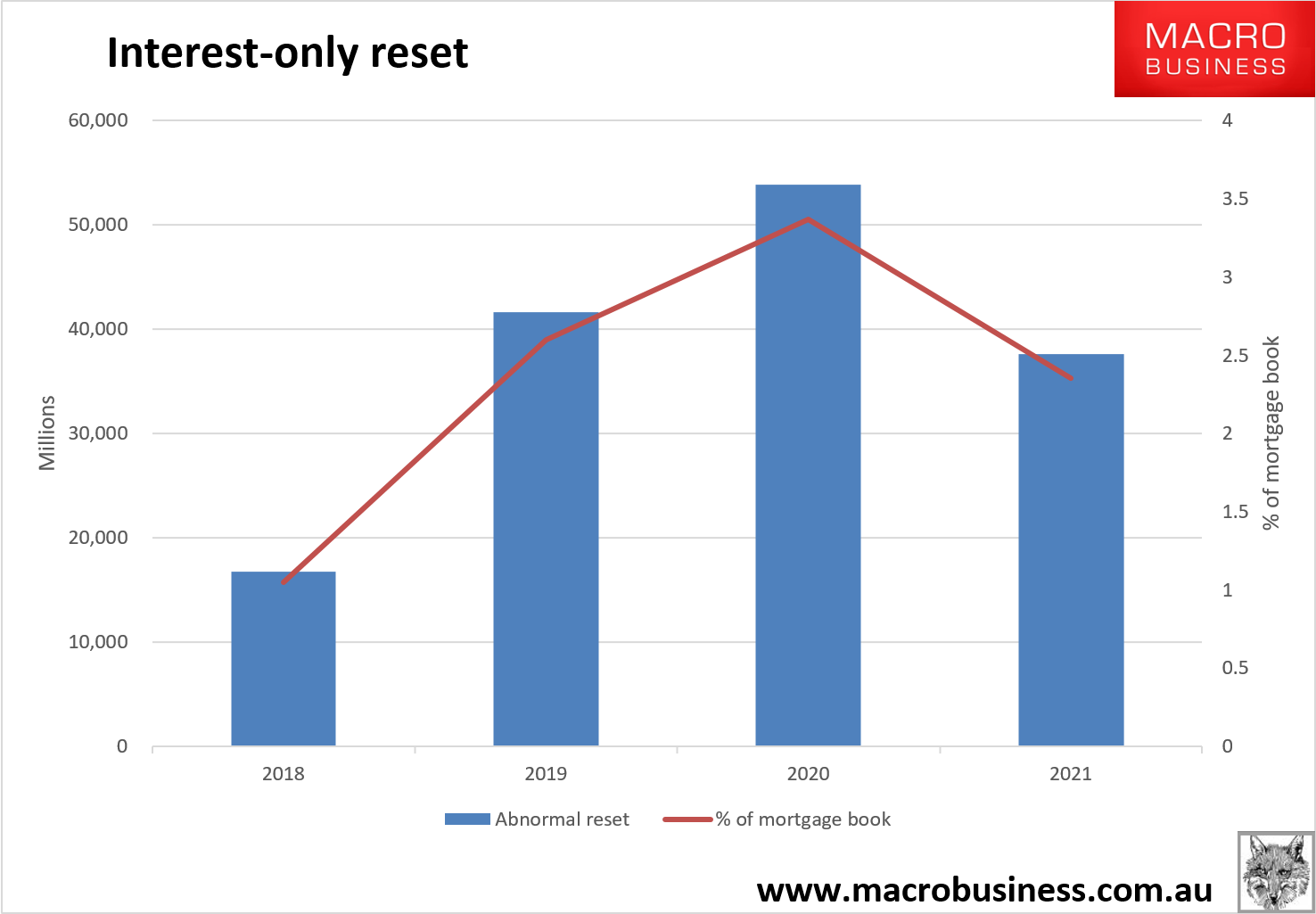 At the peak, that's 3-4% of the loan book being shocked by 40% repayment hikes. It's big.
It may also be appearing in the major banks mortgage arrears which have a big jump recently in 90-day buckets (though overall levels remain low):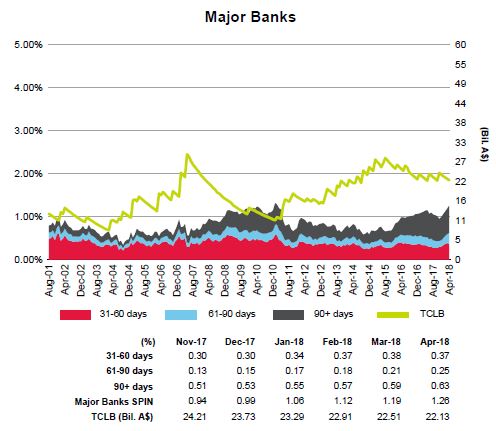 It also matters because the flow of investor mortgages is a key determinant of house prices growth, especially in the investor hotspots of Sydney and Melbourne, as illustrated clearly by the next charts: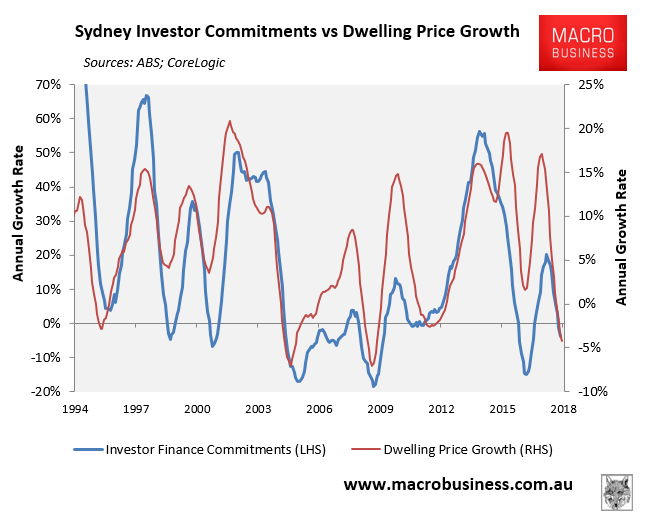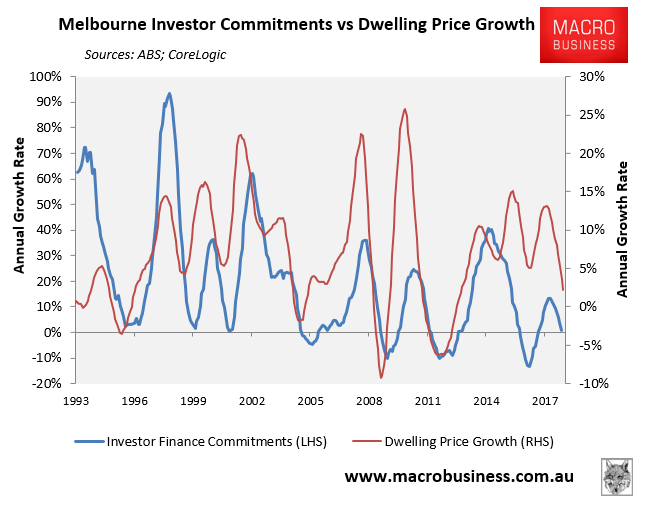 Basically, falling investor demand means falling dwelling prices. And this is before Labor's negative gearing and capital gains tax reforms are implemented, assuming it wins the next election, which will also smash the investor market.