Robert Gottiebsen has sounded the alarm, claiming that Australia is experiencing a "population slowdown":
Unfortunately, Australia's population growth has fallen to the lowest level since 2004 and is set to remain in the doldrums in 2019 and 2020 and perhaps longer…

Fertility rates for women in their low twenties is at a record low and still falling (so too for females aged under 20).

Accordingly, there is unlikely to be any significant increase in births over the next five years or so…

Deaths are increasing due to population growth among older people despite age-specific death rates falling for those aged above 65…

Accordingly, migration becomes even more important in establishing population growth… Net migration is approaching a cyclical low…

And so as we look at the components of population growth we find that births are static, deaths are rising and net migration is experiencing a cyclical low.

Population growth bottomed at 1.10 per cent in 2004 and then started to rise rapidly reaching a peak of 2.19 per cent in 2008. From there it started to decline and was down to 1.58 per cent in 2017.

In the current year, Nelson expects it to fall to 1.35 per cent and to hold at around that level in 2019 and 2020.

The 1.35 per cent population increase rate is the lowest since 2005, if there is a significant decline in births or a fall in net migration, then population growth could fall closer to the 2004 low of 1.10 per cent…

A likely slowing in population growth in 2018 and 2019 would tend to reduce overall demand growth in the economy and many industries are likely to be affected.
Australia's population growth is "in the doldrums", hey Gotti? Then how do you explain the following chart, whose data comes from the ABS?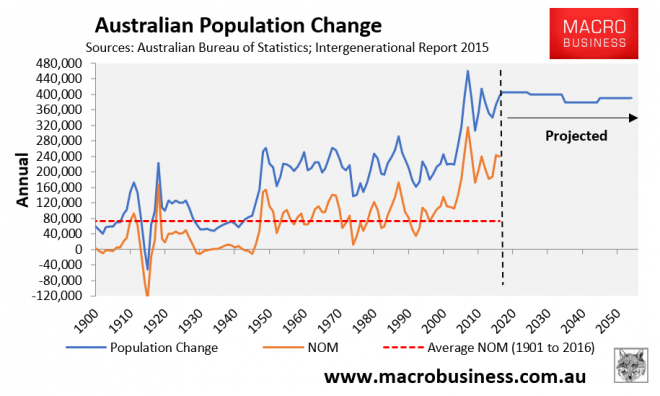 At nearly the highest in history, Australia's population growth looks anything but "in the doldrums", wouldn't you say?
And what about our major cities. Is population growth "in the doldrums" there? Clearly not, given population increase in Sydney and Melbourne are both running at near record levels: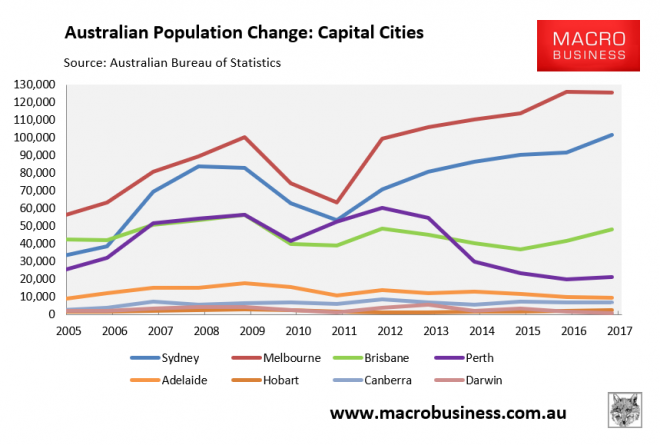 Blind Freddy can see that Australia's population growth is excessive, made worse by the heavy concentration into Melbourne and Sydney, which has crush-loaded housing, infrastructure and quality of life.