Yesterday at Senate Estimates it was revealed that Australia's permanent migrant intake could be 25,000 lower than last year on the back of fewer skilled and sponsored working visas. From The Guardian:
Australia's migration program has been at 190,000 since 2012-13, but dropped to 183,000 last financial year and will fall further again this year.

Figures disclosed at Senate estimates and visa statistics obtained by Guardian Australia under freedom of information reveal the number of visas granted in 2017-18 is likely to be 165,000 – the lowest level in seven years…

To 30 April this year the Australian government had granted 138,086 permanent visas divided broadly into two-thirds skilled, one-third family (and excluding humanitarian visas, which sit outside the migration program figure).

"It's probably down on where we were this time last year," a first assistant secretary for the Department of Home Affairs department, Christine Dacey, told estimates last month.

Extrapolated to the full year ending 30 June, it appears likely about 165,000 migration visas will be granted.

The FOI figures obtained for the first six months of the 2017-18 financial year show a 15% drop in the number of permanent visas granted, from 92,477 to 78,190…
This is obviously great news if realised. But let's not get too excited: at 165,000 plus the humanitarian intake of 18,000, Australia's permanent migrant intake would remain extremely high by historical standards, and would merely return the intake back to 2011 levels: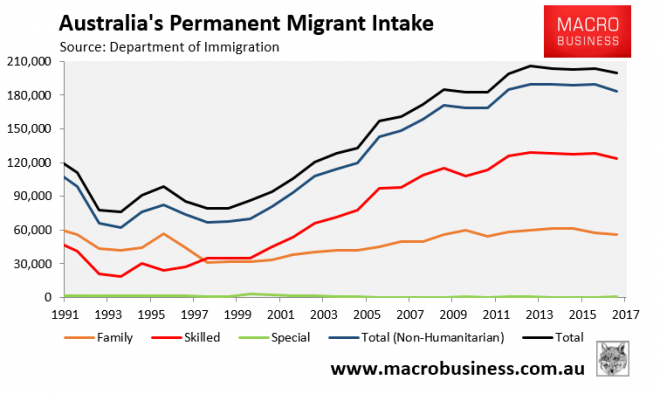 Thus, this claimed 25,000 reduction is merely fiddling at the edges while our major cities' liveability burns.
Moreover, as noted by The ABC last month, there has been a "mysteriously" large rise in bridging visas, which have risen more than 40,000 from a year ago, and are up around 90,000 since 2014: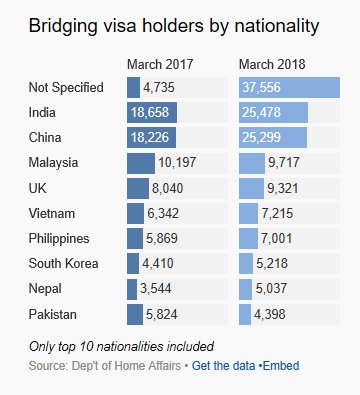 So, the Government seems to be juking the migration stats with transitional visas.
This might help to explain why the 25,000 reduction in the permanent migrant intake contradicts the Federal Budget's net overseas migration (NOM) projections, which forecast only an 8,000 reduction in NOM in 2018: