The Australian reports that the Turnbull Government is considering a basic English test for all new permanent migrants amid concerns that by 2021, more than one million ­people in Australia could have ­little or no English skills:
The move to consider mandating English language tests beyond citizenship applicants and apply a basic conversational language requirement to all new permanent residents — of whom there are more than 200,000 a year — will be flagged today by Citizenship and Multicultural Affairs Minister Alan Tudge as a move aimed at addressing concerns over social integration.

It follows warnings this year that Australia is at risk of drifting towards the European model of multiculturalism, where "parallel" communities have emerged.

An absence of English language skills among migrants and asylum-seekers has been cited in research as being one key driver of social fragmentation. Analysis of census data shows that, on current growth rates, Australia will be home to one million people who do not speak English or don't speak English well by 2021…

The government will also consider redrafting its citizenship laws, which are blocked in the Senate, to soften the proposed proficient English language tests for citizenship, instead applying a broader conversational language skills test.
This is unambiguously good policy from the Government.
The recent report from Dr Bob Birrell from the Australian Population Research Institute revealed that only 24% of recently arrived skilled migrants from non-English speaking backgrounds were employed as professionals as of 2016, compared with 50% of skilled migrants from Main English-Speaking-Countries and 58% of the same aged Australian-born graduates: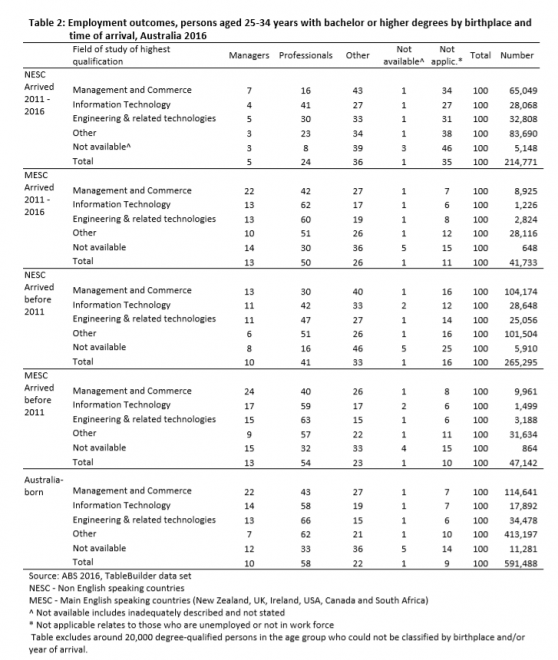 The Productivity Commission's Migrant Intake into Australia report also noted "the fundamental importance of strong English-language skills for an immigrant's integration and wellbeing in Australia" and explicitly recommended "significant reforms within the current system" and "'raising the bar' by shifting to a universal points test while tightening entry requirements relating to age, skills and English-language proficiency".
In principle, it makes perfect sense for prospective migrants to be required to speak and read English. It is Australia's national language and being able to understand and effectively communicate in English is central to integrating into the broader community, gaining employment, as well as to fulfill the responsibilities of residency.
That said, while improving English-language proficiency is worthwhile, the Turnbull Government has refused to address the more fundamental issue of Australia's migration level being far too high. It is this high intake that is causing widespread indigestion in the major capitals via crush-loading economic and social infrastructure (e.g. the road and public transport systems, schools and hospitals), making housing less affordable, not to mention damaging Australia's natural environment and diluting Australia's mineral wealth.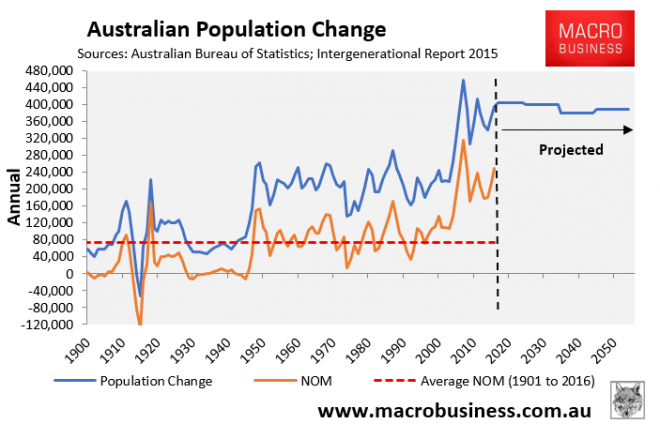 It is also this excessive migrant intake (both permanents and temporaries) that is contributing to the oversupply in Australia's labour market, in turn undermining workers' bargaining power and maintaining downward pressure on wages.
Unless the migrant intake is normalised back towards historical levels, population pressures and resentment will continue to grow within the electorate, ultimately leading to a voter backlash against immigration.
Mandating English language proficiency is all well and good, but what Australia really needs is a lower more sustainable migrant intake.