Australia's great worker class pretender is at it again today. Greg Jericho, card-carrying fake leftie who only looks after his own skin:
Have you heard the joke about the treasurer who walks into parliament and says that wages within two years will grow faster than 3%?

OK, it's not exactly a side splitter, but the latest wages growth data released by the ABS on Wednesday highlight that the wages predictions in the budget papers are fast becoming comical – and put into doubt the size of the projected budget surplus.

Annual wages for all workers in the March quarter of this year rose 2.1% – up from the record low of 1.9% a year ago, but show no improvement from the December quarter.

…The latest wage data shows barely any sign of wages growth improving. At least things don't appear to be getting worse, but the rebound remains rather less than spectacular – and certainly below that predicted in the budget just one week ago.
All the schadenfreude in the world can't save Jericho from his own monstrous hypocrisy. He can pretend to care about wages, and throw potshots at the Government, but the truth is he supports lower wages with gusto.
How? This:
 I must admit, to my ongoing shame I once wrote an article where I noted favourably some fairly simplistic research that suggested most of the employment from 2011 to 2014 was from migrants.

Sometimes numbers can beguile because they seem to provide a straightforward solution – if employment for example has increased by 400,000 over three years and in that time 380,000 migrants have been employed, it seems obvious that most of the jobs must be going to migrants.

And before you know it you are proffering arguments that would have you arm in arm with any number of racists slowly walking past with a grudge to bear and a desire to blame anyone else.

Similarly spurious is the argument that we should first improve infrastructure before then increasing our migrant intake. What you find is those arguing this path never reach a point of thinking it is time to allow greater migration – even if things are good, they never wish to increase migration because they inherently view it as a negative that will clog up roads, reduce wages, increase crime …

Immigration – because there are many desperate to hate – must be treated with extreme care by politicians and journalists, and certainly with more care than Abbott seems capable. The inherently racist parties will seek to use any discussion and any seeming evidence of the negative impact of migrants as fuel to burn their fires of hate.
Actually, Jericho, your shame is now. Intellectual and moral shame for betraying Australia's wage earners. How else do explain that we've had huge jobs growth as the Botox Boom and NDIS rolled out: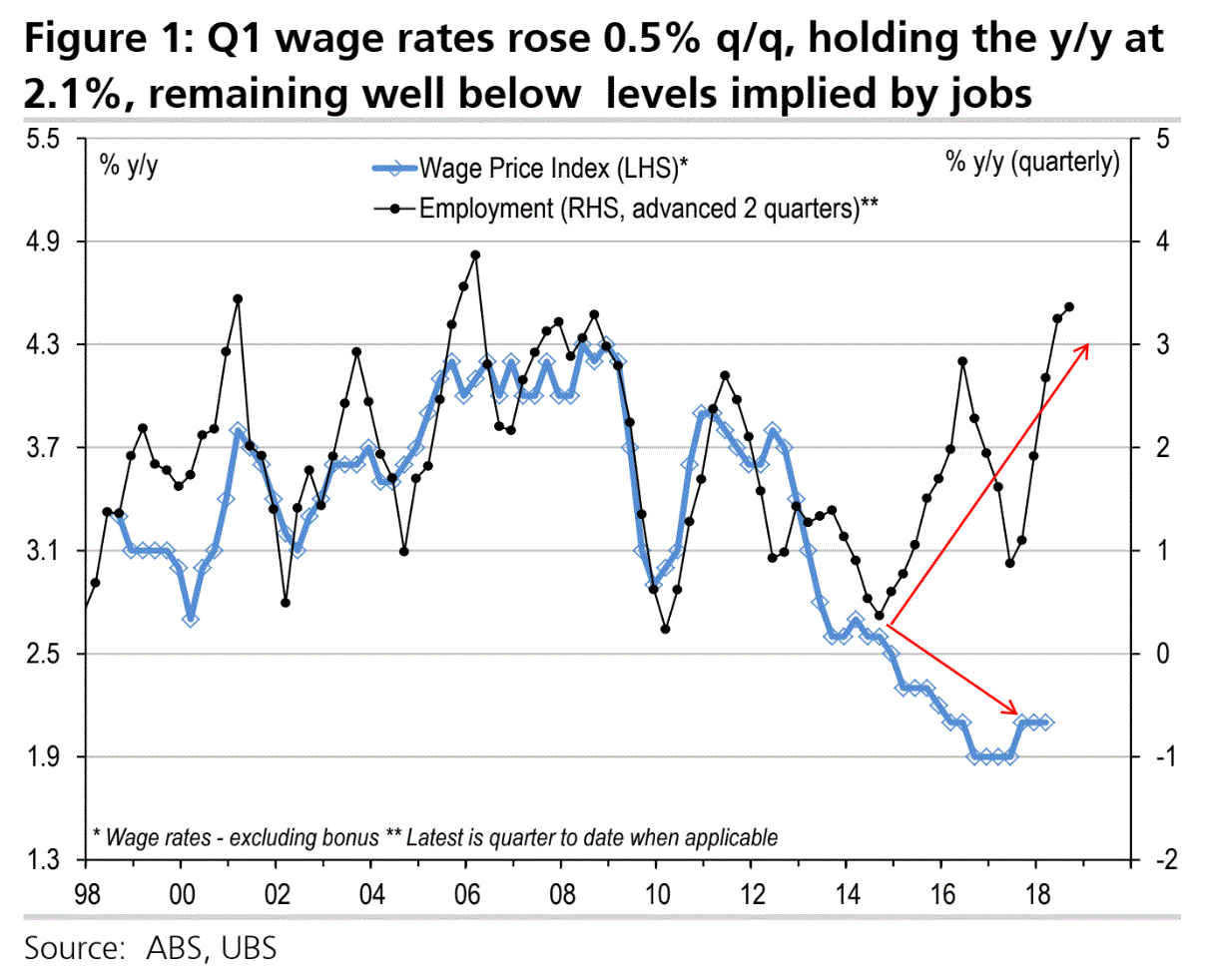 Firms still need labour: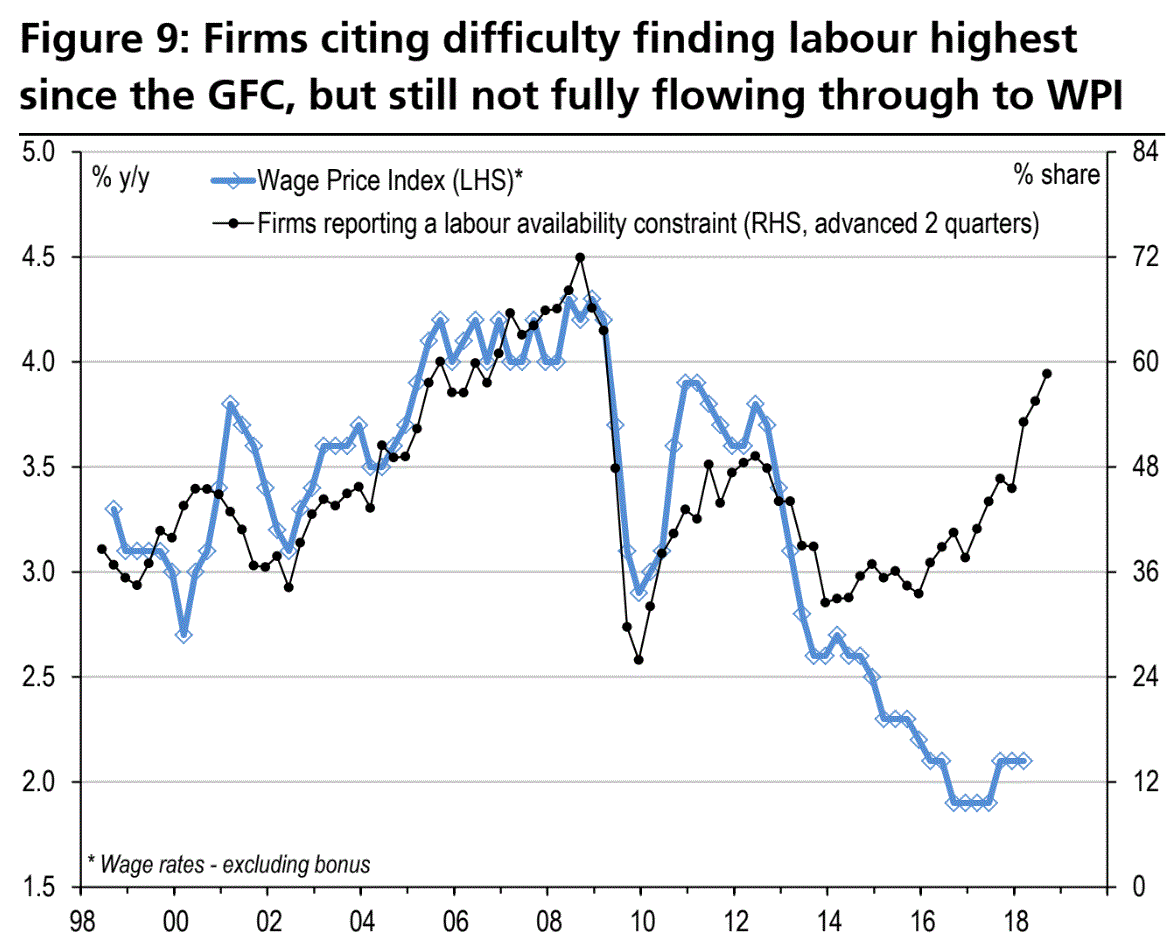 Yet wages growth tumbled across the entire period?
Heck, even the Treasury/Department of Home Affairs report, Shaping a Nation, admitted that migrants have taken most of the new jobs:
 "Recent migrants accounted for two-thirds (64.5 per cent) of the approximately 850,000 net jobs created in the past five years. For full-time employment, the impact is even more pronounced, with recent migrants accounting for 72.4 per cent of new jobs created".
You can blame all of the usual micro-economic forces: weaker union power, gig economy, automation, corporate power etc. They have all played a role at the margin. But the key factor is macro and much more simple. We've been running a massive supply shock into an over-supplied labour market via mass immigration and visa fraud, also from UBS a few months ago: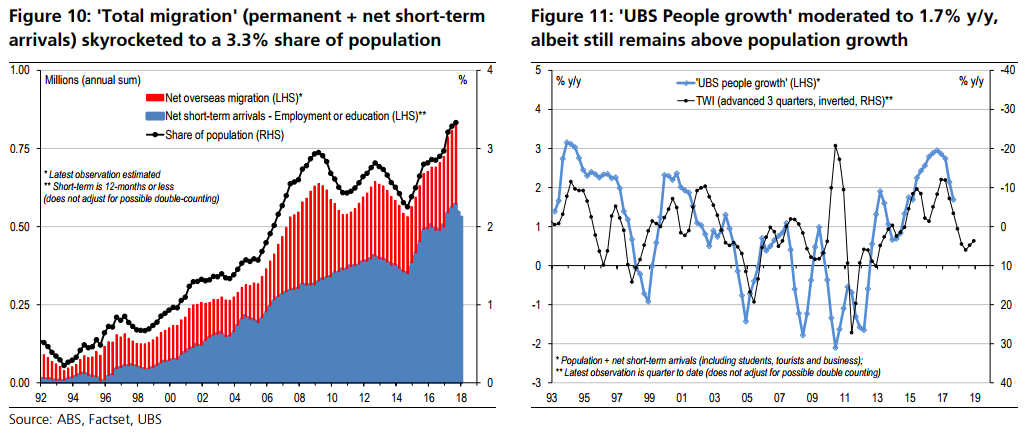 It's an inflow of workers way beyond anything we saw during the mining boom even though the only economic activity we have is building houses and roads for the same influx of people. Sound a bit circular?
Why is it not OK to hate excessive levels of immigration but it is OK to hate you're own working classes (which includes many, many immigrants)? Dr Katharine Betts from The Australian Population Research Institute (TAPRI) recently published a new report entitled "Immigration and public opinion in Australia: how public concerns about high migration are suppressed", which explains why. Below is the Executive Summary, along with the key graphics from this report:
Australia's remarkable population growth over the last decade is mainly being driven by high levels of immigration. The survey taken by the Australian Population Research Institute (Tapri) in August 2017 found that 54 per cent of voters wanted these levels reduced. But there is some division here. Sixty-one per cent of voters who are not university graduates wanted a reduction but only 41 per cent of graduates agreed.

Data from the 2016 Australian Election Study (AES) collected after the July 2016 federal election show that 72 per cent of people working in arts and media actually wanted a further increase in immigration, as did 49 per cent of teachers and academics. In contrast, those business managers who are not graduates were the keenest on a reduction.

The AES data also reveals an even more striking finding. Sixty per cent of the candidates standing for election in 2016 wanted an increase in migration and only four per cent wanted a decrease.

This position was especially marked for Labor and Greens candidates.

At that time 67 per cent of Labor candidates wanted an increase compared to only 31 per cent of Labor voters. Labor candidates were much closer to Greens candidates and to Greens voters than they were to their own supporters.

On the immigration question politicians live in an attitudinal world remote from the average voter.

Over a year later in 2017 Tapri found that 74 per cent of voters thought Australia did not need more people and that 54 per cent wanted a reduction in immigration. But adverse public opinion has had little impact on policy. There are two reasons for this: political pressures on policy makers applied by the growth lobby, Treasury and the Reserve Bank, and social pressures generated by cultural progressives (most of them university graduates). It is they who promote, and monitor, the doctrine that opposition to high migration is racist.

The Tapri survey documents this, finding that nearly two thirds of voters think that people who question high migration are sometimes thought of as racists. Thirty-one per cent of this group say that this is because such sceptics usually are racists (an opinion endorsed by 41 per cent of graduates). Sixty-nine per cent of this sub-group say that the accusation is unfair 'because very few of them are racists', a proportion rising to 75 per cent among non-graduates.

These results are used to construct a free-speech-on-immigration variable. This consists of four categories: the 'guardians against racism' (those who said sceptics usually were racist); the 'threatened' (those who said the accusation was unfair); the 'fearless' (those who said sceptics were not 'sometimes thought of as racist'); and the 'confused' (those who said 'don't know').

Graduates predominate among the guardians. Twenty-six per cent of graduates took the strong moral position that questioning high migration was usually a manifestation of racism. Not surprisingly, graduates who are guardians against racism are much more likely to want an increase in migration than are the threatened or indeed the sample as a whole.

A further question found that people who were threatened by possible accusations of racism were less likely to speak out about immigration, especially if they were graduates. As for the confused, 45 per cent said they didn't know enough about immigration to discuss it.

Many voters are either silenced by the threat posed by the guardians or too confused to take an active part in public debate. If the two categories of threatened (45 per cent) and confused (10 per cent) are added, 55 per cent of voters may be deterred from entering into any debate on immigration.

The guardians are right to take a strong stand against racism but wrong to see it where none exists. The problem lies in the moral reflex that equates discontent about high migration with racism. The silence this promotes does more than inhibit democratic reform, it gives comfort to the growth lobby. This profits from immigration while leaving the silenced majority to pay the costs.
Jericho is a card carrying member of the "guardians against racism (those who said sceptics usually were racist)" clique. He now actively buries fact and argument in this goal despite working for a paper that professes to be Left and to care about the poor and working classes.
Jericho is much worse than the Government he claims to hold to account. For the politician, lying is a part of the business. For the blogger, the truth is all he has.