There's good chance that the long awaited wages boom is over before it even started. The Botox Boom of infrastructure and dwelling construction is peaking plus and house price and consumption sectors are being shocked a credit crunch as I write. Add in that China is slowing and bulk commodities are headed for deep corrections in H2 and wages are going to resume falling before long.
How did it come to this?
Despite the rhetoric of it all being a "mystery" it is anything but. We've had huge jobs growth as the Botox Boom and NDIS rolled out: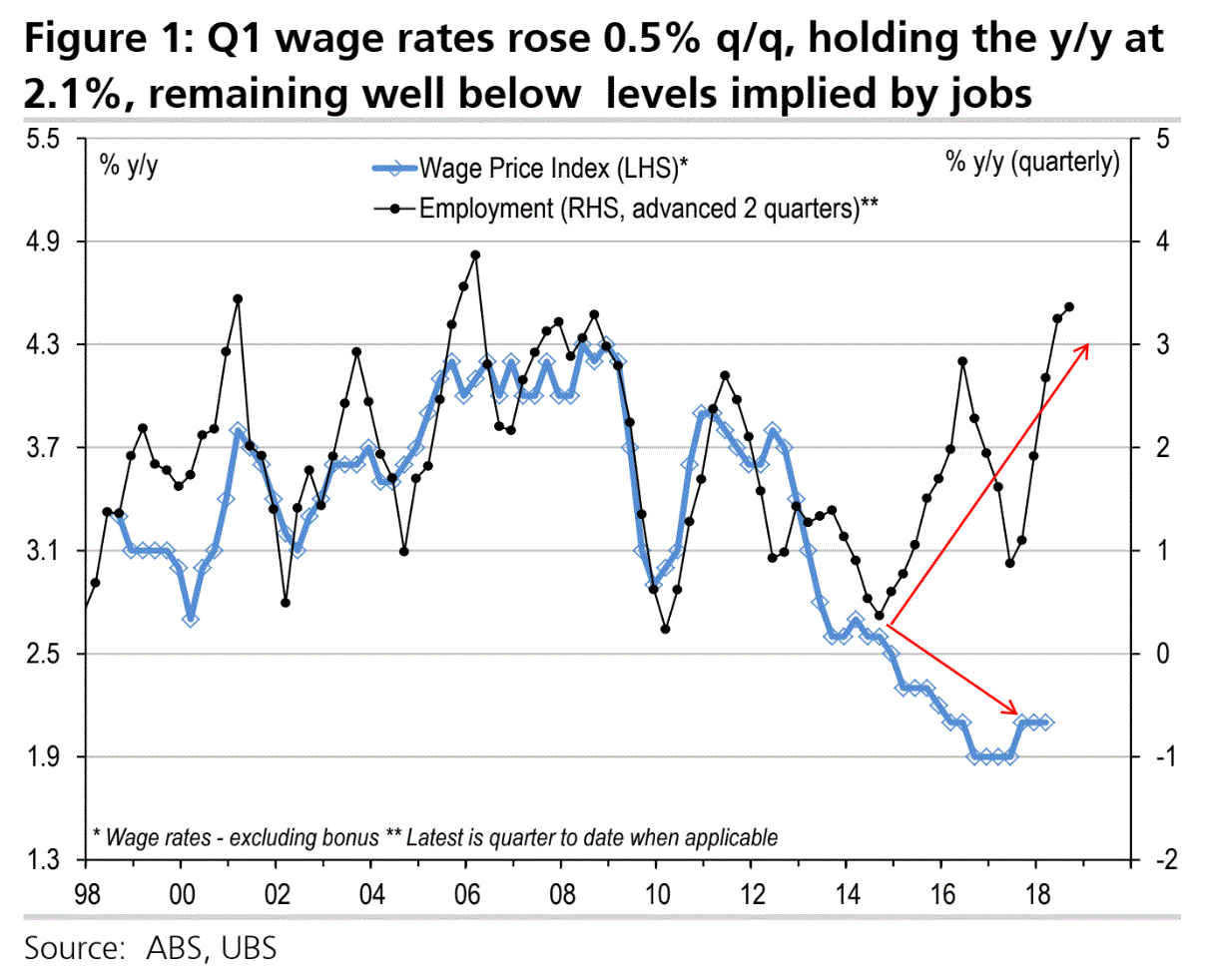 Firms still need labour: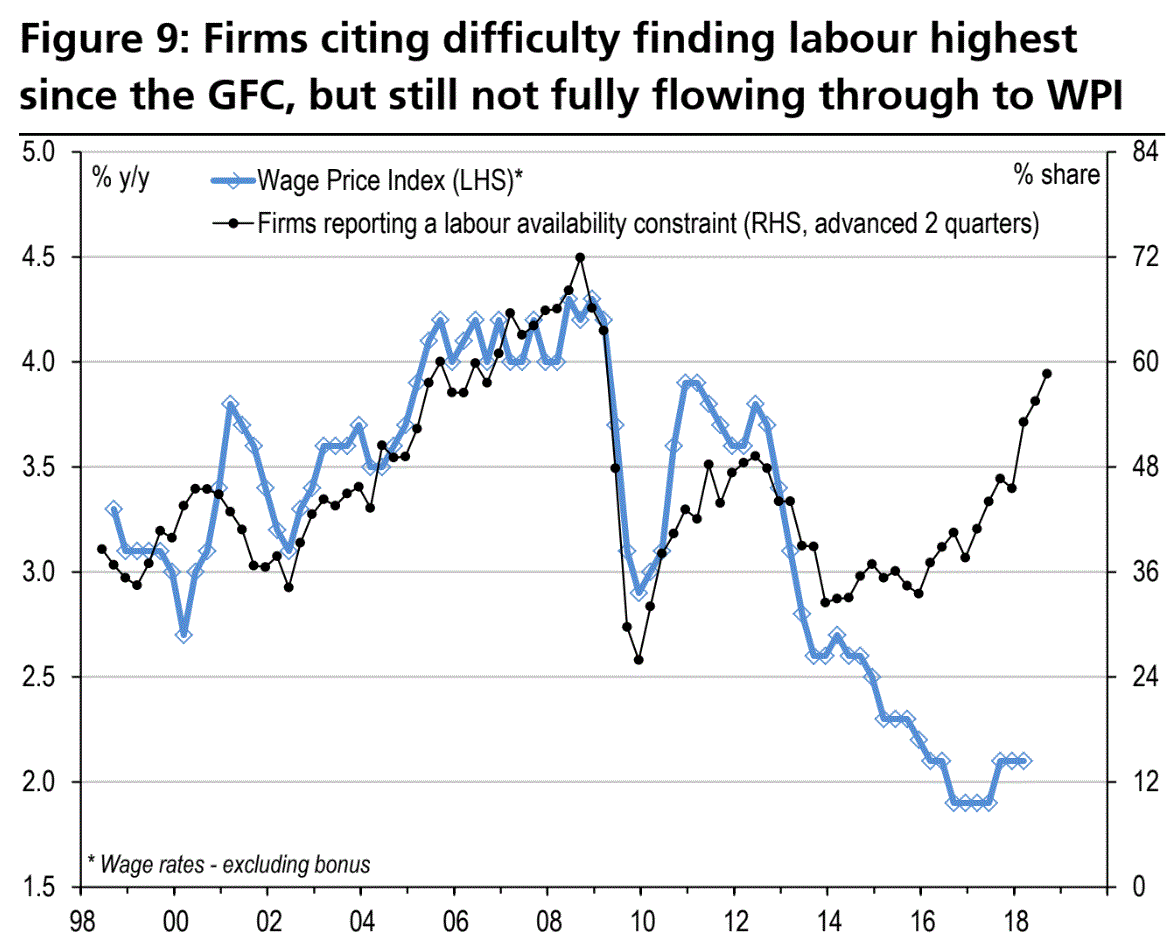 Yet wages growth tumbled across the entire period.
You can blame all of the usual micro-economic forces: weaker union power, gig economy, automation, corporate power etc. They have all played a role at the margin. But the key factor is macro and much more simple. We've been running a massive supply shock into an over-supplied labour market via mass immigration and visa fraud, also from UBS a few months ago: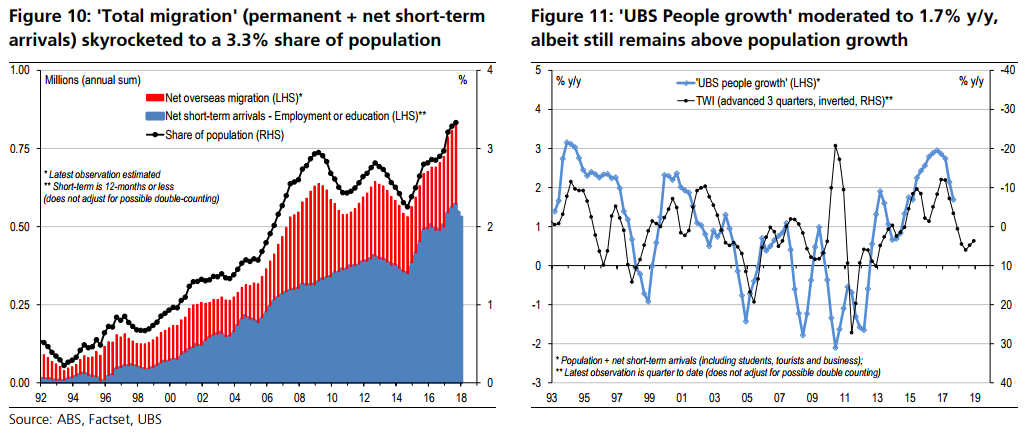 It's an inflow of workers way beyond anything we saw during the mining boom even though the only economic activity we have is building houses and roads for the same influx of people. Sound a bit circular?
Basically, we made a crucial macro-economic management error after the mining boom by aiming to pump up domestic demand by importing people. We should instead have left them where they were and focused on improving our competitiveness so that we could sell them our goods. The result is the entire post-mining boom adjustment has been dropped on wages.
There is no fix for this beyond cutting back the people flood. The Coalition has no will for it given its corporate mates love it. Labor is completely kidding itself that it will be able to police it. Other political parties are just wowsers, oddly led by the Left.
So long as we refuse to discuss the role of immigration in the labour market there will no pay rises. Indeed, if nothing changes, more falls are coming.