Yesterday, we reported how the Turnbull Government was seeking to force permanent migrants to stay in the regions, rather than migrate to the big cities.
This move comes after both the 2011 and 2016 Censuses showed that 86% of migrants into Australia have moved to the major cities, especially Sydney and Melbourne, with only a tiny fraction moving to regional areas.
Today, migrant groups have hit back, decrying the policy measure and punitive and unfair. From The ABC:
Migrant support groups say it would be deeply unfair to force some new arrivals to stay in regional and rural areas.

…the Assistant Minister for Families David Gillespie said it was "disappointing" and "counter-productive" for regional companies who sponsored migrants to have them move to a city.

Welcome to Australia chief executive, Mohammad Al Khafaji, said… "restricting people's freedom of movement is not the solution when trying to welcome" new arrivals.

"The debate needs to move away from the reason why migrants are not staying and look at it as a whole. Why are people in generally not staying in regional towns?" he said.

"The answer is because there is not much investment in health and education.

"You can't force people to stay in one place. What happens if migrants get married and can't move to a capital city because there is a restriction on their visa?"…

"Instead of a punitive solution we need to make sure there is an incentive for anyone — not just migrants — to move to regional centres"…
As we noted yesterday, this is a blatant band-aid 'solution' dreamt up by the Turnbull Government to divert focus away from the key issue: that Australia's immigration program is way too large, running at roughly triple the historical average, and has also become deeply unpopular within the electorate: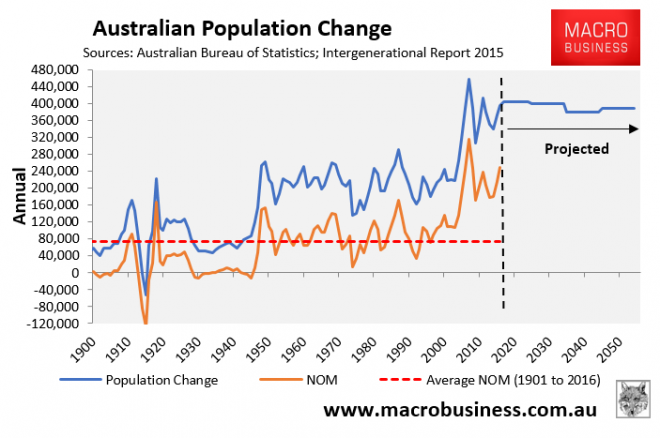 Many of Australia's regional areas are devoid of water and cannot resort to desalination (since they located far from the sea). So how does the Government realistically expect regional Australia to cater for millions more people?
There are also potential constitutional issues with forcing permanent migrants to regional areas. According to MB reader Stephen Morris:
…they ignore Section 92 of the Constitution ("trade and intercourse between the States shall be absolutely free"). While it might be possible to place a temporary residence requirement on new migrants, it will certainly be illegal to force them into permanent residence in the regions. And the moment their indenture expires they will move to the metropolis like everyone else.

That won't stop them using it as their main diversionary tactic.
Rather than resorting to gimmicks, cut the permanent migrant intake. At roughly 200,000 people a year (including the humanitarian intake), it is way too large to digest and places Australia on a path to 40 million people mid-century, which the majority of Australians do not support.